Disclosure: I was sent a screener copy from the vendor in order to write up an honest review. All views shared are mine and mine alone.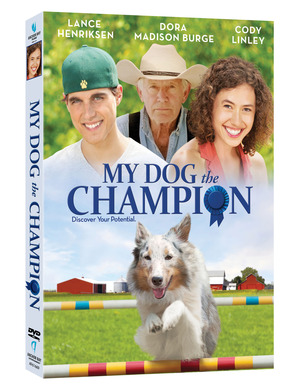 Synopsis:
"
From the city to the country, families from coast-to-coast will experience an uplifting coming-of-age adventure when Anchor Bay Entertainment unleashes
My Dog the Champion
on DVD. The inspiring story of an unlikely friendship between a born-and-bred teenage city girl and a cattle dog, the new feature film starring
Dora Madison Burge
("Dexter," "Friday Night Lights,"
Cowgirls 'n Angels
),
Lance Henriksen
(
Aliens, The Terminator, Aliens vs. Predator
) and
Cody Linley
("Hannah Montana,"
Cheaper by the Dozen
) makes its national retail debut on February 4, 2014.
A moving and meaningful story for the whole family, My Dog the Champion (SRP $24.98) begins when Madison (Burge), a
spoiled city teen, learns that her mother is being deployed to Afghanistan. She is suddenly forced to uproot to the country and live on her grandfather Billy's (Henriksen) cattle ranch – in the middle of nowhere. Facing the hardships of farm life and her feelings of loneliness, she befriends Scout, the farm's old and "useless" cattle dog. The new companions quickly form a special bond. And when the family farm becomes threatened, Madison, with some help from Eli (Linley), a teenage dog trainer, trains Scout to be an agility champion and together they compete with the hope of saving their home. Side by side, the determined duo proves the heart of a champion never dies.
My Dog the Champion
, a story of friendship, love, teamwork, and challenges, is a must-have release for families nationwide. The film is executive produced by Arthur E. Benjamin, the founder of the
American Dog Rescue
, an all-volunteer, non-profit organization that works to rescue and promote the health and well-being of dogs and other animals all across the world. In addition, Scout, the movie's starring dog, is herself a rescue!"
My Thoughts:

There is no denying I am a dog lover, and love any movie that has a dog as one of the key characters. With that being said, it is no wonder I love the new release, which is available today in stores, "My Dog the Champion." When I first saw the trailer, I knew it would be something that I would like, and that would be great to share with the family.

The feel of the movie reminded me of one you would find on the Hallmark Channel or another family-friendly movie channel. I didn't have to worry about being embarrassed from the characters spouting off profanities or the content to be so out there that children of all ages wouldn't be able to enjoy. Even though my girls are young, they thoroughly enjoyed this movie, as they snuggled up to our 8 lb. Maltese/silky terrier mix.

I loved watching the girls turn to our dog, Lily, and tell her that she could do the different stunts that Scout was doing. :-) I even found them the next day trying to recreate an agility training area in the house complete with ramps they built out of their building blocks. :-)

This feel good movie will have you rooting for Scout to win the contest, and for the family farm to be saved from its financial woes. Don't worry, I will not tell you the ending, so that you can watch and enjoy for yourself. The movie itself flows nicely and doesn't get boring in the middle, which I loved - so, viewers both young and old can stay engaged from start to finish. Themes like friendship, perseverance, teamwork, love and overcoming obstacles make for a great movie that you can talk to your children about afterwards.

I couldn't help but pass this movie along to family and friends to watch since receiving, and all have agreed after watching "My Dog the Champion" that this is a winning family movie, and one worth picking up to watch with your family time and again. And, if you cry easily at heartwarming movies, you will want to have a box of tissues handy. I kept reaching for one throughout the movie -- but, they were happy tears! :-)
Disclosure: I was sent a screener copy from the vendor in order to write up an honest review. All views shared are mine and mine alone.