Disclosure: I was sent samples from the vendor in order to write up an honest review. The views shared are mine and mine alone.


I am always excited when the holidays roll around, as I love to see what fun things Hallmark comes out with to celebrate these special occasions. And, each and every year they seem to outdo themselves. Last year, the girls went crazy for the new recordable book additional and interactive storybook buddies. Now, this year, the favorite amongst all the new holiday gifts are the Holiday Pics 'n' Props Kit and Santa and the Christmas Eve Flight Be a Part of the Story® Book, which I was graciously sent by the folks at Hallmark, along with a sampling of their holiday greeting cards and a cute keepsake ornament that you can record and play sound on.

Like I have shared in past posts, I am not one to have the girls' photos done at a photography studio or pay someone to come and take pictures. Instead, I like to capture the girls in the moment, as this is the most real and precious of memories, that I hope to treasure for years to come with photos. Each year, when Christmas rolls around, I find myself going through 11 months of photos we have taken of the girls. My computer is filled with them, as are my cell phone and my husband, and camera memory cards. I keep telling myself year after year that I will tackle the photos once and for all and upload and organize on one of those photo storage sites. But, I never can find the time. So, I get frustrated having to look through all the non-labeled files for just the right photos to use to make our annual photo Christmas card.

This year, with all the has been going on, with colds, car troubles, etc., the last thing I wanted to do was spend hours in front of the computer looking through photos. While I love looking back and seeing how the girls have grown, I also know that the clock is ticking down for Christmas and that I need to get my order in, so that I receive in time to mail cards out to family and friends. I think it was a blessing this year that I received the Holiday Pics 'n' Props Kit, as we ended up using photos that we took of the girls with the props for our photo Christmas card.
Here are some of the photos I took of the girls playing with the elf, Santa and reindeer photo props.
The masks were easy to put together, and the girls had fun looking at the photos we took of them. I have to say that I can't help but smile and get excited for the holidays when I see the girls and the cute photos that we were able to capture thanks to the fun Holiday Pics 'n' Props Kit from Hallmark. I can see this Holiday Pics 'n' Props Kit coming in handy for families who like to have fun and take photos, or have large family gatherings during the holiday season. Everyone can grab a fun mask or hold up a festive sign, as you capture these treasured measures to share for your holiday greeting card, or just to add to your photo album.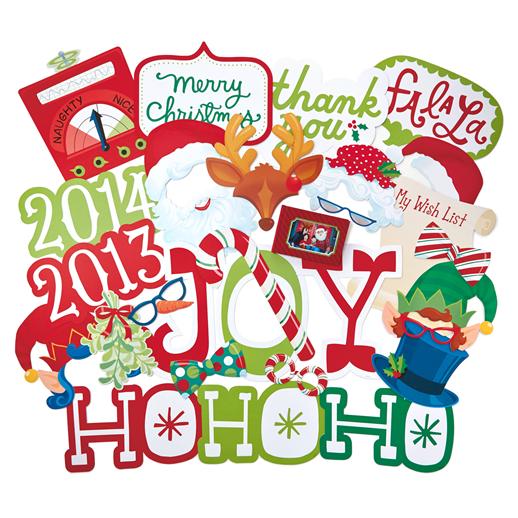 This Holiday Pics 'n' Props Kit will definitely be used again and again for years to come. The girls don't fight us when asking them to pose for photos, as they love the creative way we can use the contents of the Holiday Pics 'n' Props Kit, which includes everything you need, for a fun in-house holiday photo shoot. I want to be able to capture the photos pictures of the girls wearing their fun holiday masks, so that I can show them years down the road.
In addition to the Holiday Pics 'n' Props Kit, I was also sent a family house picture frame, which I ended up recording the girls a snippet of "Jingle Bells" and put a photo of them and my parents from summer vacation, to surprise my parents with this holiday season. They have been picking up Hallmark ornaments for the girls each year, to help grow their ornament collection for them they grow up and leave the nest. I thought it would be fun to surprise them with an ornament this year and going forward, capturing how the girls have grown, while also sharing special moments between grandparents and their grandchildren with them.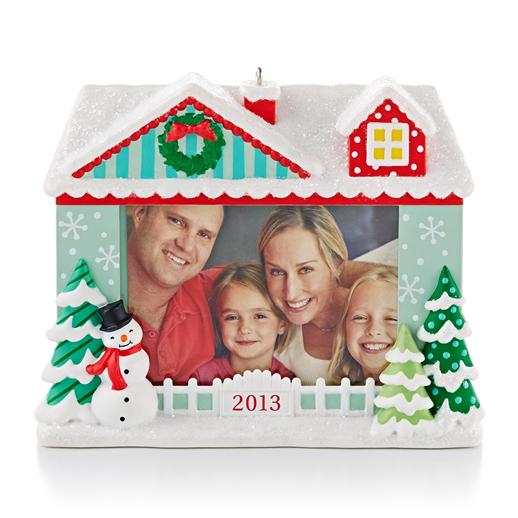 With so many wonderful holiday keepsake ornaments available for kids and adults, the hard part is choosing just the right one. I always find myself stopping in a Hallmark store during the Christmas season just to check out the new ornaments. I am a fan of the interactive ones with sound, and ones that remind my of my childhood. Ornaments are one gift idea that will be treasured for years to come, and one I love to surprise family and friends with each year.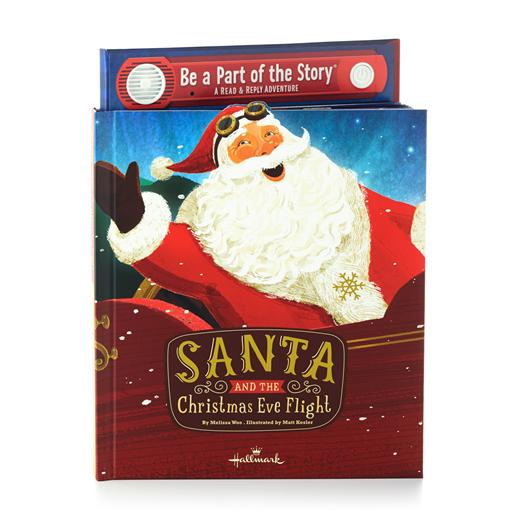 In addition the keepsake ornament, Holiday Pics 'n' Props Kit and assortment of holiday greeting cards I was sent to review, the kind folks at Hallmark also included their new Santa and the Christmas Eve Flight Be a Part of the Story® Book. If your family loves the growing line of Hallmark interactive books, then you will want to check out this soon to be holiday favorite. When you or your child speak certain words on the pages of this holiday story, Santa will chime in and ask your child a special question or have them make a choice. Your child's response will trigger Santa to respond, and ultimately help Santa complete his big Christmas Eve trip around the world. My girls just love this storybook and can't help but smile each time they hear Santa talk to them. This interactive feature really adds to enjoyment of the story, and reminds children about the miracle of Christmas. I will definitely be pulling out this book and sharing it with them for future Christmases. Right now, it has become a staple in our evening bedtime story readings. And, each and every time we read it, the girls act like it is the firs time...enjoying every page from start to finish.
So, if you are looking for last minute gift ideas, or still need to pick up holiday greeting cards, why not visit your local Hallmark store and browse their selection of holiday gifts. You will be amazed at the offering available, like I am year after year.
Thanks to the kind folks at Hallmark, one lucky reader will win the Holiday Pics 'n' Props activity kit and a pack of new greeting cards to send holiday wishes to their loved ones. To enter, please complete the entries on the Rafflecopter form below. Good luck!
Disclosure: I was sent samples from the vendor in order to write up an honest review. The views shared are mine and mine alone.