Disclosure: I participated in a campaign on behalf of Mom Central Consulting for TruGreen. I received a promotional item as a thank you for participating.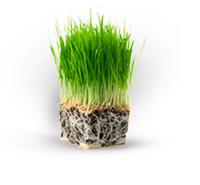 Do you know the type of grass you have in your yard? I didn't, nor did I think it mattered, as I thought all lawn seed and other lawn care products were for all lawn types. But, I was wrong. When my husband and I moved out of our condo back in 2007 and into our first home, not only did we have to learn how to maintain and fix things in the house, but we also had to tend to our lawn, which wasn't pretty at the time. We had a bunch of brown spots all over the lawn, and thought that maybe it was dried out. So, our first thought was to water it -- but, we ended up overwatering it, and killing more grass. Then, my husband went to the hardware store to pick up lawn seed to help bring back the dead grass, and we noticed over time, the grass we thought we had was mainly weeds. What to do, what to do?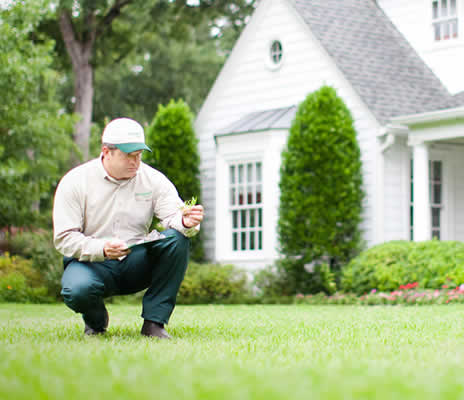 We ended up hiring a lawn care expert from TruGreen to come out and give us tips or ideas on how to get that lush green grass you expect when you own a home. Remember all those beautiful pictures of homes with sprawling green grass? That is what we wanted, but didn't have. :-( The lawn care expert told us that there are different types of grass: kentucky bluegrass, rye, fescues, bermuda, centipede, saint augustine and zoysia. We found out that we had fescues, a cool season grass. Once we knew this, then we could go to a home and garden store and buy lawn care products specifically for this type of grass.

It took us over a year to bring back the grass that we knew was there. And, while we still have some trouble spots, we now know how to handle it, thanks to the folks at TruGreen. We called TruGreen for help with our lawn after having seen the miracles they did on our old condo's landscaping. I keep telling my husband that if it wasn't for the beautiful grass we had there, a lack luster lawn would have brought down the curb appeal and ultimately have us sitting on the condo for a long time, as no one would want to buy a condo that they can't enjoy sitting outside on the patio, and looking at fresh green grass. I don't know about you, but I love the smell of a fresh cut lawn. And, thanks to the help we received from TruGreen, we finally have a plush front and back yard full of grass to cut, and for the girls to run and play in. :-)

Here is a quick video starring TV Host, Jason Cameron, as he helps educate homeowners on summer lawn care and useful watering tips, to enhance curb appeal and overall home value --
Not familiar with TruGreen? Here is some background on this company, and what they offer a homeowner when it comes to tackling problem lawns:
"TruGreen takes a scientific approach to a lawn you'll love with Ph.D. agronomists developing the training for each TruGreen certified lawn specialist. TruGreen's specialized lawn services are designed to specifically meet your lawn's needs at key stages throughout the year based on climate, grass type, soil condition and usage. Partner with a TruGreen specialist for a tailored lawn plan to give your lawn exactly what it needs at just the right time to get the most out of your lawn. Go to the newly enhanced TruGreen.com for additional healthy lawn and landscape tips to boost your home's first impression.
More than half (58 percent) of homeowners surveyed in the

TruGreen

Home Features Report, conducted by the National Association of

REALTORS

®, named "eating and/or entertaining outside with family or friends" as one of the most common ways they currently use their outdoor space. And if selling a home, a healthy, green lawn can be a value-boosting asset.
According to TruGreen's Lawn Lifestyles National Survey of America, more than half of Americans surveyed (53 percent) said "the quality of the homeowner's lawn can tell you a lot about the quality of the home overall." But summer fun can create significant wear and tear on lawns. Maintaining optimum curb appeal during this recreational season requires some schooling and a tailored lawn plan.

TruGreen, a subsidiary of

The ServiceMaster Company, is celebrating 40 years as the nation's largest professional lawn care

service provider, and is educating homeowners on how to enhance their home's walk-up allure."
Here is a great infographic from the folks at TruGreen, that will school you on lawn care:
Learn anything new? I sure did. And, now that summer is finally over, my husband is now gearing up to tend to bare spots, brown spots, and other problem areas caused by high foot traffic. Because the lawn looks so inviting, we spent the majority of the warm summer days/nights out on the lawn -- either having picnics, dining on the patio, dancing in the moonlight with the girls, or just playing outdoor games with the girls. In addition, half the yard was covered with their playscapes and other toys, which killed the grass that these toys sat on. As we start to put away the toys and lawn furniture, my husband is taking note of the damage, so that he can buy the proper lawn care products to bring the problem areas back before the winter frost.
If you weren't able to get out and enjoy a lush green lawn this summer, or yearn for that fairytale dream of a white picket fence with green grass for the kids and dog to play in, don't despair. Why not contact the lawn care specialists at TruGreen. They will help you achieve the lawn you always dreamed off. Remember, a beautiful lawn adds to your home value, and curb appeal -- so, if you are trying or plan to sell, you want to pay attention and start tending to brown spots and other problems with your lawn. And, like I said, fall is right around the corner, and now is the perfect time to start prepping your lawn for the winter frost, or repairing from the high traffic of backyard summer fun.
Stay up-to-date on TruGreen, and how to properly take care of your lawn by following them on:
Disclosure: I participated in a campaign on behalf of Mom Central Consulting for TruGreen. I received a promotional item as a thank you for participating.