"A little box that requires nothing more than a child's playful spirit...
...and, for parents that love to watch it all happen."
Who knew that a little brown box filled with wooden coins could provide hours of enjoyment for children -- especially toddlers. Leave it to a mom to come up with a fun way to get parents and children excited about play time. :-) This week's Spotlight Mom, Jennifer Young of The Idea Box Kids has come up with a novel idea, that is a must have for parents and grandparents. If you like games that or playtime activities that don't take too much planning or added supplies, then you will love Jennifer's Idea Boxes. What are these boxes you ask?
"Our Idea Boxes are filled to the brim with wooden coins. On each side of the coin, you will find activities, ideas, story starters, chores, etc. The selection in each box corresponds to the theme of your Idea Box.

When you make the activities in your Idea Box as child-led as possible, your child is learning to listen, ask questions, and follow simple directions. By doing something so simple, you are providing them an opportunity to build their self-esteem and help grow their decision making skills.

A simple little box, offering your child choices...can do that, and more!

Age range:
Toddler Box for ages 1-2. All other Idea Boxes for children ages 3+"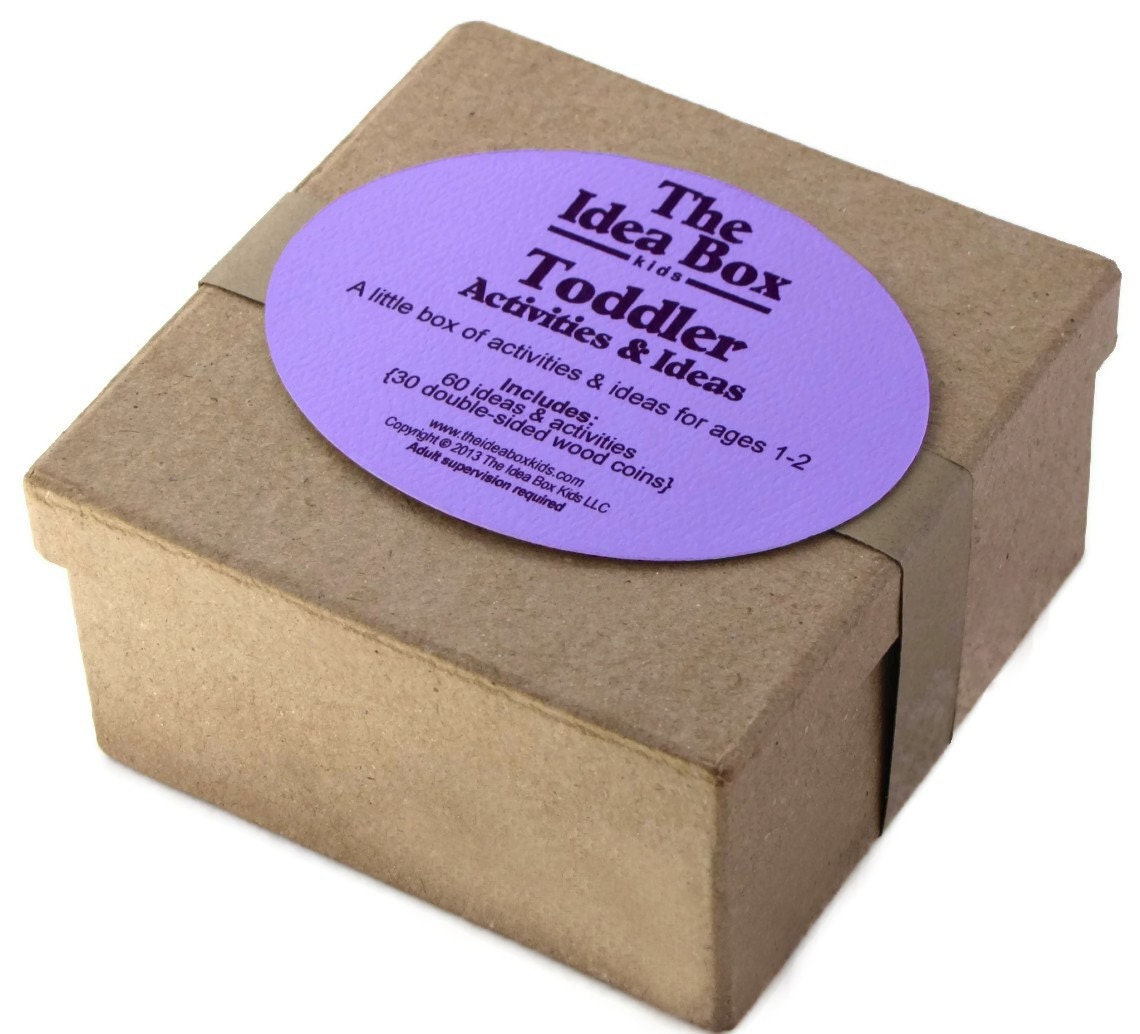 All of the activities & ideas in the Toddler Box are perfect for 1 & 2 year olds. Activities can be as long or as short as you want, depending on your child's attention span.

The best part is that the ideas and activities never get old...kids can do them over and over again.

Your child will love reaching in and choosing a coin from the box. When you give your children choices you are providing an opportunity to build their self-esteem and help grow their decision making skills. Choices also provide an opportunity for them to listen, ask questions, and follow simple directions.

The difference between what a one year old can do and what a two year old can do is pretty big. Because of that difference, the activities and ideas can be easily adjusted, simplified or adapted for wherever your child is at developmentally. For one's, you can keep it simple. For two's, you can make it more challenging and detailed. Just adjust to fit where they are at.

COINS
Inside the box, you will find 30, large, double-sided wooden "coins." Each "coin" measures 1 ¾ inches round and about 3/16 inches thick. Each side of the "coin" has an activity on it. Please see note about the coin size, below.

ACTIVITIES & IDEAS
There are 60 different, fun & easy activities for your child to choose from.

BOX
The Idea Box is made of sturdy Paper Mache in a natural Kraft Brown color. The box takes up very little space at approx. 4.25 inches square and approx. 2.5 inches deep.

Here are just a few of the ideas & activities you will find in the box:
•Try on grown-up shoes
•Give a doll or toy a 'bath'
•Stack-up pillows or couch cushions
•Line-up stuffed animals. Play, talk and sit with them.

The Idea Box makes a great gift for friends and family members, babysitters, nannies, and the best yet...Grandparents!"
Jennifer was kind enough to send along her Toddler Box for my girls to try out, and I have to say that I couldn't stop watching them interact together. Usually they don't like to play together, or share the same toy. But, when I put the idea box in the middle of the floor the other day, they were both curious and came to take a closer look. I took the cover off to show the wooden coins, and then proceeded to tell them what the box was and how the coins worked. They both wanted to give it a try.
So, I took out a few of the coins and asked the girls to choose which one they wanted to do. Then, I read the activity/action on the wooden coin out loud, and asked the girls to do what the coin said. While it was a little hard for Arabella to understand, her big sister, Savannah, stepped up to the plate like a "big sister" should and helped her out. :-) I was so impressed at how much Savannah has grown up, and loved seeing her help out her little sister.
I am so happy I had the opportunity to try out the idea box from The Idea Box Kids, and can't wait to pick up more as the girls get older, to help them with their listening, decision making and self-esteem skills.
Want to get one of Jennifer's Idea Boxes for your child? Then, head on over to her website and/or Etsy shop to browse her assortment of idea boxes, geared towards your child's age. Then, when you are ready to place your order, make sure you do so through Jennifer's Etsy shop, as she is offering Inspired by Savannah readers 10% off their total orders if they use coupon code "summer2013" at checkout. Note: This coupon code is only valid at her Etsy shop, and will expire at the end of August 2013, so act fast to save on these wonderful idea boxes

today!
In the meantime,

p

lease enjoy my Spotlight on Mom interview with Jennifer Young, the mom behind this amazing idea.

:-)
Name: Jennifer Young

Company Location: Wilsonville OR
Twitter Handle: @theideaboxkids
Age of Company: Almost 2 years
Favorite Inspirational Quotes: I don't have one, but Nike's goes through my head often "Just Do It"
Favorite Book:
Too many to name
Tell us a little bit about yourself. How many children do you have? What are their ages? Your hobbies? Etc.
I have three boys...ages 16, 13 and 11. My oldest will be a senior this coming school year...so, that should be fun! My youngest will be joining his brother in middle school, and I will be turning 40 in June. Big year for us at our house! To relax, I love to read. A few years ago I read 200 books in one year...that was crazy and won't happen again. I just like the way that words are put together...and, I really wish I was able to do that.
Briefly explain your business. How did it come about?
An Idea Box is a simple little box filled with wooden coins. On each side of the coin, you will find activities, ideas, chores, story starters, etc...depending on the theme of your Idea Box. All of the Idea Boxes are meant to be child-led and are what I like to call "secretly educational." When my second son was born in 2000, my oldest was 3. I began thinking of ways at home that might help him make decisions and think independently. I knew that whatever I did needed to be child-led, play-based, use whatever we had around the house, and be easy for me. All of that came in the form of an Idea Box...where my son pulled an idea or activity out of a box and did what was written. Choosing an activity in that way was so exciting for him! The activities were slightly challenging, but easy enough that he was able to accomplish them. The best part was that the activities & ideas didn't get old...you could do the same thing in 2 months and have it be completely different. My kids liked their Idea Box so much, that I knew I had to do something with it "someday."
What is a typical work day like?
I wake my my kids up for school at
6:30am
.....while they get ready for school, I answer some quick emails and go over the schedule I planned the previous night. I do the school drop-offs starting at
7:15am
, then I return home and work. On most days I typically work about 10 hours.The best part about working from home is when my kids get home from school I can take breaks: help my youngest with homework, make dinner, do a load of laundry, etc. In the evenings after all of the family stuff is done, I typically go back to work. I am hoping this isn't always the case. Building a business correctly takes a lot of time. At this point in my business, if I did not work evenings and weekends...I would be buried. When you have a product that sells online and customers have questions...they don't like to wait until Monday at 9am when a normal work day might start for some...and, I don't like them to wait.The bookkeeping, paperwork, and inventory management can be very time-consuming...then there's everything else- networking, marketing, product development, making the products & filling orders, etc. For the past two years I have been running two online businesses while doing part-time child-care...the hours have been tough, but I have been fortunate, and I love what I do. Luckily, my office is in my dining/living area...so, I can still keep an eagle eye on my kids. Despite the crazy work schedule, we manage to do things as a family and spend a lot of time together.
What did you do in your past work life?
I started working 2 days after my 14th Birthday and have never stopped. I worked the maximum amount of hours the law would allow for my age. It was the typical high school job: fast food. I worked there for almost 3 years and worked my way up to be a "Team Leader." I was the youngest "Team Leader" ever at that location. Say what you will about fast food employment...but, having that as my first job taught me so much about customer service and working with others.


I have always worked, though- either for someone else, or at home with my own business.
I have been a work-at-home Mom for about 15 years.
My first business was doing in-home childcare.
It was at the end of December, in the late 90's when I stopped working outside the home (for a printing company), but before I quit that job, I had about 3 kids lined up to watch full time and some others part-time. I didn't take time off after quitting my job....I just started the next work day caring for kids. Kids are fun and I love to observe what they do, why they do things, and how they do things. I find it fascinating. After a few years of doing childcare, I decided to switch from offering it full-time to part-time. Along the way, I opened up an online bookstore that quickly grew, and in 2011 I opened up The Idea Box Kids. During my 15 years of working-from-home, I have held two part-time jobs outside of the home (a preschool teachers assistant for 5 yrs. and a senior caregiver for 2 yrs.) while simultaneously running online businesses along with doing part-time childcare, and being a Mom. I am still doing part-time childcare while The Idea Box Kids takes up most of my time...and, I am in the process of closing my online bookstore. I did wait until my youngest was 3 before I got a part-time job outside the home...and, I just took him with me to the preschool I worked at.
I was always home when my kids were home, though. That was my priority.
What have been some of your major successes?
Getting the Idea Boxes tested and in compliance with the CPSIA regulations. That was huge. I waited almost 2 years to be able to afford to do that. Another success was getting my first wholesale account shortly after I started The Idea Box Kids. I have to make a conscious effort to push myself to do things I am afraid of doing. Everything I do has to be legal & licensed, and at times it can be daunting. I'm no stranger to the basics of running an at-home business, however selling books is completely different than making & selling a children's product. It has been very good for my personal growth.
What have been some of your major challenges?
Not going to lie on this one....QuickBooks Premier. Anyone who has had to set-up QB's for their business knows exactly what I am talking about. I had no problems researching it and using it...but, when it came to actually setting it up for my business...correctly...it was horrible. I had to hire someone...and, I was not happy about it. Mainly because it was the first time working for myself, that I couldn't figure something out on my own. I actually shed some tears over that one.
On those impossible days, what motivates you to keep going?


I need to help provide for my family. It's as simple as that. Basic survival drives me. When a Mom is in that mode, you can't stop her.
What is your balancing secret in managing a business and family?
There is no balance. I would love to say there is...but, I don't even try. I just try to love my kids, be there for them AND run my business.
Some days I fall short in one area or another, but I am OK with that. We're all healthy and happy...so, it works.
My husband helps out quite a bit, as well. The only thing I try to perfect is the quality of my product...but, never my life.
What is next for your business?
I am going to keep creating Idea Boxes. I have one coming up that has to do with movement, so I am really excited about that. Many fun ones planned for next year. One of the most exciting things about The Idea Boxes is knowing that the kids that use them will absolutely love them. I am also excited for the parents that use The Idea Boxes as a tool. There is nothing but goodness in those little boxes. I will also keep working on getting a few more wholesale accounts. I will continue to do things that I am afraid to do....I am an introvert that is masquerading as an extrovert...and, it is exhausting, I don't know how extroverts do it!
Do you have any advice for other mom entrepreneurs that are starting out and struggling, or are on the fence about starting a business?
Starting a business is very exciting. Kudos to all the Moms that start and run businesses while caring for their families. It can be tough and exhausting, but it's rewarding. As you go along, you will learn a lot about the business end of things- but, most importantly you will learn a lot about yourself. There are a few things that you need to keep in mind when starting out. It is very important that everything you do is done legally and correct. Look into licensing with both your city & state, check into the regulations of having a business name and the various types.
Laws are different from state to state, so if you read something online, make sure it applies to your state....then fact-check the information by calling and confirming it. Keep good financial records and document everything.
If you can't do your business taxes yourself- hire someone. You really want to make it easy on yourself when tax time comes around. So, keep your records up to date and try not to fall behind. If you feel like you would like some business mentoring,
I would highly suggest the SCORE mentoring program. SCORE is made up of retired business men & women- they offer free business mentoring for as long as you need it.
Sometimes it seems like it can be too much for one person to handle, and often times it is...so, don't be afraid to take a step back and reorganize your priorities. Lastly, have fun with it all.
What has been a struggle while starting up your company?
Justifying the time I spend doing things...to myself.

Running a business, even a small one, takes a lot of research and phone calls.

Not having coworkers around to help answer questions or bounce ideas off of
can be tough. I have a good amount of faith in myself and what I am doing...but, spending so much time devoted to building this business is a struggle at times. I think that might be a common feeling amongst Mom's that are working from home and building businesses. So, I know I am not alone.