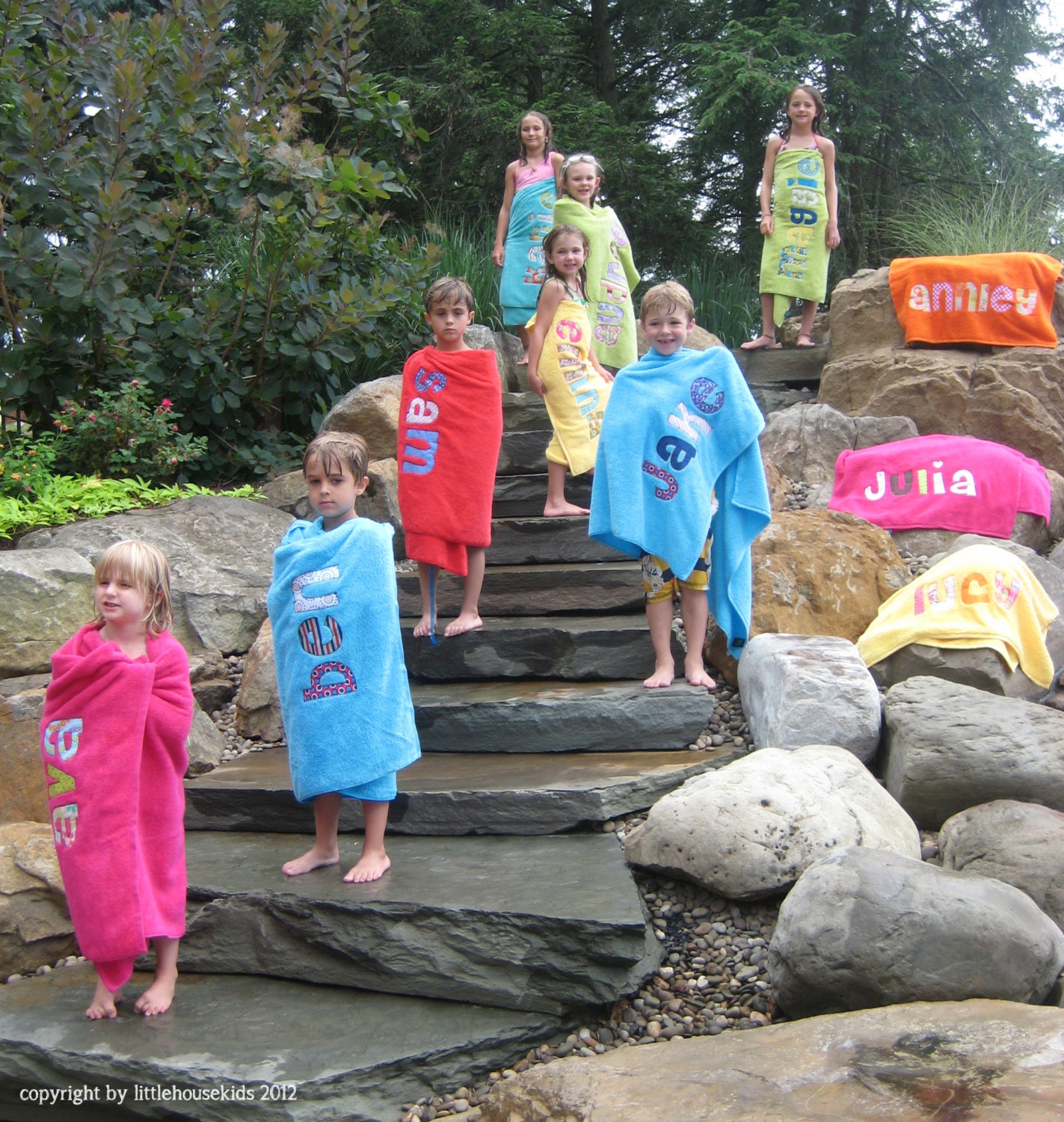 With Easter right around the corner, I have spent the past month seeking out unique products that would make for great Easter Basket gift ideas, to share with you. This search led me to Jamie's Etsy shop, where I fell in love with her
personalized fabric applique towels
. And, after reaching out to her to inquire about these and sharing her mom entrepreneur story, I was excited to receive a towel sample the other day in the mail for Savannah. Here is the handmade personalized towel Jamie made for Savannah:
I know Savannah is going to hate me when she starts school and has to learn to spell her name, seeing that is has 8 letters in it. :-) But, it is a unique name like her. :-) Out of all the personalized gifts I have picked up or received since both my daughters were born, I have never seen a personalized towel like this. Just look at the photo I took up close of the "an" in Savannah's name. I wanted to show you the time and attention to detail that Jamie put into this and all her orders placed through her Little House Kids Etsy shop. And, even though it takes on average 2-3 weeks to receive one of these personalized towels from her, as she hand makes each one, it is well worth the wait.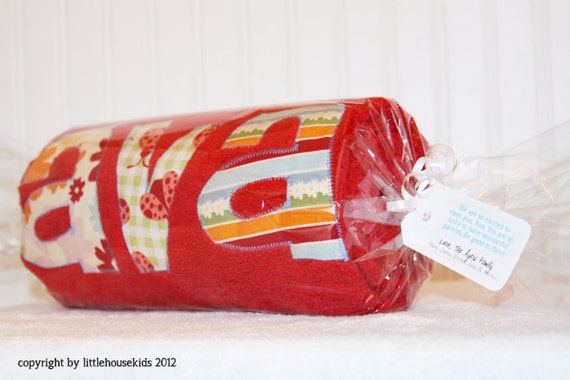 Upon receiving, I fell in love with the custom gift wrapping that Jamie had included, which can be added onto your orders for only $3.00, and includes a customer printed gift tag. It looked like a fun gift that you can't wait to open. And, once Savannah saw it, she asked if it was for her. When I told her it was, her eyes it up. And, with my help, we unwrapped the gift wrap and took her very own personalized fabric applique towel out of the package. As I unrolled the towel, Savannah couldn't help put point out and tell me each of the letters on the towel. She is too young to read, so I told her that what she was spelling out was her name. Then, I wrapped her up in her new towel and asked her what she thought of it. She first asked if she could take a tubby tub to try out her new towel, but when I told her she had to wait for bedtime to try it out, she put on her infamous pout face, which quickly turned into a smile, when I scooped her up and spun her around. When she landed on the ground, she told me how comfy the towel was, and then proceeded to lay it out on the living room floor and play on it, like it was a beach blanket. Little did she know that is was snowing outside -- not ideal beach weather. But, indoors anything goes, and she had a blast lounging around and wrapping herself up in her new personalized towel.
And, once tubby tub came that night, she didn't fight to get out of the tub, as she, too, was eager to try out her new towel. My husband wrapped her up in her new comfy towel, and dried her off. Both my husband and I wear impressed with the overall size of this 100% cotton towel, as it measure 30" X 54." And, like I said earlier, I couldn't get over the attention to detail in hand sewing each of the 8 fabric applique letters in Savannah's name onto this towel. I am so glad I had the opportunity to see Jamie's personalized towels up close, and will definitely be ordering one for Arabella to have, as well as continue to rave about them with family and friends. I know that once beach season rolls around, other parents and beach goers will be asking me where I got these fun and unique towels. And, I will not hesitate to direct them to Jamie's Etsy shop, Little House kids --
http://www.etsy.com/listing/110419220/personalized-fabric-applique-towel
. :-)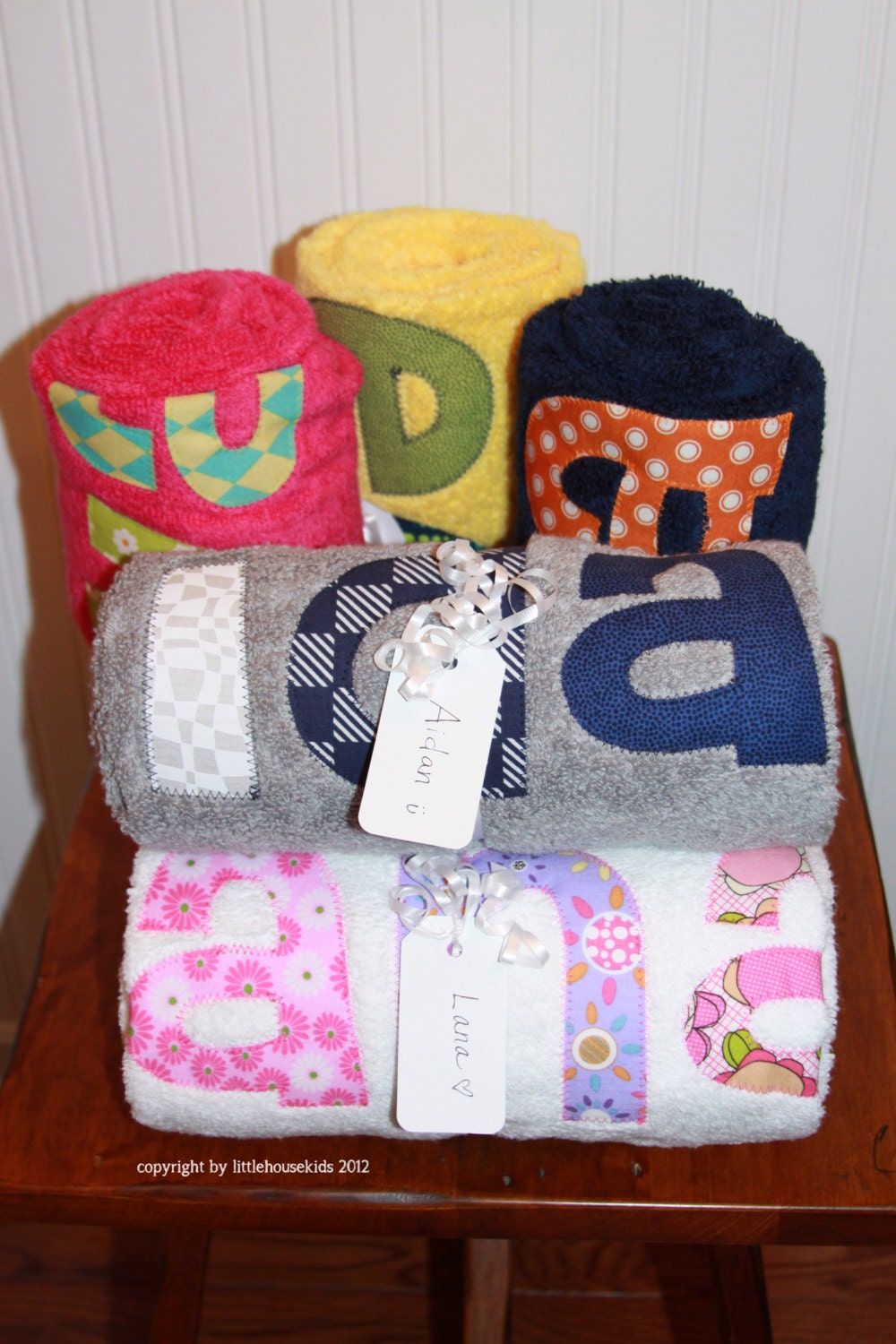 Click here to visit Jamie's Etsy shop, Little House Kids, where you can place your order for one of her personalized fabric applique towels, or alphabet letter name soaps, to surprise your child with in their Easter baskets this year --
http://www.etsy.com/shop/littlehousekids
. And, just for Inspired by Savannah readers, make sure you use coupon code "
5LHKIDS
" to
receive 5% off your entire order
.
When placing your order for these personalized towels, you will have the option to choose your own fabric colors and towel color (They are available in the following colors: red, orange, yellow, lime green, blue, hot pink, teal, navy, gray, brown, black and white) or choose from the wonderful designs shown.


All letters are lower case unless requested otherwise. All names will be placed on 'short' end of the towel unless the name is too long. Longer names will be placed on 'long' edge of the towel.
And, keep an eye out for new items being added just in time for the warmer weather, including great beach canvas personalized duffel bags for summer, and personalized water bottles as well.
Note: Because each and every personalized fabric applique towel is handmade by Jamie, she needs 2-3 weeks to process and make your custom order. So, in order to receive one of these fun personalized towels in time for Easter, her cutoff date for ordering is March 10th.
And, don't forget her custom gift wrap option, which includes a computer printed tag for only $3.00 more. It really does add a special touch to your order! :-)
Disclosure: I was sent a sample from the vendor in order to write up an honest review. The views above are mine and mine alone.