"Dance, dance, dance--and get fit doing it! A fun way to get into shape, these newly released fitness DVDs feature motivating music and moves. Latin Live stars Judi Sheppard Missett and Dancing with the Stars Cheryl Burke; Burlesque combines sassy dance movements with ballet basics; and Ballet Body includes basic ballet movements to strengthen and lengthen muscles.

As always, please consult your personal physician before beginning any diet or exercise program.

Take a realistic approach: If you work consistently and follow the program, you maximize your results.
The Jazzercise Dance Fitness DVD Collection includes the following DVDs:
Latin Live by Jazzercise: run time approximately 45 minutes
Burlesque by Jazzercise: run time approximately 48 minutes
Ballet Body by Jazzercise: run time approximately 40 minutes
----
My Thoughts:
Just the other day I was chatting with a couple of girlfriends about how things change as we get older. One of my friends was talking about how she gets excited about cleaning off her dresser and going through her closet on a day off. When we were younger, doing things like this and liking it was unheard of. On a day off, we would rather have slept in (pre-children) or spent the day shopping or if we had money, traveling or spending the day at the beach. But, as we get older, little things like spring cleaning bring us joy. There is something about going through mementos we have held onto or finally getting rid of clothes that we will no longer wear -- that is, after we sit and reminisce about them (ie. a favorite t-shirt, the outfit we wore when we had our first date with our boyfriends or husbands, etc.). As my girlfriends and I chatted about things we thought were crazy back in the day, but not so much now, I received a package in the mail. When I opened it and saw the three
Jazzercise
DVDs I was waiting on to review, my girlfriends had to take a double look. "Jazzercise" one exclaimed. "That is still around?" another said. As we read the back covers of these DVDs, another girlfriend shared a funny story about her mother and aunt wearing stretch leggings and heading out to a Jazzercise class back in the early 90's. She needed a ride to the mall, so her mother said she would drop her off and pick her up once her class was done. My friend thought her mother would wait in the car, but she ended up coming into the mall and approached my girlfriend and a few friends (including some of the cute guys from school). When asked who this crazy looking lady was, my friend said she was mortified. Her mom chimed in and said she was "Sally's mother." As the group chuckled at how she looked, she couldn't help but show off a few moves she learned in her Jazzercise class. You can only imagine how my friend felt and how many jokes were told at her expense when she returned to school. And, from that point on, the word Jazzercise was never spoken in our group. That was, until I received these DVDs. Sally thought I was trying to make a joke, but I told her I was excited about trying out these DVDs.
Now, who would have thought I would be saying that 20 years later? I sure as heck wouldn't have? But, now that I am a mom and past 30 yrs. of age, I know how hard it is to lose and keep the weight off. Unlike my teens and twenties when I could eat anything and stay skinny, that is not the case anymore. And, after having the girls, I am still struggling to lose the remaining 15 pounds. Like many other women (and men), one of my 2013 resolutions was to finally shed that weight. Even though I have made changes to my diet and increased the number of times and duration of exercising I do on a weekly basis, I have hit a wall with losing weight.. So, I have been searching for a fun, yet effective way to shed these stubborn pounds, and that is how I stumbled across the Jazzercise Dance Fitness DVD Collection. I, too, didn't think
Jazzercise
was around anymore, but was surprised when I Googled it and saw how popular it still remains. I even asked my mother who told me a few friends of hers continue to do it, and have been attending classes for nearly 20+ years now. What did I have to lose with trying these DVDs?
I used the opportunity with my girlfriends being over to try out the Latin Live DVD. They were hesitant at first. But, after seeing me laughing and have fun, while trying to find my rhythm, they couldn't help but try it out. Now you would think that being married to a Latin man that I would have picked up some dance moves or at least rhythm? Unfortunately, I have been blessed with two left feet -- so, I have shied away from dance and exercise classes where I would have to move and groove. :-) I can't tell you how many exercise videos I have bought over the years, but gave up on after the first viewing, as I couldn't get the steps down. But, there was something about this DVD that made me want to keep at it. And, for the next hour, my girlfriends and I had a blast trying out the three different Jazzercise DVDs I was sent to review. Since then, I have continued to used these fitness videos as part of my daily exercise regime, and have even lent them to friends on my off days, so that they can get their "Jazzercise" on. I can only chuckle thinking about how my friends and I once thought Jazzercise was for moms or older women who wore stretch leggings and headbands, to now loving it ourselves and wanting to sign up for a local Jazzercise class, and see what we have been missing all of these years. :-)
But, in the meantime, I will continue to enjoy the Jazzercise Dance Fitness DVD Collection I was sent to review, as it has spiced up my exercise routine and helped me shed some of this stubborn baby weight, while finally learning how to move and gain some sort of rhythm. :-) If you thought Jazzercise was no longer in existence or never thought you would try (let alone love) Jazzercise, then you really need to pick up the new Jazzercise Dance Fitness DVD Collection today and try it in the privacy of your won home. Heck, make it a fun girls night in by inviting a few of your girlfriends over, and break out your favorite workout attire, as you all get your "Jazzercise" on. You will be surprised at how energized and refreshed you will feel at the end of a routine, and how much fun Jazzercise really is. Then, you will finally see, like my friends and I have, why Jazzercise is still around and going strong with their loyal following who attend local classes and buy these DVDs.
So, what are you waiting for? Head on over to QVC where you can order the Jazzercise Dance Fitness DVD Collection and receive a bonus tote bag for only $26.40, or better yet, check out the
Jazzercise website
to find a local Jazzercise center in your area and sign up for a class. And, if you husband asks what you want for Valentine's Day this year, don't be afraid to ask for the Jazzercise Dance Fitness DVD Collection. He will love the new moves you will learn with the Latin and Burlesque workouts. :-)
----BUY NOW----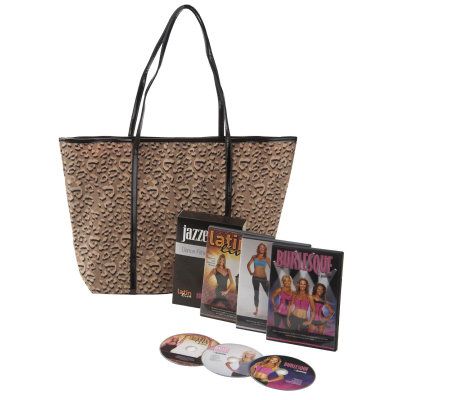 You can order the Jazzercise Dance Fitness 3 DVD Set with Leopard Print Tote Bag sold exclusively through QVC for only $26.40 plus $6.22 shipping by clicking here now --
http://www.qvc.com/Jazzercise-Dance-Fitness-3-DVD-Set-with-Leopard-Print-Tote-Bag-Search-Results.product.F09641.html?sc=F09641-SRCH&cm_sp=VIEWPOSITION-_-1-_-F09641&catentryImage=http://images-p.qvc.com/is/image/f/41/f09641.001?$uslarge$&vid=y
.
Disclosure: I was sent copies of these DVDs from the vendor in order to write up an honest review. The views above are mine and mine alone.