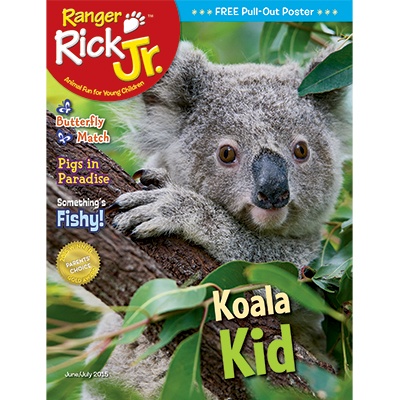 "Ranger Rick Jr.™ is packed with 36 pages of eye-popping animal photos, easy-to-follow text, fun animal facts, games and activities that inspire outdoor play. This brand new magazine teaches preschoolers ages 4-7 to love nature through the friendly characters they meet. No advertising and every issue includes a Free poster."
My Thoughts:
I was sent the Dec/Jan. premiere issue to share with my daughters. They included a second copy, which I gave to my nephew who loves lions. As soon as he saw the cover, he took it and ran to the couch to begin reading through the magazine. The stories and activities are geared towards the younger audience, making it for a great independent read, as well as a fun one-on-one activity to share with your child. I especially love there are no advertisements, so you don't have to worry about the kids asking, "Can I get this?"
Even though my daughters are two young to really enjoy a yearly subscription just yet, I now know one of the gifts I will be giving my nephew this year. :-)
If you have a child between the ages of 4-7 who loves animals and wildlife, why not surprise them with a subscription to Ranger Rick Jr.? And, for children ages 7-12, you can order the original Ranger Rick just for them. Both magazines are only $19.95/yr. for 10 issues.
Disclosure: I was sent a sample from the vendor in order to write up an honest review. The views above are mine and mine alone.