Did your husband or eldest son(s) participate in Movember last month, where they grew out their mustaches and raised money, as a way to raise awareness of prostate cancer and other male cancer and associated charities? Well, my husband did, and boy did he look silly. I never pictured him with a mustache, let alone thought he would be able to grow one out. But, I, like many other wives, girlfriends and even children, were counting down the days until Dec. 1st when the mustaches could be shaved off.
At first, my daughters thought Daddy had dirt on his upper lip, but then after a few weeks past and they saw the facial hair begin to sprout and take shape, they didn't know what to make of it. Savannah would even shy away when he went to give her a kiss, as she didn't like the way his mustache felt against her face. So, as you can imagine, she was excited yesterday when she woke to find her "old Daddy" back without his silly mustache.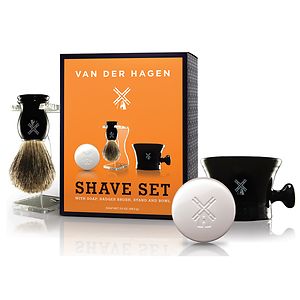 Our shave set includes a hypo-allergenic shave soap with over 10% Glycerin & emollient Shea, Mango & Cocoa Butter: a handsome monogrammed shave brush made with 100% pure badger hair; a specially designed classic monogrammed apothecary mug and a sturdy acrylic combination razor and brush stand made exclusively to fit our brush.
This bar is vegetable based and was not tested on animals.
Reducing impact: Our soap uses 85-90% less packaging than a typical shave gel or foam in an aluminum can.
I knew my husband was growing out his mustache for a great cause, and supported him all the way. But, on

eve of

November 30th, I put out the Van Der Hagen luxury shave set I was sent to review on the bathroom sink. When he got up yesterday AM to shower and get ready for the day, he was greeted with this shave set and a note telling him I was proud of him for his supporting prostate cancer awareness, but now it was time to say goodbye to the mustache. :-)
After my husband made his rounds giving us all mustache-free kisses, he thanked me for the luxury shave set, and said how much he loved it. He especially loved the hypo-allergenic shave soap, which didn't irritate his face, and left it feeling soft and smooth. He also said he noticed a closer shave with the razor, which he liked. The directions were also straightforward:
"Place soap into mug, wet brush with warm tap water. Using circular motion over soap create desired amount of lather. Apply lather to beard using badger brush. After shaving, rinse brush under warm tap water. Store on custom stand to dry. "
And, when I went into the bathroom to check and see if I had to clean up stubble hair, I was surprised to see a clean sink and his new Van Der Hagen razor/brush in its holder, and the shave soap in the monogrammed apothecary mug. I was impressed!
So, if your husband or son(s) need to get rid of their mustaches they grew for Movember, why not surprise them with this shave set from Van Der Hagen. In addition, this would also make for a great holiday gift for the men in your life, as it comes packaged in a nice box and is a really nice shave set to receive.
---BUY NOW---
You can purchase this luxury shave set and other Van Der Hagen products through online retailers like Amazon and Drugstore.com. Amazon currently has this shave set for only $32.81 - http://www.amazon.com/Van-Hagen-Mens-Luxury-Shave/dp/B004L4EING/ref=sr_1_3?ie=UTF8&qid=1354437621&sr=8-3&keywords=van+der+hagen.
Disclosure: I was sent a sample from the vendor in order to write up an honest review. The views above are mine and mine alone.