A Yearbook of the Weird
Ripley Publishing will again WOW! readers with its latest annual,
Ripley's Believe it or Not! Download the Weird
, an all-new collection of unbelievable stories
f
rom around the world
But there's a new twist to
Download the Weird
—readers can actually download the weird. The brand new Ripley's Believe It or Not! app allows hidden content in the book to COME ALIVE!
Here's how it works:
simply point a smart phone or advanced iPod at the special oddSCAN™ logos in the book and see that story come to life with exclusive bonus content, including videos and images. It's a one-stop portal that will transport readers deep into the hidden world of Ripley's Believe It or Not! like never before.
Ripley fans will be thrilled to see that this newest title in the best-selling series has all the qualities that Ripley's is known for.
Download the Weird
is jam-packed with an incredible array of crazy facts, stories, lists and interviews.
·
Meet the world's oddest couple: he swallows swords, hedge trimmers and umbrella handles while she hangs upside down and lifts lead weights by her hair!
·
Learn why a California man has experienced more than 950 violent car crashes.
·
See tourists risk life and limb to get their picture taken with an 18-foot-long crocodile!
A special pullout section provides readers with weird
Titanic
facts; another features the incredible real-life story of the Elephant Man. A dramatic gatefold pullout features panoramic photos of the home of "Weird Steve," where every room is crammed with thousands of strange curiosities—it's impossible to look at just once! And this is just a small preview of the strange and unbelievable stories and photos within the book.
Download the Weird
is sure to jump off the shelf with its brilliant contrasting colored cover, with eye-catching holographic foil and lenticular. It's the perfect gift for anyone who is intrigued by all things weird and is guaranteed to entertain and shock every member of the family.
Even though I was sent this book to review, my husband has not been able to put it down since we received it. He has always been a Ripley's fan, and loves how this book has an app that goes along with it, adding a fun new dimension to the bizarre stories found inside this hard covered book.
When my husband is not bringing this book to work to show off or read during this lunch break, I have been flipping through the pages of this soon to become popular coffee table read. If you are a fan of Ripley's Believe It or Not books, then you have come to expect the most crazy and weird stories. Some pages are hard to look at, while others make you wonder why people would do such over the top things. This book is definitely a page turner, and will provide hours of entertainment and moments of ews, ahs, and oh no they didn't. :-)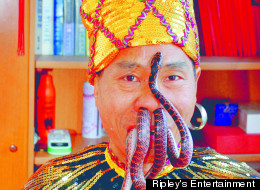 For 30 years, Liu Fei of China has been pulling snakes through his nose, sometimes two at once.
And, with the holidays right around the corner, this book would make a great gift for those hard to shop for people on your list, as well as Ripley's fans.
You can orderDownload the Weird from online retailers like Amazon, Barnes and Noble, etc., as well as pick up in stores now.
--GET THE APP--
Click here to download the new FREE app , which will bring the pages of this new book to life.
The official Ripley's Believe It or Not! App. This is your one-stop portal into the incredible world of Ripley's. Download the world's weirdest phenomena onto your mobile device, including the latest Believe It or Not! photos, videos, stories and facts. This App features Ripley's pioneering image recognition technology, oddSCAN™, giving you the ability to scan real-world targets in Ripley's museums and books with your phone camera to unlock exclusive hidden content. Plus live feeds, a guide to Ripley's attractions worldwide, and more!
-------------------------

- Take the oddSCAN™ test run and win a ticket to a Ripley's attraction
- Download the latest Ripley's Believe It or Not stories from within the App.
- Ripley's oddSCAN™ allows you to unlock hidden content by simply pointing your phone camera at physical targets at Ripley's museums, inside our Ripley's Believe It or Not! books, and online at www.ripleys.com/oddscan
- Brand new downloadable Ripley's Believe It or Not! Appazines™
- Listings information for all 35 of Ripley's major global attractions
- Live feeds from Ripley's social media
- Portal to buy Ripley's products
- Free iSword game app
Disclosure: I was sent a copy of this book in order to review and write up an honest review on. The views I share are mine and mine alone.