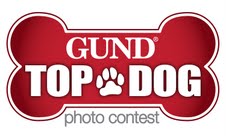 GUND, known for its top quality, soft and huggable plush designs and gift products, is celebrating man's best friend with its first-ever Top Dog Contest, launching today.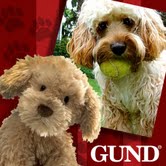 Inspired by consumer demand for GUND's version of Boo, The World's Cutest Dog™ and real Pomeranian with millions of fans, the company is inviting pup parents from around the country to submit photos of their favorite four-footed friend, in one of the following four categories:

· Most Beautiful Dog
· Ugliest Dog
· "Doganista"/Best Dressed Dog
· Dog that Most Resembles its Owner

"We know that people love their dogs; that's one reason why GUND dogs are so popular," said Bruce Raiffe, GUND's president. "GUND is celebrating man's best friend by offering families an opportunity to show off their favorite pet and win something very special in return."

The Grand Prize: GUND will create a limited edition model of the winner's dog. The dog will be available in gift and toy stores in 2013.

Consumers across the U.S. may submit their photos via a contest tab on GUND's Facebook page (www.facebook.com/GottaGettaGUND). A winner in each of the four categories will be selected based on the number of votes for the photos on that page. Category winners will each receive a selection of GUND products of their choice, valued at $250 retail. The "Top Dog" Grand Prize winner will be selected by a panel of judges from the four category winners.

Simultaneous with the Top Dog Contest on Facebook, GUND will run the Most Pinteresting Dog Contest on Pinterest. Consumers will be asked to post their entry on their own pages, "tag" it @GUNDMostPinterestingDog and submit the link to GUND at [email protected], where GUND will add the entry to their Most Pinteresting Dog Contest board for people to "like." The Most Pinteresting Dog Contest winner will be selected based on the number of times the entry is liked on the GUND Pinterest board. The Most Pinteresting Dog winner will also receive a selection of GUND products of their choice, valued at $250 retail.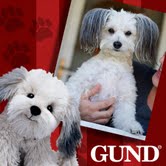 Consumers may submit to either or both contests, which will be judged separately. Participants are invited to encourage friends and family to vote on Facebook and Pinterest.

The contest will run July 16 - August 15, 2012 with final submissions due on August 5, 2012. Voting will commence on August 6, 2012 and close on August 15, 2012. Winners will be chosen the week of August 20th and announced the week of August 27th.

For complete rules, see Top Dog Contest and Most Pinteresting Dog Contest rules at http://www.gund.com/contests/.


About GUND®:
GUND, a division of Enesco, LLC, is known worldwide for its top quality, soft and huggable plush designs and gift products. Award-winning GUND products appeal to all ages, from infants up, and are perfect for both play and collecting. The 113-year old company is based in Edison, New Jersey, and distributes throughout the United States and Canada as well as in Europe, Japan, Australia and South America. GUND products may be found in gift, specialty, toy, book, museum and department stores and many other retail outlets. To find your nearest retailer, visit www.gund.com.

About Enesco, LLC
Enesco, LLC, is a global leader in the giftware and home and garden décor industries. Serving more than 44,000 customers worldwide, Enesco distributes products to a wide variety of specialty card and gift retailers, home décor boutiques, mass-market chains and direct mail retailers. With subsidiaries in the United Kingdom, France, Canada and Hong Kong, Enesco serves markets operating in Europe, the Americas, Australia and Asia. The company's product lines include some of the world's most recognized brands including Heartwood Creek® by Jim Shore, Foundations®, Our Name is Mud®, Gund®, Boyds®, Department 56® Villages, Country Artists®, Walt Disney Classics Collection®, Disney Traditions™, Border Fine Arts™, Cherished Teddies®, The Trail of Painted Ponies®, and Lilliput Lane®, among others. Further information is available on the company's Web site at www.enesco.com.
Disclosure: Inspired by Savannah is in no way affiliated with this sweepstakes. I am merely sharing information for interested readers.