This past Father's Day gave me an excuse to get into the kitchen and bake up some sweet treat for my husband and father. But, this year, I had to make adjustments to my recipes, as they are both watching their sugar intake for health reasons. My father is working on losing weight, while my husband is trying to keep his body in check for the upcoming races he will be running. So, instead of using regular sugar, I ended up using Domino Light sugar, which is half the calories of sugar!
Every Father's Day, I have been carrying on the tradition my grandmother started when I was a child, and would surprise my father and his brothers with a tray of Italian cookies and pizzelles. I can still remember the first time I tried a pizzelle, and fell in love with it. They are so easy to make and last a while, if stored in an air tight container. I ended up tweaking my pizzelle recipe, which you will find below, substituting the sugar with Domino Light cookie. At first, I wasn't sure how the cookies would turn out with this lighter sugar. But, after taste tasting with my family, they couldn't tell the difference. And, when I told them I switched up the sugar with Domino Light, they smiled, as they knew this meant they could enjoy 1-2 more :-)
In addition to using this lighter sugar in my baking, I have also been using it as a sugar substitute in my green teas and homemade iced teas. It is great knowing that I can cutting down on my caloric intake, just by switching out sugars used. I can't wait to get back into the kitchen and bake some good tasty treats using Domino Light. But, in the meantime, my family and I are enjoying the batches of pizzelles I made for Father's Day. I expect by the end of tomorrow for them to be gone, as they usually don't last long in our houses. :-)
If you have never tried making pizzelles, here is a family recipe I have been using (see below), and tweaked with the Domino Light sugar. Note, you will need a pizzelle maker, which you can pick up at a kitchen store or major retailer, that sells kitchen appliances and accessories. You can turn these waffle-like cookies into ice cream bowls -- just drape over the bottom of a small custard bowl once you remove from the pizzelle iron? I usually do this when we are having family get togethers. Or, dip one half of the cookie in sugar, for a sweet treat. My parents like to use two pizzelles and put a scoop of ice cream in the center, and make an ice cream sandwich. Yum!

Enjoy and happy baking!!!
Vanilla Pizzelles
3 large eggs
3/4 cup sugar -- If using Domino Light, use only 2/3 cups)
1/2 cup butter, melted and cooled
1 1/2 tsp vanilla extract (or you can use anise or almond extract)
1 3/4 cups all purpose flour
2 tsp baking powder
1/8 tsp salt
1. Preheat your pizzelle maker according to the manufacturer's directions.
2. In a large bowl, whisk together the eggs and sugar until smooth. Stir in melted butter and vanilla extract. Sift flour, baking powder and salt over the butter mixture and stir until dough is thick and no streaks of flour remain.
3. Drop rounded teaspoonfuls (using a standard teaspoon measure) onto preheated pizzelle maker and close. Cook until golden brown, adjusting the amount of dough used if necessary to ensure that the pizzelles are round and completely fill the maker's mold.
Makes about 3 dozen pizzelles
------------
Try the Light Way to do Sweet Today!
D

omino

®

L

ight Products
2 lb. Resealable Pouch
Ideal for baking or for everyday sweetening, the 2 lb. pouch offers the same sweetness as a 4 lb. bag of sugar.

It's easy to bake with Domino® Light. Replace 1 cup of sugar with 1/2 cup of Domino® Light in your recipes.

5 Calories per serving
40-Count Packet Box
Convenient for travel, in the office, or any time.

These portion control packets provide all-natural sweetness for sprinkling or stirring.

Domino® Light packets contain only 5 calories per packet!
About Domino

®

Light
Domino® Sugar has been sweetening your favorite foods and beverages for over 100 years. Now there's Domino® Light – a 100% natural sugar blend with half the calories of sugar. By blending pure cane sugar with the zero-calorie, naturally sweet extract from the stevia plant, and a natural flavor to enhance the taste, Domino® has created a delicious light sweetener with no artificial ingredients.
The tropical stevia plant, originally discovered in the warm highlands of South America, has been used for centuries as a sweetener. Domino® Light is made from the extract of this stevia plant and then blended with another one of nature's pure sweet plants, the sugar cane. Our balance of sugar cane and stevia extract creates the ideal sweetener – a perfect sweet taste and half the calories of sugar!
--BUY NOW/GET A $1.00 OFF COUPON NOW--
You can pick up Domino Sugar at your local market, as well as through online retailers. Before heading to the market buy and try Domino Light sugar, make sure you head on over to Facebook and click on Domino Sugar Coupon Tab on their Facebook page, to download and print a coupon to try this new product.
Don't forget to Join the
Time To Get Sweet Domino/C&H Light Twitter Party
on Aug. 8th.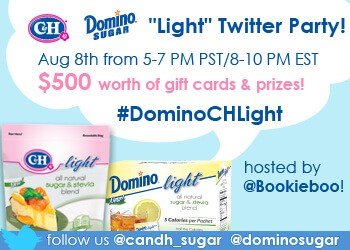 Join us on Wednesday, August 8th from 8-10pm EST to celebrate how sweet life really is with sugar that tastes amazing, doesn't lead to weight gain, and doesn't have artificial chemicals in it (my own words.) The party will be about all the ways you can use these new products in baking and other recipes to help you with your healthy living lifestyle. And because there are NO artificial sweeteners, you can feel great about sharing them with your family.
Click here to learn more and RSVP now.
Disclosure: I was sent samples of product from the vendor, and was compensated for my time and post, as part of a paid Domino Sugar campaign. However, the views above are mine and mine alone.