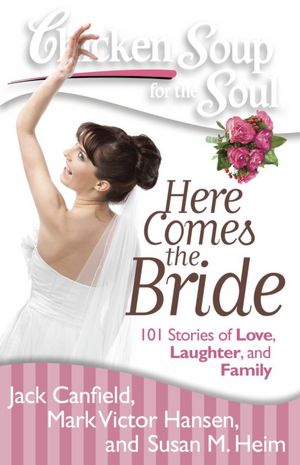 ISBN-13: 9781935096849

Publisher: Chicken Soup for the Soul

Publication date: 5/15/2012

Edition description: Original

Pages:

400

Sales rank:

269,792

Series:

Chicken Soup for the Soul Series

Product dimensions: 5.58 (w) x 8.28 (h) x 1.08 (d)
Summary:
The wedding day, and each day leading up to it, is a special and exciting time. In this collection of 101 heartwarming and hilarious stories, brides and grooms, families and friends share their memories of the big day. With stories about everything from the proposal, to the planning, to actual wedding day events, the honeymoon, and all the joys and frustrations in between, this book will delight and encourage any bride or newlywed. A great gift for bridal showers, engagements, and weddings!
My Thoughts:
Where was this book when I was getting married? What a great book to give or receive, as you prepare to walk down the aisle. This book filled with stories of love, will have you laughing, crying and shaking your head, as you read through each story and relate to them. Think you have wedding day jitters? You are not alone, as you will find out when you read some of the stories in this book. After reading this book cover to cover, I have to say my favorite section was the last one, all about honeymoons. My husband and I never went on a honeymoon because of our work schedules, but we have both heard some wild and crazy stories. I found myself laughing at a handful of the stories in this section. And, by the end, I began thinking that it is never to late to have a honeymoon. Hmm, maybe in the future, we will go on one. But, in the meantime, I had blast reading about some amazing, and not so amazing honeymoon stories/memories.
If you know someone who is getting married, or recently got married, why not surprise them with a copy of this Chicken Soup for the Soul book? Or, if you are a hopeless romantic, you will enjoy each of 101 stories that make up this book about love, laughter and family.
--BUY NOW--
Click here to order a copy of this book for only $11.95, through Amazon.com.
---GIVEAWAY---
Three (3) lucky winners will receive a copy of Here Comes the Bride, thanks to the publisher. To enter, please complete the entries on the Rafflecopter form below. Good luck!

Disclosure: I was sent a copy of this book by the publisher in order to write up an honest review. The views above are mine and mine alone.