Disclosure: I was sent a review copy from the publisher, in exchange for an honest review. All views shared are mine and mine alone.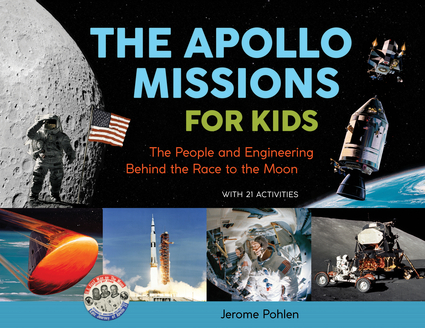 Thanks in part to the local library's summer reading program, my girls are all about the upcoming 50th anniversary celebration of the Apollo Mission. The theme for summer reading this year is outer space, and many of their activities and programs held at the library are about space, the planets, and even the famous Apollo Mission, which happened 50 years ago, when we saw Neil Armstrong and Buzz Aldrich walk on the moon, and hear the famous words..."One small step for and one giant leap for mankind." Seeing how excited my girls have been about the space activities at the libraries, I knew they would love doing some fun Apollo-themed activities at home. So, when I was contacted by the folks at IPG Books about the recent "The Apollo Missions for Kids: The People and Engineering Behind the Race to the Moon with 21 Activities," I knew they would love to do the activities and learn even more about the Apollo missions.
Here is more about this fun new book from Chicago Review Press, an imprint of IPG Books....
"Celebrating the 50th anniversary the Apollo program, The Apollo Missions for Kids teaches young readers about NASA's great achievements in space travel. Written by award-winning author Jerome Pohlen, this extensive history lesson allows readers to practice basic physics principles and live like astronauts with 21 exciting activities. Informative sidebars add new insights on topics like the famous photograph of the Earth in "Earthrise" and the schematics of spacecraft in "The Command Service Module." Inspiration abounds for aspiring scientists and space enthusiasts alike in this introduction to the Apollo missions.
Educational and engaging, The

Apollo

Missions

for

Kids

draws young readers into the American space race and takes them on a historical ride through the groundbreaking

Apollo

missions

of the 20th century.
"
Ages 9 and Up, Grades 4 and Up
Formats: Trade Paper, Mobipocket, PDF, EPUB
Trade Paper, $18.99 (US $18.99) (CA $25.99)
Doesn't this look like a fun and fascinating book for kids? While it it geared towards children ages 9 and above, younger kids will also enjoy the different activities, with the help of a parent/caregiver.
As soon as my girls saw this book arrive in the mail last week, they were so excited, as they this is not the first activity book like this that we have received. In fact, I have lost count on the number of books like this, as we continually use them in our homeschooling, for fun hands-on learning. But, this was the first space-themed one, and was an instant hit with my girls.
As mentioned above, this book features 21 hands on learning activities and projects kids an do, to better understand the Apollo missions and the science behind them. Here are just some of the fun and educational activities that we recently completed, as we geared up to celebrate the 50th anniversary of the Apollo missions...
Determined our family's individual weights on the moon

Identified the moon's features

Calculated how far away the moon is using sports equipment

Made space food, and ate like an astronaut

Recreated the shape and size of the command module

Used a marble and a shallow bowl to show orbital mechanics

Made space art

Assembled a personal preference kit, just like the astronauts pack and bring on a mission

Cast shadows , to show how the sun rises and sets on Earth, as well as angle of sunlight to create long shadows
Don't these sound like interesting hands-on learning activities? My girls really enjoyed this and all the other activities that are included in this book. Not only are all the supplies needed and instructions for each spelled out, and easy to follow, but you are also given an explanation and story behind each, as it pertains to NASA and the different missions, including the famous Apollo missions.
As we approach July 20th, the 50th Anniversary of the Apollo mission, why not consider picking up this hands-on activity book for kids, to enjoy with your family. I know, school is out...but, come on, who wouldn't want to learn more about the Apollo missions, and do fun hands-on learning activities, to apply what you read about, to learn more? My girls really enjoyed the activities, and didn't mind that they were learning at the same time, while also having fun. And, they couldn't wait to shared what they learned about the Apollo missions with family, friends and even the librarian.
The Apollo Missions for Kids is one of those books you will buy now and do with your kids, and can enjoy time and again. It will also come in handy when your kids learn about Outer Space and famous astronauts in school. You can learn more about this and other hands-on learning an activity books like this from Chicago Review press by visiting https://www.chicagoreviewpress.com/ and https://www.ipgbook.com/.
About the Author:
Jerome Pohlen is a former elementary school science teacher, an engineer, an editor, and the author of Albert Einstein and Relativity for Kids as well as a dozen award-winning science kits, including Famous Experiments, Microscopic World, and Wild Weather.
Disclosure: I was sent a review copy from the publisher, in exchange for an honest review. All views shared are mine and mine alone.