Disclosure: I was sent samples from the vendor in exchange for an honest review.All views shared are mine and mine alone.
Last month I shared all about National Taffy Day. So many of my readers messages me to tell me thanks for sharing, as well as how they stocked up Taffy to sample and enjoy with their family, as they celebrated this special day. I decided I would continue to share fun National Holidays (check out the full list here) throughout the year, as a way for your family to celebrate fun things like like National Ice Cream Month, National Grilling Month, National Baked Bean Month and even National Picnic Month, all of which will be celebrated next month, in July. This month, I wanted to celebrate a fun holiday, which is also a favorite snack of my husband and youngest daughter -- jerky. Yes, June 12 is National Jerky Day, and to celebrate my family gets to sample T.O.P Chops Jerky -- known as one of the best tasting and top selling Jerky brands around.
And, in observation of National Jerky Day on June 12, the folks at T.O.P Chops Jerky are offers a sweet deal for jerky lovers. Head on over to their website and use code JERKYDAY to get 50% off your first purchase. Woohoo!, an amazing deal if you ask me! And, what better to celebrate National Jerky Day than by saving 50% off of some of best tasting jerky around! :-)
And, with summer fast approaching, I know many families love to stock up on their favorite jerky to bring camping, hiking, or for a quick on-the-go snack. If you are looking to try a new brand and have yet to try T.O.P. Chops Jerky, you definitely must check them out and give them a try. Like I said, I was sent samples from them, and my husband and daughter can't get enough of their jerky.
They can't get over how moist the jerky is, and how big the pieces are. usually when we buy jerky, it is really dry inside and out, and the strips are deceiving from the outside, as once you open the bag, most of the jerky is broken up or small.
But, with each and every bag of T.O.P Chops Jerky, you can be sure to get the best quality of jerky with each and every bag.
And, with every bite of their jerky (which is available in 4 flavors -

Original, Teriyaki, Sweet & Spicy and Red Chili Pepper

), it is like a party in your life, with the delicious flavors.
My husband and daughter both agree that their favorite T.O.P Chops Jerky flavor is Sweet & Spicy. They said it has just the right amount of heat, balanced with the right amount of sweetness. It was eating chips they said, as they couldn't stop at just one, and kept reaching into the bag for more jerky.
Seeing just how much they love this brand, I will definitely be taking advantage of the 50% off your first T.O.P Chops Jerky order, to stop up and have on handy for summer snacking, and quick on-the-go pick me ups. :-)
MORE ABOUT NATIONAL JERKY DAY:
National Jerky Day is observed annually on June 12th. National Jerky Day was created to celebrate the rich history, immense popularity and nutritional benefits of dried meat snacks.
"In many ways, jerky is an ideal snack. Naturally packed with protein, jerky will keep you satiated between meals; but since it's low in fat, calories and carbs, it won't sabotage a healthy diet," said Jeff LeFever, director of marketing for Jack Link's® Beef Jerky, the No. 1 U.S. meat snack brand.
This nutrient-dense meat has been made lightweight by drying. A pound of meat or poultry will weigh only about four ounces once it is made into jerky, and it can be stored for months without refrigeration because most of the moisture has been removed. Salt is added to the meat before it is dried, to prevent bacteria from developing.
"Jerky" is a word derived from the Spanish word

charqui

, which came from the Quechua (a Native South American language) word

ch'arki

, which means to burn (meat).
Traditional jerky is readily available in nearly every convenience store, gas station, supermarket, and variety shop in the United States.
Due to its light weight and high level of nutrition, since 1996, jerky has been selected by astronauts as space food several times for space flights."
HOW TO OBSERVE NATIONAL JERKY DAY:
Snack on your favorite jerky. If you make your own, give a shout out. The process is satisfying and the results often bring friends and family clamoring for more. Use

#NationalJerkyDay

to post on social media.
HOW T.O.P CHOPS SNACKS IS DISRUPTING THE JERKY INDUSTRY:
"Beef jerky can be known for its tough and chewy texture, but one snack brand believes consumers deserve a more tender experience. And in honor of National Jerky Day, they're celebrating with 50% off first-time orders.
Use coupon code
JERKYDAY
to get 50% off your first purchase to
celebrate National Jerky Day
T.O.P. Chops Jerky
is a handcrafted jerky made from American beef with no additives or preservatives, and it's grown from an at-home hobby to a thriving, national snack brand disrupting the jerky industry—in just six short years.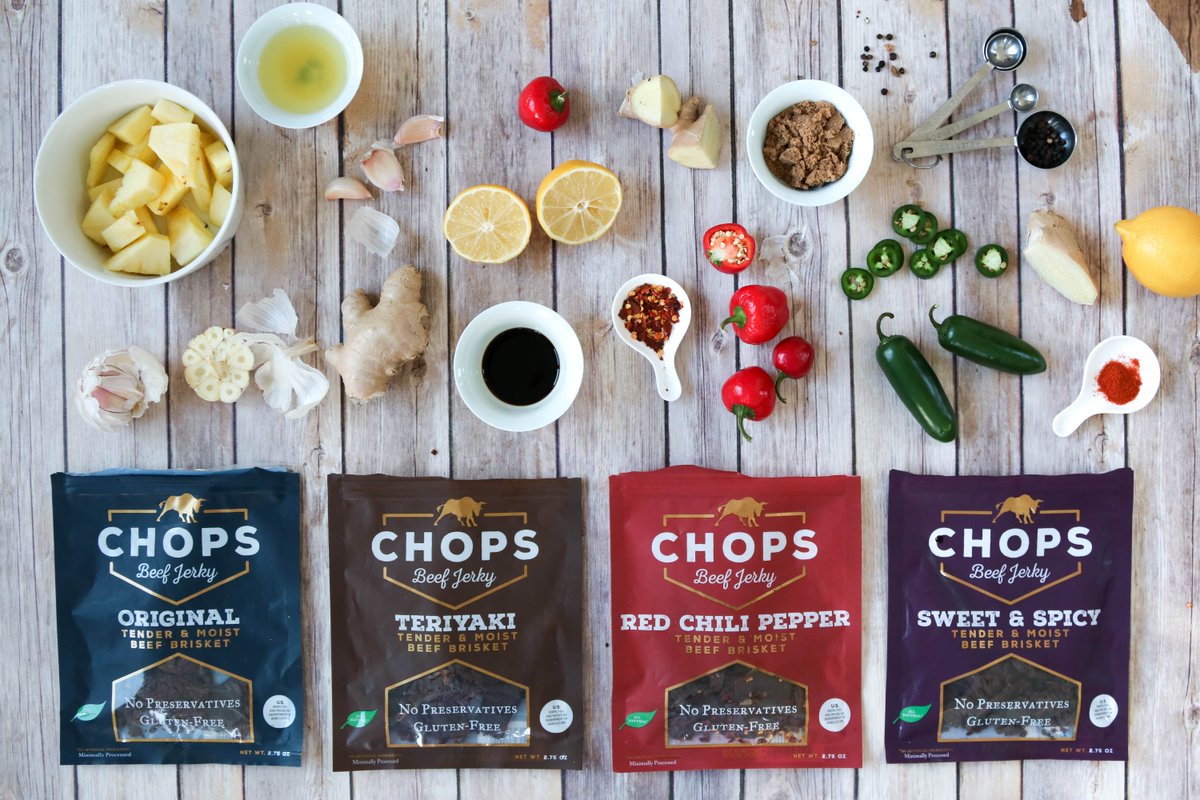 Dusty Jaquins, who is one of the co-founders of T.O.P. Chops, started making jerky from his Atlanta kitchen using an old family recipe. Everyone who tried it raved over the taste and texture, encouraging Jaquins to take the jerky to market. Jaquins and his fellow co-founder, Luke Sellers, knew they had to share the southern-born beef jerky with the world.
Today, T.O.P. Chops Jerky is a national brand, offered at many major grocery retailers across the country. What makes the jerky better? Jaquins explains how special and different come down to three important things:
T.O.P CHOPS ONLY USE USDA GRADED SELECT OR BETTER BEEF: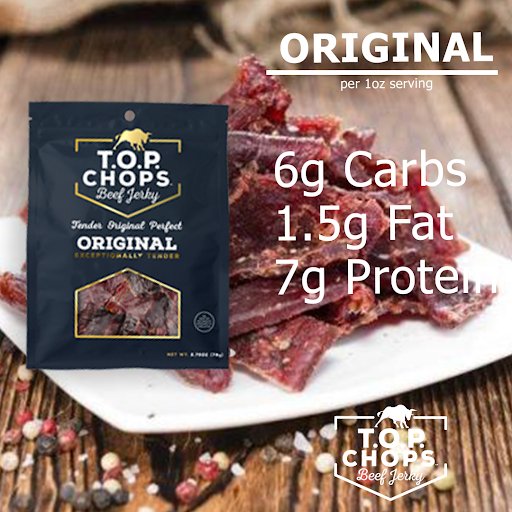 Most jerky that's made in the U.S. uses ungraded meats from dairy cattle, which are cows that no longer produce milk. Jaquins says, "T.O.P. Chops changes the standard by only using USDA Graded Select or better beef that's sourced from steers raised in the U.S." He explains how using American beef from steers—as opposed to dairy cattle—makes their jerky incredibly tender and provides an authentic beef flavor.
THIN CUTS MAKE MOIST JERKY:
The majority of beef jerky is what Jaquins refers to as cowboy jerky—it's hard, it's tough, you have to gnaw at it. But he and business partner Sellers believe life is already tough enough, and they want to provide a more positive eating experience.
As a result, they slice their beef very thin using a Veri-Thin™ slicing process. This reduces the cooking time, retains the meat's moisture and renders an easy-to-chew jerky.
MARINADES INFUSED WITH ANTIOXIDANTS:
While most premium jerkies on the market have similar levels of fat, sugar, and sodium,
Jaquins wanted to offer a "better-for-you" beef jerky. To do this, he and Sellers partnered with food science and culinary experts to enhance the recipe. This effort culminated in a new ingredient called plum powder, which not only reduces added sugars and sodium but also creates a product packed with antioxidants.
The plum powder sweetens the jerky marinade. The team of jerky artisans use a small amount and let it sit overnight to give the jerky a strong, high-quality meat flavor with some subtle notes of sweetness and spice.
T.O.P. Chop Jerky comes in four flavors, including Original, Teriyaki, Sweet & Spicy and Red Chili Pepper. Jaquins recommends his personal favorite Sweet & Spicy because "I'm not a lover of extremely hot foods, and the sweet and spicy has a nice balance. It's a mild heat with a little sweetness to it."
THIS JERKY HAS NO LIMITS:
The dried meat snack industry has seen significant growth over the last decade, and T.O.P. Chops plans to grow right along with it. Dried meat consumption is up
18%
and
92%
of millennials replace one meal a week with a wholesome snack like jerky. The brand is getting ready to launch in Costco and Target stores in August 2019 and has scheduled launches in other large grocery chains in September and October of this year.
Readers who are interested in learning more about T.O.P Chops Jerky can visit their
website
or follow them on Instagram
@topchopsnacks
. Use code JERKYDAY to get 50% off your first purchase and celebrate National Jerky Day. "
Disclosure: I was sent samples from the vendor in exchange for an honest review.All views shared are mine and mine alone.