Disclosure: I was sent samples from the vendor in exchange for an honest review. All views shared are mine and mine alone.
Valentine's Day is fast approaching. Thursday will be here in a blink of an eye, which means husband and boyfriends only have a few more days to do their shopping. Yeah, you know what I am talking about...just like with Christmas, they will wait until the last minute to go shopping. It is so easy to pick up a box of chocolates and bunch of roses or flowers, but what about hinting to them about something even better, that is also healthy, and the whole family can enjoy? I am talking about Edible Arrangements and their line of edible Valentine's Day gifts and bouquets.
Many people go into 2019 with New Year's resolutions to lose weight or eat healthy, and it is hard to do, when you find yourself holed up in the house during the cold winter months and just want to snack away. And, with all the holidays one right after another, how can you say "No" to the chocolates and candy sales? I know that I find it hard to not pick up a few bags of candy after a holiday passes, to add to my "me time" drawer of treats. But, this year, I am making a point to limit all the sugary snacks and treats and eat healthy, not just for me, but also so that my girls see me eating either, and they in turn will want to do the same. With the craziness of life, us parents can forget that we are role models for our kids, and something as simple (even though it can be so hard) as keeping a resolution, or just working to eat healthier, can shape how your kids look at food.
Just the other day I was in the store shopping for party supplies for a couple of my girls' upcoming Valentine's Day parties, and watched as a handful of parents filled their baskets and carts with sugary candy and treats, to give their kids for Valentine's Day, or send them to school with, as they don't have the time to make a homemade baked good. I don't blame, especially with a parent's crazy schedule trying to manage work, life and their kids' crazy school and sport schedules, to find time to get in the kitchen to bake something for their kids' class party. Also, with all the food allergies present, it is hard to find a recipe that you can whip up that will satisfy gluten, dairy, nut free allergies. I am guilty myself of picking up and sending my girls to meetups and parties with store bought treats, as I just didn't have the time or energy to make something myself.
But, this Valentine's Day, to go along with my resolution to eat healthy and have my family eat healthy, too, I will be turning to Edible Arrangements to help with my gift giving and party needs. If you are not familiar with Edible Arrangements, they are a franchise with locations all over the US, as well as an online store, where you can order and have edible gifts sent to family and friends for all occasions or just because. You can find your nearest Edible Arrangements store to visit by using the store locator here.
I have a few stores near us that I have used over the years, to place an order or go in and see what new edible arrangements are available.
Just look at what is currently available as part of Edible Arrangement's 2019 Valentine's Day offering (these are just a few options available -- head to
https://www.ediblearrangements.com
to check out the full Valentine's Day 2019 offering: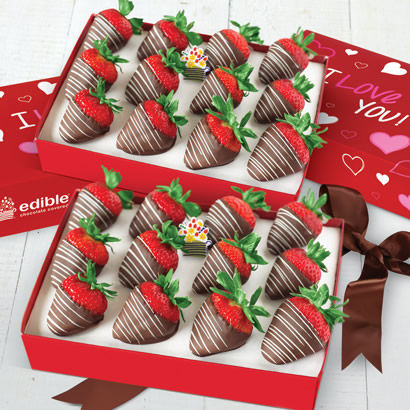 Don't they all look amazing?! They truly are almost too good to eat. But, when you smell the fresh, sweet fruit (especially the juicy pineapple), you want to dive right in and take a bite. :-) The kind folks at Edible Arrangements sent me two of their popular gifts for this year's Valentine's Day line up, their best selling Valentine's Day Bouquet
and Valentine's Day Berries, 12 count, to review, and I have to say my jaw literally dropped when I saw the "Blooming Hearts"
(Includes a re-usable ceramic heart vase, colors may vary)
Valentine's Day Bouquet Blooming Hearts edible arrangement.
The Gourmet Belgian Chocolate "I Love You" Pop is what caught my eye under the Cello wrapper, and I couldn't wait to see the arrangement, which is made up of juicy pineapple hearts, plump red grapes, and plain and chocolate dipped strawberries. Yum! Even all wrapped up, you could smell the fresh fruit, and it made my mouth water.
It has been awhile since I got an Edible Arrangement bouquet for my family to enjoy (even though I usually send to family and friends for holidays and birthday, for my family). So, when my girls saw them arrive, they were all smiles and couldn't wait to dive right in and help me "sample" the different fruit.
How could I say "No," knowing that this is a better alternative to processed boxed treats and sugary candy.
We all want our kids to eat more fruit, and this is the perfect way to get them excited about eating fruit.
My girls really enjoyed the fruit, and loved seeing the pineapples cut into heart shapes in the Blooming Hearts Valentine's Day bouquet. Like their mom, they also love chocolate, so it was a nice treat to pair the grapes and pineapple with a couple hand-dipped strawberries, which are covered in gourmet semi-sweet chocolate. OMG, they were so delicious, and the chocolate especially was out of this world good!
My girls couldn't help but giggle as they bit into the chocolate covered strawberries, and had juice from the fresh berries drip down their mouth. It was either catching the drip, or chance loosing a piece of the chocolate that crumbled into their mouths. They opted to enjoy the chocolate as it melted in their mouth first, and then wipe the juice away.
Who knew that fruit could put a smile on your face? Thanks to Edible Arrangements, their edible gifts and bouquets do that every time. Upon receiving a delivery, you find yourself smiling as they are simply stunning to look at. Then, as you peel away the wrapper/packaging, and really see and smell the fresh fruit up close, you find yourself smiling again, as you can see that the person who sent you this thoughtful gift really cares about you. Or, if you purchased for your family, you already know the top-quality product you get each and every time with a Edible Arrangements order. Then, comes another smile when you choose a piece of fruit from the beautiful arrangement to try first. And, the smiling doesn't stop there...the biggest smile comes as you chew and swallow the first bite, as you know what your eyes and nose have just seen and smelled, that this gift is a real winner, and one you will enjoy eating. :-)
Edible Arrangements will satisfy a sweet tooth in a healthy way -- yes, there is chocolate, but is only the best chocolate being used, and compared to what you usually grab for Valentine's Day to eat, this one is much better and paired with the fresh fruit, it is enough to satisfy your sweet tooth, while also making you eat all the other tasty fruit you see before you.
If you or your sweetheart are still trying to figure out what Valentine's Day gift to get, why not take the stress out of all the guesswork, and order an irresistible treat from Edible Arrangements. The hard part will be deciding which of their fruit bouquets or boxes of choc. dipped fruit (green & red apple slices, and strawberries). Then, sit back and wait for your Edible Arrangements delivery to arrive, before you sink your teeth into this delectable fruit, that will make your mouth water, and leave you with a smile on your face. And, you will not feel guilty about resolutions you may have made to eat healthy, as this is one Valentine's Day gift that is good for you, and can be enjoyed with the whole family, as well as with friends, if you choose to share.
I could go on and on about how great Edible Arrangements is, but there are only a few days left to get your orders in, so I will let you get to ordering. :-) Whoever you choose to gift an Edible Arrangements with this Valentine's Day, know that it will be a gift they will love and be talking about for some time to come. Yes, it is easy to run last minute and grab roses and a box of chocolate, but you can see that thought is put into deciding which particular fruit arrangement to send, and that is what makes this gift special.
So, what are you waiting for, head on over to https://www.ediblearrangements.com/ to browse their Valentine's Day selection today, and get ready to enjoy the best tasting fruit around. What better way to say "I Love You" than with a chocolate covered strawberry? Then, add 11 more! :-)
I will warn you, it is hard to stop at just one of these mouth-watering chocolate-dipped strawberries. They are amazing! Edible Arrangements mission is to "WOW" you, and they did just that with the edible flower arrangement and box of chocolate dipped strawberries I was sent!
Disclosure: I was sent samples from the vendor in exchange for an honest review. All views shared are mine and mine alone.