Disclosure: I was sent a review copy from the publisher in exchange for an honest review.

All views shared are mine and mine alone.
Arrives on Bookshelves on July 24th, 2018
Thanks to last year's animated movie, Coco, many young children and families were introduced to the Mexican/Latin holiday, Dia de los Muertos (Day of the Dead).

My girls were already aware of this holiday as we touch upon on it in our homeschooling each November, and I remind them of it, as it falls on my birthday, Nov. 2nd, each year.

But, thanks to the animated movie, Coco children were able to see this ancient tradition brought to life.
They got to see how families put out pictures in a shrine/alter of those who have passed on, and how they cook up lots of food and visit the cemeteries as a family to visit and have picnic near the tombstones of their beloved who are no longer here.

Then, they return home to continue the party at home, or in the streets.

My husband shared with the girls how they used to celebrate Dia de los Muertos back in his country of El Salvador and how it was a joyous time with lots of food, music and even fireworks.

Death wasn't looked at as something to be sad about when celebrating this tradition.

Instead, it was treated like a party and a way to honor those ancestors who have passed away, and share stories of their beloved.
I was excited to share this book with my girls, as they really enjoyed the previous "Celebrate the World" book we read, and I shared a review on – "Ramadan."

Similar to "Ramadan," this board book is filled with colorful illustrations that bring the tradition of Dia de los Muertos to life.

The illustrations also had a folk-type style to them as this is a favorite of the illustrator, which gave a playful and fun spin on the illustrations that fill the pages of this board, and really made the story come to life.
My girls walked away with a greater appreciation of this ancient tradition, and want to try and incorporate some of the festivities and treats into our very own Dia de los Muertos celebration of life this November, as we remember ancestors from both sides of the family who have passed, but still hold a special place in our hearts.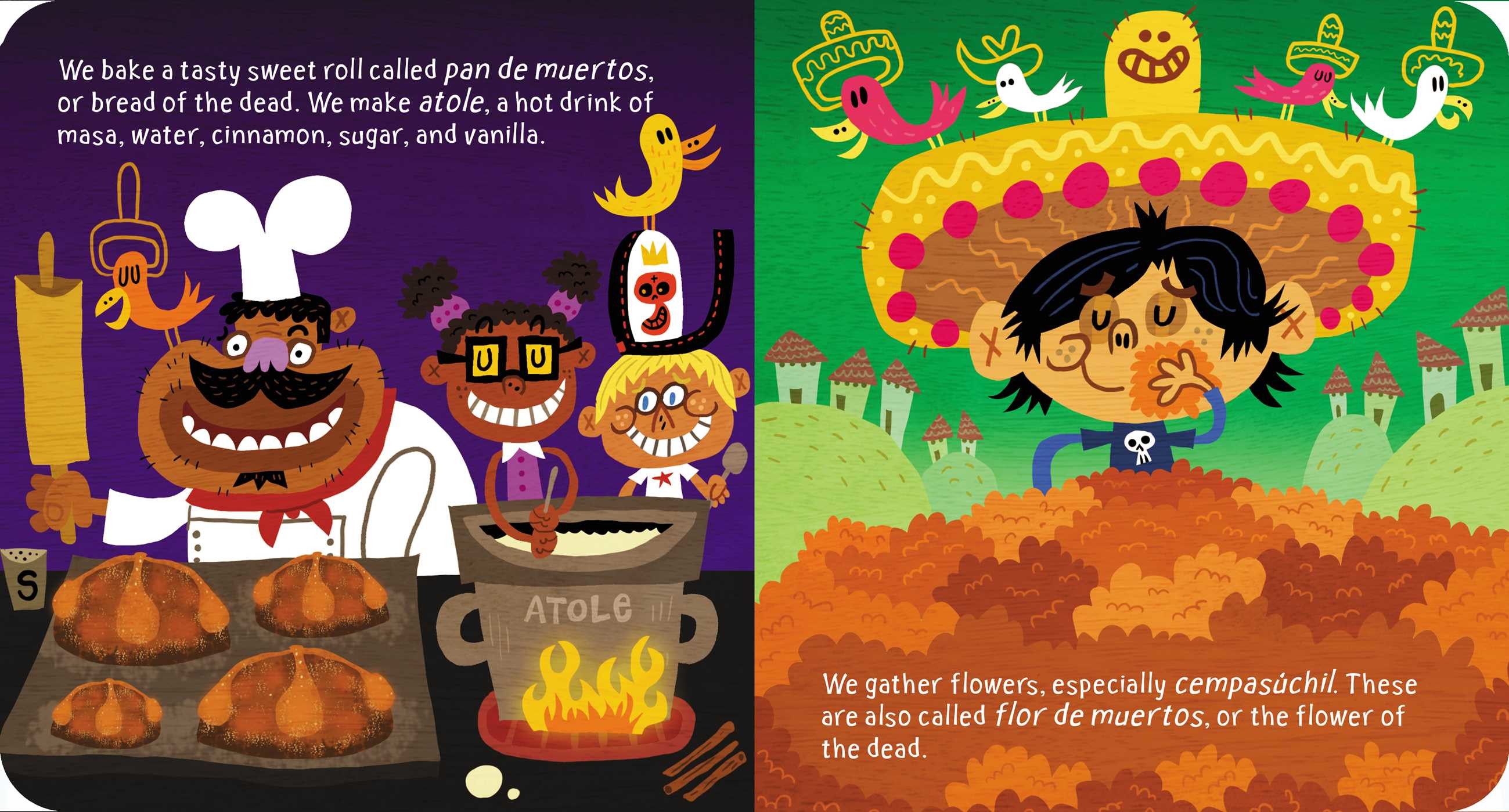 If you love books that celebrate special occasion and holidays celebrated all around the world, then you will definitely want to pick up "Dia de los Muertos," by Hannah Eliot, when it arrives in stores on July 24, from Little Simon.
"Readers will learn all about the traditions of Dia de los Muertos with this second book in the brand-new board book series "Celebrate the World," which highlights special occasions and holidays across the globe.
Beginning on October 31st, each year, it's time to celebrate an ancient tradition: Dia de los Muertos! With vibrant illustrations by Golden Globe-winning Mexican illustrator Jorge Gutierrez, this festive board book teaches that Dia de los Muertos honors ancestors and loved ones who have passed.

From sugar skulls to papel picado, this is a holiday that truly commemorates the cycle of life."
Hannah Eliot is a children's book editor who lives in Manhattan, NY.

Her favorite activities include editing (of course), writing, painting and doodling all over every piece of notebook paper she uses.
Jorge R. Gutierrez is a Mexican animator, painter, writer, and directory who, along with his wife, Sandra Equihua, created the multiple Annie and Emmy-Award-winning animated television series El Tigre: The Adventures of Manny Rivera for Nickelodeon.

Born in Mexico City and raised in Tijuana, Gutierrez has completed various films, cartoons, illustrations, and paintings exploring his love affair with Mexican pop and folk culture.

He won two Annie Awards and one Emmy Award for El Tigre.

He was also nominated for an Annie for Disney's

The Buzz on Maggie.

Most recently, he co-wrote and directed the animated feature The Book of Life, which earned him a 2014 Golden Glove Award nomination for Best Animated Feature Film.
Disclosure: I was sent a review copy from the publisher in exchange for an honest review.

All views shared are mine and mine alone.