Disclosure: I was sent a review copy from the publisher in exchange for an honest review. All views shared are mine and mine alone.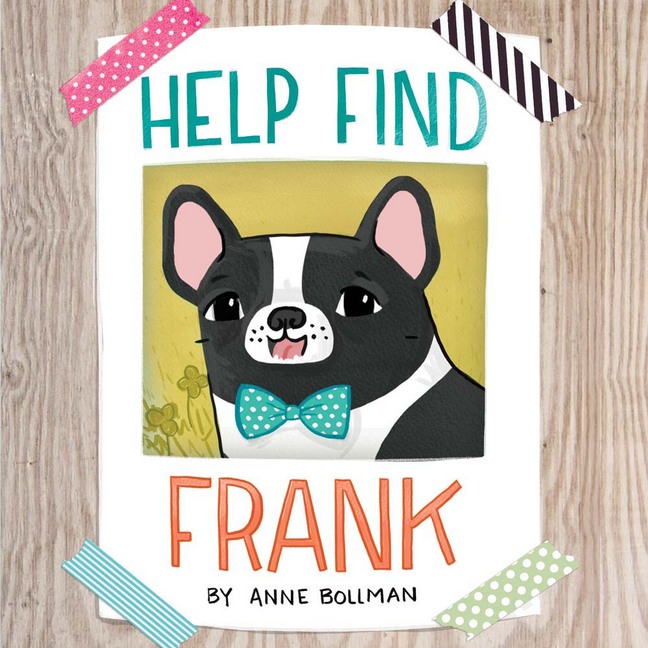 Price

: $16.95 / $22.95 CAN
Format

: Hardcover Picture Book
Pages

: 40 pages, all in color
Category

: Juvenile / Picture Books
Dog lovers will love this cute new book from Sterling Publishing, that will have them becoming young detectives trying to solve the case of the missing French Bulldog. Just be warned, there are toots in the book that will have little ones and even adults giggling when they read this fun recent release.
"A smartly structured whodunit sure to please young detectives—so long as they heed the warnings about the toots." —

Kirkus Reviews
Where, oh where, can Frank the French bulldog be? See if you can follow the clues and find the missing pup! Amateur sleuths will have loads of fun with this uniquely interactive book.
Frank loves to run, play, and give slobbery kisses. (He also loves to eat cheese, but DON'T FEED HIM ANY! You've been warned.) Then he gets lost—and it's up to readers to find him. Is he at the park? The baseball field? Filled with detective-style evidence exhibits, maps, and detailed seek-and-find pages, this engaging story entices young adventurers to discover clues that Frank leaves behind—and eventually locate the little guy himself."
My daughter Savannah is all about dogs. And, whenever she sees a dog book at the library or bookstore she has to pick up and read. I surprised her the other day with a book I know she hasn't read, but that I knew she would love. As soon as she saw the front cover and read the title, her eyes lit up and she had a huge smile on her face. She told her younger sister to stop what she was doing as she was going to read this new who-done-it book, and that she needed her help to solve the case of the missing French Bulldog. Bella loves spending time with Savannah, and likes when she reads to her, so she was up for an impromptu story the other day. :-)
When my daughter read the part of Frank the French Bulldog loving cheese, Bella chimed in "That is not good for dogs, as it gets them gassy," Then, the girls looked at each other and giggled before letting out toot noises, as they pointed and laughed more at the stinky toots illustrations, before saying, "Eww."
The girls continued through the book, loving all the interviews and clues that fill the pages of this book. They kept saying, "Follow the scent of cheese, and you will find Frank." And, by the end of the book, Frank was found, and the girls couldn't stop talking about how much fun this book was. They especially loved the last two pages which is set up as a look-and-find and gave a list of things to find in the colorful and playful illustration. Navigating the maps was another fun thing for the girls, and seeing that we were learning about cardinal directions in our homeschooling, they were quick to use what they learned to ask each other directions between two places on the maps in the book -- so, it turned into a learning experience that carried over from the classroom to this cute children's story.
We have only had this book for a short time, but it has become a favorite with my girls. They love having their Daddy read it to them at bedtime, and will pull it from the shelf during the day and sit together and read it. Even though they know Frank will be found in the end, they have fun following the steps and clues to find this gassy dog. :-)
If you are looking for a fun book to share with your child this summer, or have a dog lover like my daughter is, then you will want to check out the new release from Sterling Publishing, "Help Find Frank" by Anne Bollman, today. It will surely become a favorite in your house, and have you all giggling as your read through the book and learn about this cheese loving French Bulldog.
Disclosure: I was sent a review copy from the publisher in exchange for an honest review. All views shared are mine and mine alone.