Disclosure: I was sent samples from the vendor in exchange for an honest review. All views shared are mine and mine alone.
Are you ready? Tonight is the start of the 30th Annual Shark Week on the Discovery Channel -- tune in at 8 PM EST. Can you believe Shark Week has been on for 30 years? When I read 30 years in a press release recently, it was hard to believe...and boy was it a reminder that I am not getting any younger. I do recall falling in love with sharks as a teen when I first watching Shark Week with my family. And, then when I went away to college, I would fill my school apartment during summer break with friends who also loved Shark Week, and we would watch all the new episodes, while chowing down on shark-inspired treats we all made and brought to the viewing party. :-) And, now 20+ years later, I am getting to enjoy Shark Week with a new crowd at my house...my girls and husband. :-) My husband turned my girls onto Shark Week a couple years ago, and ever since then they count down after my daughter's July 19th birthday to Shark Week, and we make sure to go through the episode listings for the Discovery Channel and record new shows, as well as favorites from years past. And, then when Shark Week rolls around, we pull out our favorite Shark t-shirts and pajamas, along with shark toys, books, movies, games and more, and settle in for one of the best summer week's ever!
Is your family as crazy as mine for Shark Week? Do you plan viewing parties, or create shark-inspired meals and treats for your family and friends to enjoy? I dedicate a full-week of school to all things sharks, and include games, crafts, baking and more for the girls to enjoy. And, this year, I surprised the girls with a Shark Bingo game I found online, and had a bag full of shark toys for them to choose from popular kids toy brands like Bright Kingdom and Magic Time.
"Magic Time
released

Shark

Week

themed toys including

Shark

Heads filled with slime or magic sand,

Shark

foam balls, 18"

Shark

Head Grabber, and a

Shark

Bite Game - Available now at Walmart with a suggested retail price of $5 each."
"Bright Kingdom debuted a selection of

shark

toys including an Isle of Jaws Playset, a

Shark

Rescue Transit, a

Shark

Hands with Sound, and a Figure Set, also available now at Walmart with a suggested retail price between $10-$20/each."
In addition to the shark toys the girls won as prizes -- the magic sand and slime shark heads from Magic Time, I also shared with them a new magazine, the Official Discovery Edition Sharks: The Definitive Companion magazine, as well as Discovery Sharkopedia: The Complete Guide to Everything Shark (with more than 400 photos), both presented by Shark Week. These ended up being the favorite shark books for the girls to use when doing our school work, as they contained full-color photos (you will not see on television) of sharks, along with facts and stories about these misunderstood creatures.
Last night the girls ended up choosing these two books at their bedtime reading for my husband and I.
And, when we went in to the girls' rooms to check out them and turn out their lights, we found that they both fell asleep while reading their shark companion book and magazine. I can't blame them, as I found myself becoming captivated by the photos and shark facts. If you thought you knew everything about sharks after watching years of Shark Week, you will find you are sadly mistaken when you pick up these two Shark Week companion book and magazine and start to read through them. My husband and I, along with my girls learned so much, and couldn't believe the photos that were shared in these books. The sharks felt like they were jumping off the pages as you flipped through the books...And, this made it hard to put the books down.
Here is more about these two must-have Shark Week guides, for you to enjoy during this year's 30th Anniversary of Shark Week, and long after....
About this Book:
"

Celebrate Discovery Shark Week all year long with

Discovery Sharkopedia

, the definitive visual guide to everything there is to know about sharks! With more than 400 incredible color photos of the world's most infamous sharks, including great white, bull, and tiger sharks,

Sharkopedia

explores the evolution of sharks-did you know sharks have been swimming in the world's oceans since before dinosaurs roamed the earth?-and introduces kids to almost 500 known shark species with close-up portraits of each and fun "fin facts" throughout."
About this Magazine:
"
Discovery presents
Sharks

: The Definitive Companion
. An official companion piece to Discovery's
Shark
Week
, this 100-page, collector's edition showcases dozens of incredible images of these fascinating predators, in addition to telling
shark
fans everything they need to know about the ocean's fiercest hunters."
I also wanted to mention that the folks at Tervis have two 30th Shark Week tumblers available, perfect for kids and adults of all ages. We can't leave the house without our tumblers and water bottles, and after receiving a sample of this cool Limited Edition Shark Week tumbler from Tervis, I ended up picking up 3 more so that everyone in the house could have their own. :-)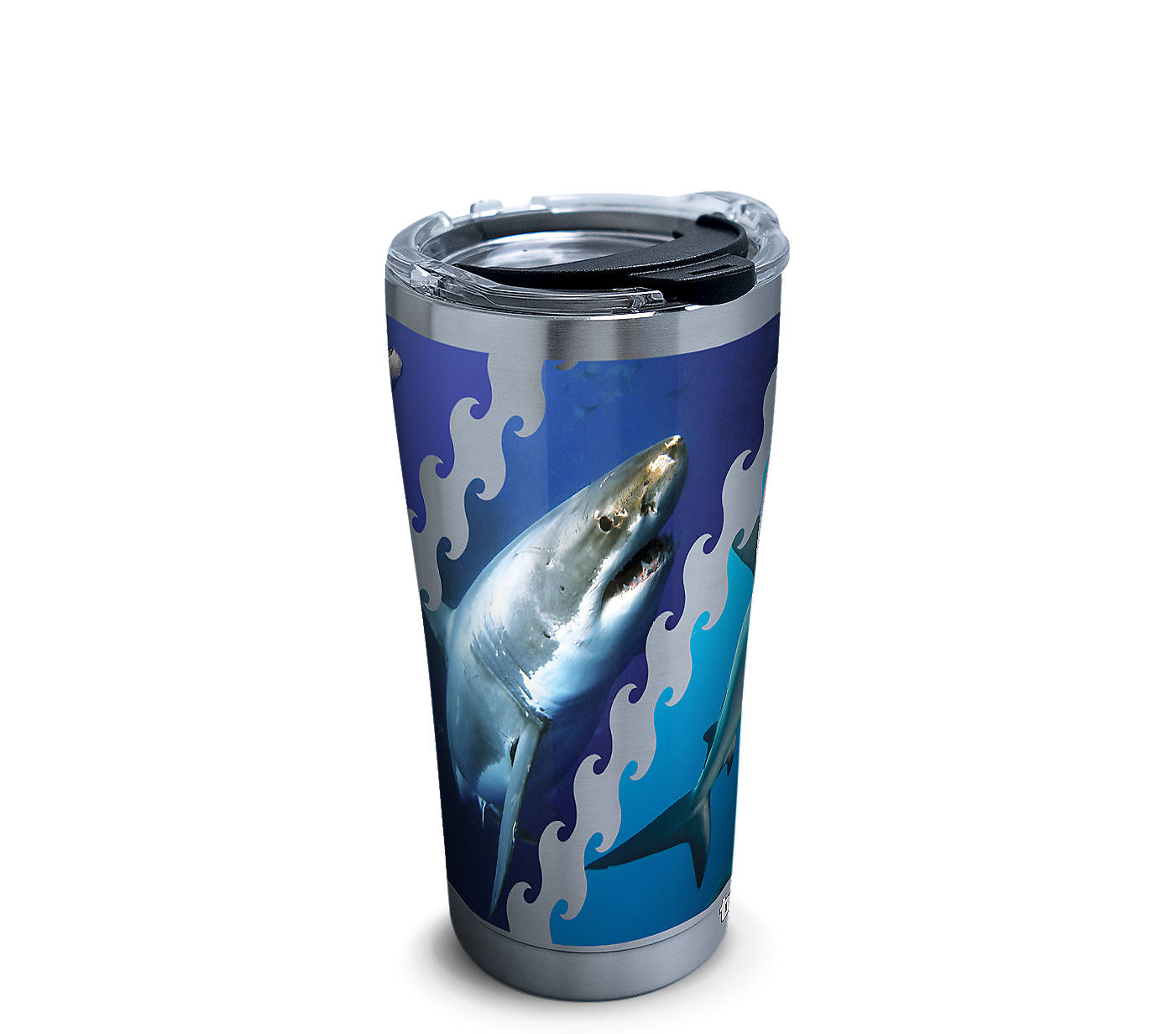 This is the other tumbler style available...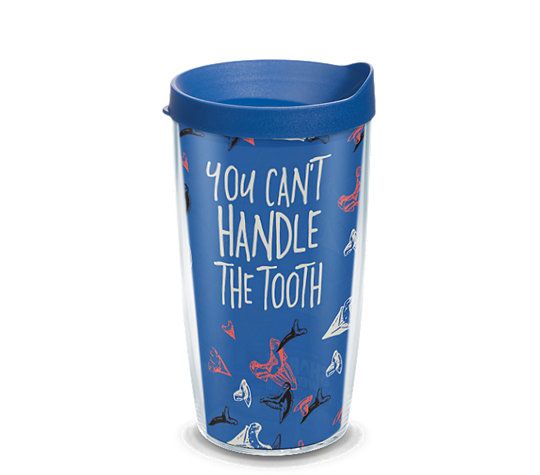 I can't tell you how many people have stopped us the past few days and asked about our new Tervis tumbler, as they wanted to get one for themselves or a shark lover in their life. They loved the design, just like we all do! :-)
You really have to see it up close to appreciate this limited edition stainless steel tumbler. Once you pick up this tumbler and start using, you will find yourself throwing out all your old tumblers, as they aren't as cool as this shark one. :-)
These are just a handful of Shark toys and products available now to enjoy during Shark Week from Discovery. If your child loves Build-A-Bear, then make sure you check out their two exclusive Shark Week furry friends, including a Make-Your-Own Great White plush and a Make-Your-Own Hammerhead plush, along with coordinating clothing options, including two Tank Top and Board Short sets and a Shark Week Hoodie.
We were just at Build-A-Bear last weekend as part of my daughter's 8th birthday celebration. If only they had these shark Week furry friends available then, I would have picked them up to surprise the girls this morning, when they woke and wanted to watch the start of Shark Week, which kicks off tonight on the Discovery Channel. I guess we will be making a special trip to our closest Build-A-Bear to get these shark friends before they sell out. :-)
My girls can't stop talking about Shark Week and it hasn't even started on television yet (tune in at 8 PM EST when all the sharktastic fun begins), thanks to all the toys and goodies we were sent to get us ready for Shark Week. Their favorite of all the toys were their

Shark

Hands with Sound, which they can't get enough of.
I had to take a short video so you can see and hear their sound toys, which in my eyes is a must have for the whole family, when sitting down to enjoy Shark Week on Discovery Channel...
See, you really need to head to Walmart and pick up these Shark Hands with sounds. We can't stop playing with them. :-)
From the Build-a-Bears to gooey

Shark

slime,

Discovery

has toys that will help

Shark

fans celebrate the ocean's toothiest creature every day of the year. So, as shark fans all over sit down and start to watch Shark Week for the first or even 30th time, why not make this annual ritual that much more fun by picking up some of these cool new products from Discovery. Shark fanatics young and old are going to dive for joy over them, as they celebrate

Shark

Week

's 30th anniversary this year. I know my family has been enjoying the shark goodies we have been spent from Discovery, and they are making for great photos and memories of this special 30th anniversary.
Disclosure: I was sent samples from the vendor in exchange for an honest review. All views shared are mine and mine alone.