Disclosure: I was sent a review copy from the vendor in exchange for an honest review. All views shared are mine and mine alone.

Summer is fast approaching, and that means summer reading for kids. My girls love this time of year as they love participating in the library's summer reading program to earn points towards prizes and ticket to the ice cream sundae party at the end of summer. As they gear up to read and beat their personal best in number of books from the previous summer, the girls are putting together lists of new and upcoming book releases they want to check out at the library and read during the summer.
One book that recently released last month from the folks at Sterling Publishing -- "Albie Newton," is sure to be a hit with kids this summer.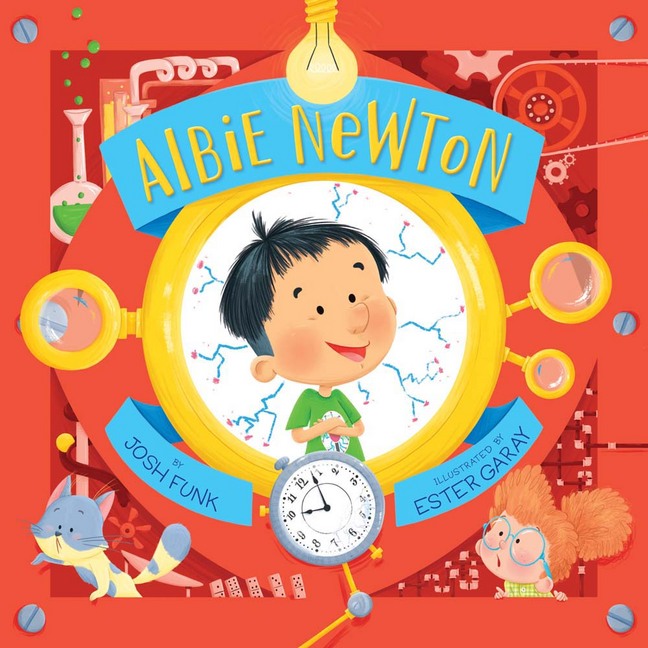 Price
: $16.95 / $22.95 CAN
Format
: Hardcover Picture Book
Pages
: 32 pages, all in color
We received a copy of this book a few weeks ago and the girls fell in love with the book after we read it the first time, and now it is a staple at bedtime each night. I have even caught the girls pulling it from the shelf during the day, to sit and read on their own. And, my youngest daughter, who loves to draw, has been free handing Albie, the child genius and creating her own story to go along with the drawings she is making.
Here is more about this fun new children's book that stars a child genius named Albie, who struggles to make friends, and tries to use his inventing skills to gain friendships. Will this work, or backfire on him?
More about this book:
"Meet Albie Newton: child genius. He's a whiz at inventing things.

But

is he inventive enough to figure out how to make friends?
When precocious inventor Albie Newton enters a new preschool, he concocts the perfect plan for making friends. Unfortunately, it involves stealing the hamster's wheel, snatching the wings off of a classmate's toy airplane, and generally making a giant mess. Now, everyone is angry with Albie! Will his new invention delight the other kids enough to make everything OK? Will he be able to win their friendship with his unorthodox approach?
A delightful rhyming picture book with a diverse cast of characters, ALBIE NEWTON (May 2018) by Josh Funk is for any child who does things just a little bit differently."
Like I said, my girls really enjoyed this book, especially with the fun illustrations and rhyming text. And, once we were done reading the story the first time through, the girls had to go back and linger at a few of the pages to take in all the details of the colorful and playful illustrations.
If you have a child who struggles to read or isn't a fan of reading, then you will want to check this book out. The text is easy to read and follow along, and the story will have kids wanting to flip the page to find out what happens next.
Stay up-to-date on new book releases like this one by following Sterling Publishing on their social media channels below:
Disclosure: I was sent a review copy from the vendor in exchange for an honest review. All views shared are mine and mine alone.