Disclosure: I was sent a review copy from the vendor in exchange for an honest review. All views shared are mine and mine alone.
Have you or your tween/teen had a chance to read the best-selling novel, "Wonder"? If you have, and want to see the movie that is based on this heartwarming best seller (which was written by beloved author,

R.J. Palacio, after an encounter she had with a child with

Treacher Collins syndrome) then you will want to pick up "Wonder" now available on Blu-Ray, DVD and Digital.
My husband gave me the book for Christmas and I couldn't stop crying. So, I knew that when I saw the movie, I would need a full box of tissues to get through the movie...and, that I did. We ended up watching the movie as a family last week, and it was great at it offered us a chance to talk about how people are different and that we shouldn't make fun of people or not associate with them because of how they look or their skin color. The girls felt bad for Auggie because of all the kids picking on him. They wondered why God made Auggie look like this knowing that it would make growing up and being in public difficult. But, I reminded them that God only gives us as much as we can handle, and that God makes everyone beautiful, and that it is what is on the inside that counts most.
The film features Owen Wilson and Julia Roberts as Auggie's parents, and they do a great job providing a loving home for him and his older sister. The girls liked how Auggie was homeschooled like they are, and cheered him on when his parents decided to enroll him in school. My girls kept yelling at the television at the kids picking on Auggie, and we were all glued to the television to see what would happen next. Even though I read the book, I love seeing movies based on books and comparing and contrasting the two. While I really enjoyed the book -- I ended up reading it at Christmas and then again a few days before we sat for the movie, so that I could remember the whole story before the film.
This is such a wonderful and oh so moving movie that is perfect for the whole family to sit and enjoy together. You can't help but feel a whole slew of emotions in regards to Auggie's journey outside the house. But, then you remember that he is just an ordinary boy...with extraordinary gifts including compassion, loyalty and friendship. I would be honored to have a friend like Auggie, as would my girls. We were so proud of Auggie by the end of the movie, that in between crying and grabbing a tissue, we found ourselves clapping when he wins an unexpected end-of-year award.
If you are looking for the perfect movie to share with your family for an upcoming movie night, I highly recommend Wonder. This is one uplifting film you will find yourself wanting to watch time and again. And, each and every time you watch it, you will moved and feel all sorts of emotions, that in the end will leave you feeling happy that you watched such a powerful and wonderful journey of Auggie, that only united his family and makes it stronger, but also brings the community together.
With all the negativity in the world today it is nice when you can sit down and watch an inspiring movie like Wonder with your family, and be reminded to #ChooseKind.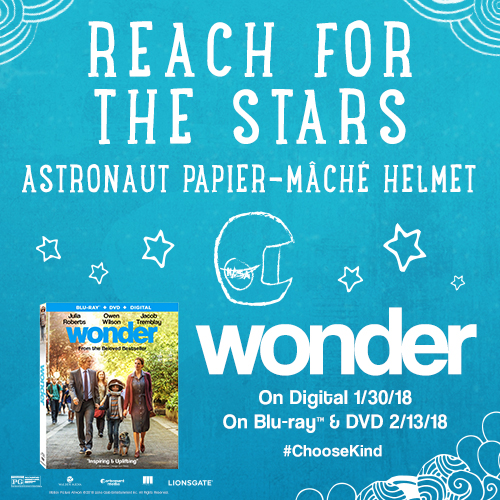 Disclosure: I was sent a review copy from the vendor in exchange for an honest review. All views shared are mine and mine alone.