The Thrill Capital of New England is Hiring over 3,000 Seasonal Employees for the 2018 Season
"
Six Flags New England, the region's largest theme park, is hiring over 3,000 seasonal employees for the 2018 season (Opening on Saturday, April 7th, 2018).
The first 200 team members to be offered and accept a position for the 2018 season at this year's Job Fair will receive a FREE Super Hero Cape.
The annual job fairs will be held on;
·
Saturday, February 17 from 12 p.m. to 4 p.m.
·
Sunday, February 18 from 12 p.m. to 4 p.m.
·
Monday, February 19 from 12 p.m. to 4 p.m.
(President's Day)
All hiring events will take place at the Human Resources building at 1756 Main Street, Agawam, MA 01001.
Six Flags New England will be hiring for all positions, including admissions, culinary services, games, lifeguards, loss prevention, park services, EMT, security, entertainment, retail, rides and a variety of other exciting positions.
Six Flags New England is gearing up for another spectacular season and this year plans to be BIGGER than ever before. The Thrill Capital of New England will launch its newest attraction,HARLEY QUINN Spinsanity, to open in spring 2018. Inspired by The Joker's partner-in-crime, this ride promises to deliver epic thrills each time guests experience this villainous, new addition.
For the second year in a row, The National Association for Business Resources (NABR) has named Six Flags Entertainment Corporation the world's largest regional theme park company, one of the Nation's Best and Brightest Companies to Work For.®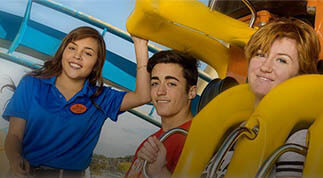 "Six Flags is a very special company made of exceptional people dedicated to giving their absolute best every day," said Six Flags Senior Vice President of Human Resources, Kathy Aslin. "Because our team members are our most valuable asset, we strive to provide them with a best-in-class benefits package and create a working environment that is not only fun, but one that recognizes and rewards their efforts. We are delighted to once again be singled out as a Best and Brightest Company."
Team Member Benefits/Need to Know Information: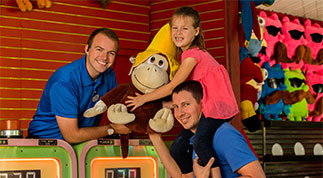 ·

Positions starting at $11/hr, flexible schedules, a fun atmosphere, free park admission for you and a friend, and gaining customer service skills at the "Thrill Capital of New England"
·

With over 100 attractions and New England's largest water park, Hurricane Harbor, there are a variety of positions to match every skill set.
·

Interested applicants must be at least 16 years old and should be prepared for on-the-spot interviews, so dress to impress.
·

It is recommended that all interested candidates apply online at sixflagsjobs.com prior to arrival.
·

Entertainment auditions will be available throughout the job fair as the park casts dancers, singers, performers and tech crew.
Please note that the job fair will take place at the Six Flags New England Human Resources building located at 1756 Main Street (across the street from the theme park). For questions contact the Human Resources Building at 413-786-9300 ext. 3100. All applicants are encouraged to come early. Interviewees will be seen on a first come first serve basis with limited positions in specialty areas.
Six Flags New England opens for the season on Saturday, April 7, 2018 with more days to play than ever before. Do not miss out on an incredible opportunity to be a part of the Six Flags family. "
About Six Flags Entertainment Corporation:
Six Flags Entertainment Corporation is the world's largest regional theme park company with $1.3 billion in revenue and 20 parks across the United States, Mexico and Canada. For 56 years, Six Flags has entertained millions of families with world-class coasters, themed rides, thrilling water parks and unique attractions.