Disclosure: I was sent a sample from the publisher in exchange for an honest review. All views shared are mine and mine alone.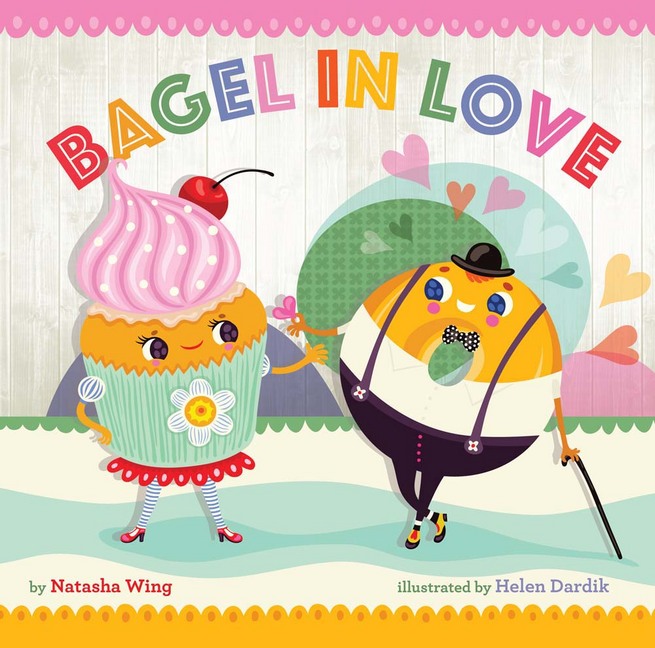 About this Book:
"Poor

Bagel

! He dreams of entering the Cherry Jubilee dance contest . . . but no one wants to be his partner. Pretzel sniffs that he doesn't cut the mustard, Croissant thinks his moves are stale, and Doughnut's eyes just glaze over. Can he find a sweet-tart who doesn't think his steps are half-baked?
Can a cute cupcake save the day for our would-be Fred Éclair? Could the two be more than just dance partners? Witty and pun-filled,

BAGEL

IN

LOVE

by Natasha Wing, illustrated by Helen Dardik (Sterling Children's Books, January 2018) really takes the cake. Perfect for Valentine's Day!"
My Thoughts:
Are you looking for a cute book to share with your child this Valentine's Day? How about "Bagel in Love" by Natasha Wing. This book is filled with funny baking puns that will have both kids and adults in stitches laughing, as you flip through the pages of this new release from Sterling Children's Books. Not only is the story fun to read, but even the youngest of readers will be able to follow along and will be eager to see if Bagel finds her perfect dance partner.
My girls really enjoyed the playful and oh so colorful illustrations done by Helen Dardik. We found ourselves lingering on each page to take in all the details of the characters and scenery. Even though bagels and other tasty sweet treats don't talk or dance, you can't help but let your imagination wander as you read this book with your child, as the illustration are so life-like and really make you want this to be a true story....or, better yet, want you to get into the kitchen with your kids to bake up some tasty treats.
With only 32 pages, this new children's book is perfect in length for a bedtime read, or to snuggle up on the couch under a warm blanket with the kids during a snow day. We have only had this book a few days, but it has become a staple at bedtime with the girls. And, even though they know the ending, they still root for Bagel as we read this book, hoping he finds the perfect partner. Does he? I will not tell...you will just have to pick up a copy of this book to and share with your child to find out. You will not be disappointed with this cute children's book, and it will become an instant favorite in your house, too.
Thanks to the kind folks at Sterling Publishing, one lucky Inspired by Savannah reader will have a chance to win a copy of this cute children's book to share with their children, or that special child in your life. To enter, please complete the entries on the Rafflecopter form below. Good luck!
About the Author and Illustrator:
Natasha Wing is best known for her paperback series based on the popular poem "The Night Before Christmas." The Night Before Kindergarten has sold more than 1.5 million copies and has regularly appeared on bestseller lists since its publication

in

2001 (Grosset & Dunlap). Wing is also the author of Jalapeño Bagels (Atheneum) and When Jackie Saved Grand Central (HMH Books For Young Readers). Natasha lives

in

Fort Collins, CO. Learn more about her at natashawing.com.
Helen Dardik illustrates for a large number of clients, including American Girl, The Boston Globe, HarperCollins, Klutz, Parents Magazine, and Penguin UK. Helen lives

in

Canada. Visit her on instagram at @helen_dardik.
Disclosure: I was sent a sample from the publisher in exchange for an honest review. All views shared are mine and mine alone.