Disclosure: I was sent a review copy from the vendor in exchange for an honest review. All views shared are mine and mine alone.
Includes Television Movie Plus Six Bonus Shorts!
Were you a fan of DuckTales back in the day? I used to love this show. So, when my youngest daughter was flipping through channels recently and stumbled upon the new animated DuckTales series on Disney XD, we had to stop and watch it. And, after the first few minutes, the girls were hooked, and I found myself reminiscing about the DuckTales I loved as a kid and comparing the two. While I am partial to the older DuckTales, I have to say that this new reboot of the hit series, is really fun and will delight kids (and adults) of all ages. After catching the first episode, which ended up being a repeat of the premier episode, I made a point to set the DVR to record the other episodes that had aired, as well as record new episodes in this sure to be hit series. We are now all caught up with the show, and the girls love watching the episodes over and over again. And, when I heard they were releasing a DVD which contains the premiere episode and 6 shorts, I knew two girls who would go crazy for the DVD, and want to bring it in the car to watch over and over again....yep, my two girls, and yes, since receiving a review copy, this is all they watch in the car. I can now repeat the entire episode thanks to them playing the episode over and over again. But, they aren't getting bored of it, and I especially love seeing them get excited about DuckTales, just like I used to get as a kid.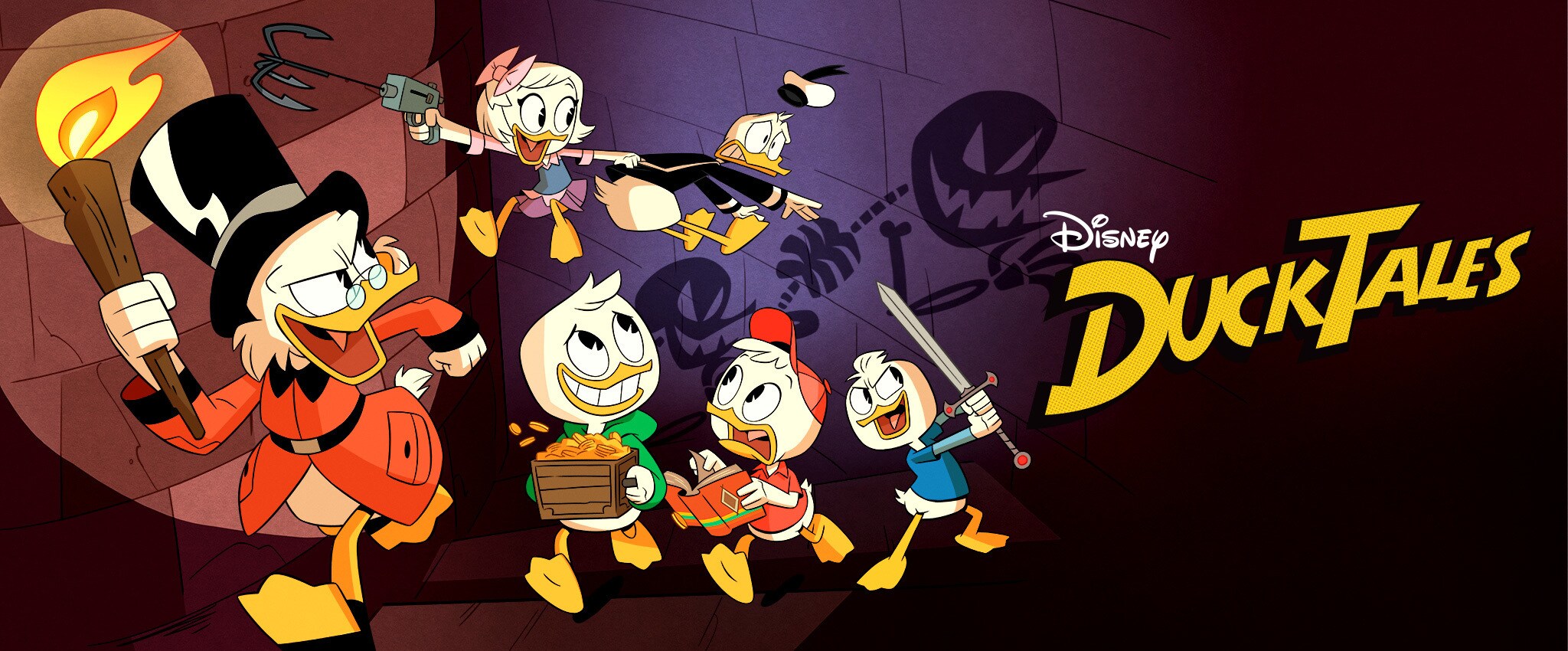 We can't wait for new episodes of this new animated series on Disney XD to air, and will definitely be picking up additional DVD's once they release of this show to grow our DuckTales DVD collection. If your child loves this new animated series, or you are looking to introduce them to Donald Duck and his mischievous nephews, then this is the DVD to get. And, at under $10, you can't go wrong.
More about this recent DVD release:
"From defying danger to solving mysteries, chart a course for action-packed thrills with

DuckTales

"

Woo

-

oo

!"
The high-flying fun begins when Donald Duck reluctantly takes his mischief-making nephews Huey, Dewey and Louie to McDuck Manor, stately home of their rich, reclusive, great-uncle Scrooge McDuck. Enthralled by the exploits of their once-legendary great-uncle, the triplets and their fearless new friend Webby unwittingly unleash secret totems from Scrooge's epic past, launching the entire family on a daring, deep-sea quest for the Lost City of Atlantis."
Voice Cast
: David Tennant ("Doctor Who") as Scrooge McDuck, Danny Pudi ("Community") as Huey, Ben Schwartz ("Parks and Recreation") as Dewey, Bobby Moynihan ("Saturday Night Live") as Louie, Kate Micucci ("Garfunkel and Oates") as Webby Vanderquack, Beck Bennett ("Saturday Night Live") as Launchpad McQuack, Toks Olagundoye ("Castle") as Mrs. Beakley and Tony Anselmo ("Mickey Mouse") as Donald Duck.
Executive Producer
: Matt Youngberg
Story Editor:
Francisco Angones
Bonus:
Six "Welcome to Duckburg!" Shorts:
Release Date:
December 19, 2017
Ratings:
TV-Y (US), Bonus Material Not Rated
Total Run Time:
Approximately 44 minutes (not including bonus)
Aspect Ratio:
1.78:1 Widescreen (Enhanced for 16x9 Televisions)
Disclosure: I was sent a review copy from the vendor in exchange for an honest review. All views shared are mine and mine alone.