Disclosure: I was sent a review copy from the vendor in exchange for an honest review. All views shared are mine and mine alone.
(Available for multiple platforms including Xbox One, PS4, and PC -
Pricing varies on platform chosen and version -- standard, deluxe, gold or gold steelbook edition)
About this new Assassin's Creed release:
"

Ancient Egypt – home of colossal pyramids, gilded tombs, tyrannical god-kings, and the origin story of the Assassins.
As Cleopatra's empire crumbles, the birth of the Assassin's Brotherhood will lead to an extraordinary shift of the world order. Along your journey, the mysteries of Ancient Egypt will be revealed.
Assassin's Creed® Origins uncovers the beginning of the Brotherhood. Fight in epic battles, master a completely reinvented combat system, and explore the entirety of Egypt. With the all-new quest system, complete missions in any order you choose, and follow your own path to greatness.
FEATURES
Assassin's Creed Origins: Over 50 E3 awards and nominations.

Unearth the pharaohs' tombs, solve the mysteries of Egypt, and come face-to-face with ancient gods.

Reveal the origin story through a tale of the first Assassin on a fearless quest for redemption.

Attack multiple enemies at once and string together devastating combos with all-new combat mechanics.

Play the deep and meaningful missions in any order you choose – no two experiences are the same."
"Set in mysterious Ancient Egypt, Assassin's Creed® Origins is a new beginning. Experience a new way to fight while exploring the great pyramids and hidden tombs across the country of Ancient Egypt, and encounter many memorable storylines along your journey. And discover the origin story of the Assassin's Brotherhood."
If you are a fan of Assassin's Creed, then you probably know or heard about the recent Assassin's Creed: Origins release at the end of October. I had the opportunity to try out this game recently. I enlisted the help of my husband to help with the review as we have different views of this franchise. While I have loved all the AC release to date, my husband on the other hand found recent versions to be a bit dull with the story and repetitive. He wasn't as impressed as I was with the character development and game play. So, I was curious to see what he thought compared to what I thought after we played the new game.
Now that we have kids we don't have the luxury to hole up in the game room playing video games all day until our eyes get too blurry to concentrate. So, when it comes to trying out and enjoying new video games, we have to wait until the girls are in bed and then we squeeze in a couple of hours of play time before bed. We have had this new game for our XBox One and have put in about 10 hours so far -- far less than real gamers who usually do 50-70 hours over the course of the first week of the game's release. But, we have played it enough to have an opinion on the game.
So, what did we think of it. I was surprised to find that we both agreed the game was really good. It was hard to put down the game controller, and we found ourselves getting sucked in the story lines and and character development. The graphics were simply stunning. We have friends who have a 4K television and say this game looks amazing on it. My husband loves games that have you looting and stealing to get ahead, so he liked this feature of the game. With over a 100 weapons with different characteristics and rarities, each time you play this game it is new and fresh and a lot of fun. My husband and I am planning an at-home date night this Friday and hope to get in a couple hours playing AC and progressing further into the game. But, so far, we love the game, and I highly recommend it to AC fans. If you weren't impressed with previous AC games, then I suggest you give this new game a try, as you will impressed with the improvements.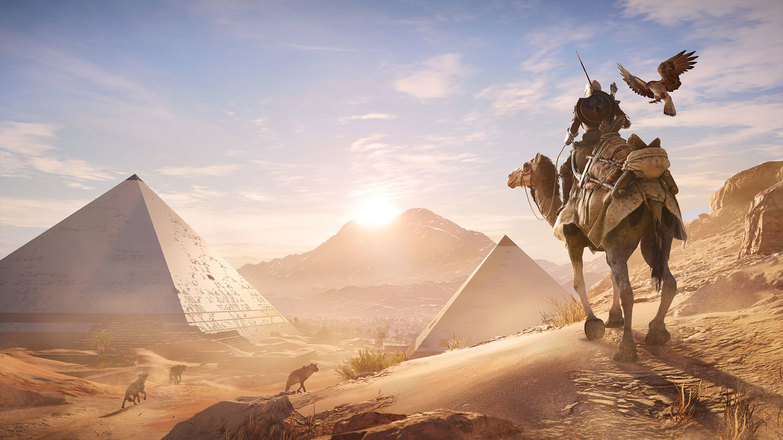 Disclosure: I was sent a review copy from the vendor in exchange for an honest review. All views shared are mine and mine alone.