Disclosure: I was sent review copies from the publisher in exchange for an honest review. All views shared are mine and mine alone.
I love the children's books from Sterling Publishing. If you follow my blog then you probably have read some of book reviews, as I usually share a handful of new releases from their children's line (usually with giveaways). So, when I was working to put together my holiday gift guide this year, it dawned on me that it has been a while since I reached out the publisher to see about sharing some of their wonderful adult books. With that being said, I am excited to share four great books I was recently sent to review.
Here are the books that the kind folks at Sterling Publishing sent my way. Be warned there is a Christmas cookie cookbook being featured, so don't read this post on an empty stomach. :-)
First up is "Christmas: A Very Peculiar History" by Fiona MacDonald. This is not your usual Christmas book as it asks the question, "Why do we celebrate Christmas?"
This book introduces readers to bizarre yuletide customs from around the world. And, as you read through this book, you will think about Christmas in a different way. Yes, Christmas is a wonderful time of the year, but this book will share things about the season that will open your eyes to how the holiday is seen and celebrated differently in different parts of the world. If you are looking for a unique read like no other about Christmas, then I would recommend this book. I finished this quick read in a day, and have been busy passing it along to family and friends to read. When they are done reading it, it makes for a great conversation for what their take of the book was and how, if at it all, it make them think differently about Christmas.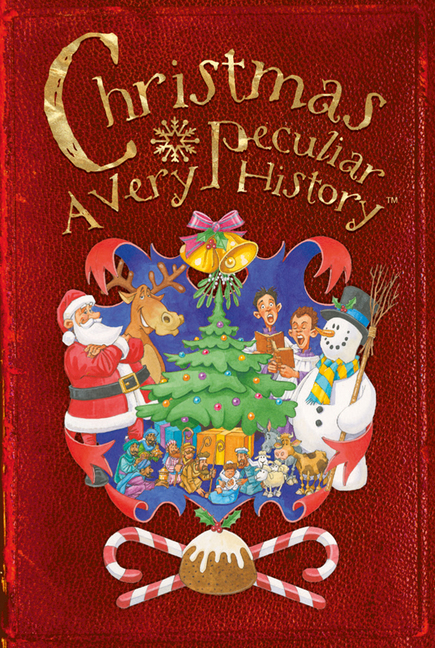 Pages

: 192 pages, b-w illus. throughout
Category

: Holiday / Humor
"

We all know about mistletoe and stockings hung up by the chimney with care. But have you heard about Santa's evil sidekick and the Scandinavian celebration of Saint Lucy? Merry very peculiar Christmas, with this sideways look at bizarre yuletide customs from around the world. So leave the mince pies on the mantelpiece if you've been good, block up your chimneys if you've been bad, and put this delightful little book under the tree!"
Fiona Macdonald studied history at Cambridge University, England, and at the University of East Anglia. She has taught in schools and colleges and has written numerous books for children.
Who doesn't love dot-to-dots? Next to coloring, I find doing dot-to-dots very relaxing. But, when you take it to the next level with puzzles having 150-220 dots, things get a little crazy. :-) If you are up for the challenge, though, you will love the 32 puzzles that come in this spiral bound dot-to-dot book. The book is small in size, 6"x9", so it fits great into a purse or backpack and can be brought and done on the go. I find myself pulling this dot-to-dot book out when the girls are in a homeschool class and I have time to kill, or am waiting at a doctor's office.
While these dot-to-dots are challenging, they are not impossible to do. And, once you complete a puzzle, you will find yourself wanting to do another, and another, and another. The images you make are stunning and not like the basic dot-to-dot designs you are used to making. With the holidays fast appraoching, this dot-to-dot book makes a great stocking stuffer idea, or to give to the person who has everything.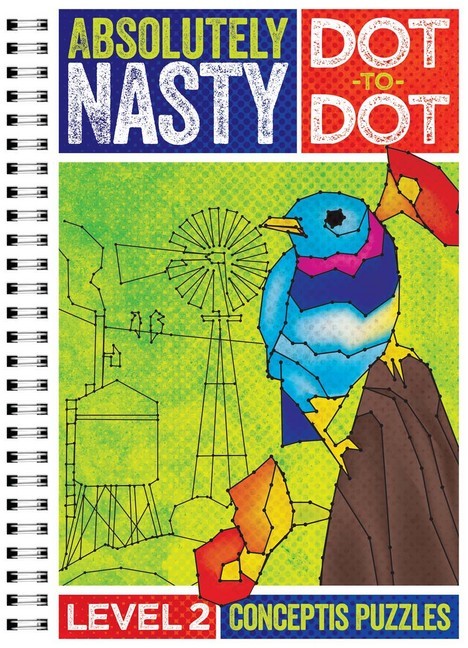 Format

: Paperback - Spiral Bound
Category

: Puzzles & Games / Dot-to-Dot
"

This dot-to-dot collection, with 100 puzzles, has lots and LOTS of dots for a super challenge!
Level 2 of these challenging dot-to-dots introduces a new twist: 32 puzzles where some of the dots are replaced by stars! Whenever solvers reach a star they have to stop drawing, lift the pencil from the page, and start again at the next number—so there's no continuous line. All these puzzles have 150-220 dots each."
Conceptis Puzzles is the leading number-logic and picture-logic puzzle supplier to magazine, newspaper, book, mobile, game console, and board game providers all over the world. Every day, more than ten million pages with Conceptis puzzles are printed in 40 countries worldwide. Conceptis cooperates with distributors in Korea, Russia, Poland, Brazil, and China, and has recently announced a first subsidiary: Conceptis Japan Co.
OK, like I mentioned above, I am sharing a review on a Christmas cookie book, so if you are hungry, you may want to come back to this review later. :-) How does 75 irresistible holiday treats sound? Well, this is what you get when you pick up the new "Good Housekeeping: Christmas Cookies" book. I was sent this book a couple of weeks ago and read it cover to cover in one day like it was a novel. I had my sticky notes in hand to flag the pages of recipes I wanted to try. With over 50 recipes tagged, I will be a busy mom this holiday season if I want to try out each and every cookie and holiday treat recipe. :-) My girls have already stepped up and said they would be taste testers for. My youngest, Bella, who loves to bake with me, enjoyed flipping through the book and admiring all the full-color pictures of many of the recipes included in this book. She saw that I had sticky noted the pages, so she chose another sticky note color and did the same, marking up some of her favorite recipes that she wants to try.
The holidays are my favorite time of year as I have yet another excuse to get into the kitchen and do baking, which I love, for family and friends. Being Italian and growing up with an Italian grandmother who was all about cookies and pastries and telling us "Mangia, Mangia," I love baking and surprising people with warm homemade treats. There is something about warming someone's belly with a delectable treat that warms my heart. And, now that I have children of my own, I love having my girls in the kitchen with me. I have been passing down family recipes through the generations with them, and thanks to cookbooks like this, we are able to try out new recipes and then add our own spin on them to make them our own.
Just to be mean, here are some of the recipes you will find in the "Good Housekeeping: Christmas Cookies" book. I know that once you see the types of recipes you will find in this book, you will be ordering this book so that you can make them and serve up over the holidays...
Cranberry-Pistachio Lace Cookies -- I made these and dipped half in chocolate --Mmm, delicious!

Chocolate-Filled Biscotti -- I tried this recipe and it was absolutely amazing. Being a chocoholic, I love all things chocolate. And pairing smooth chocolate into a biscotti, you can't go wrong. Mmm, I am getting hungry just thinking about them.

Chocolate Chip Jumbos -- We made these over the weekend and they were a hit with the girls. Who doesn't love chocolate chip cookies? This recipe takes it to a whole new level.

Dulce de Leche sandwiches -- I surprised my husband with these little cookies. At first he thought they were macaroons, and then I told him what they were and his eyes lit up as he loves anything dulce de Leche. He said these were the best cookie he has had. They were sweet but not overpowering. And, because they were small, he didn't feel guilty going back for a second (and a third, ...)
I could on and on about the wonderful recipes you will find this Christmas Cookies book, but instead, I will let you see for yourself. Happy baking!
Price

: $16.95 / $19.95 CAN
Pages

: 128 pages, all in color
Trim

: 7.375 x 9.25 Inches
Territories

: World excl UK
Category

: Culinary / Holidays
"Everyone loves a Christmas cookie! Here are the best of the best from Good Housekeeping: 75 delicious triple-tested holiday recipes, from Chocolate Chunk and Gingerbread Cutouts to Mint Peppermint Sticks and Razzy-Jazzy Thumbprints. Whether you're an expert baker or an enthusiastic home cook, this treasure trove of cookies, including do-ahead tips and easy decorating and gift-wrapping ideas, will ensure that everything you make tastes—and looks—amazing."
Good Housekeeping
magazine is an American icon of consumer protection and quality assurance. Each issue reaches 24 million readers and, with 15 editions published worldwide, is an internationally recognized brand.
An award-winning chef and well-known journalist, Susan Westmoreland produces
Good Housekeeping
's food features. She also manages the Test Kitchen as Food Director, where the hundreds of recipes that appear in the magazine each year are developed and perfected through triple-testing. She has also made numerous appearance on
The TODAY Show
,
Good Morning America
,
The Early Show
, and on Food Network television. She was named the James Beard Foundation's Editor of the Year.
Lastly is "Make Your Own Christmas Cards" which will be a fun activity your whole family will love doing together. Each year, my girls make homemade Christmas cards to send out to homeschool friends all over the world. They are always looking for inspiration for cards, or at times just want me to print off pictures to help with the cards. But, this year, Christmas card making is going to be so easy and fun thanks to this wonderful book from the folks at Sterling Publishing.
What is so great about this book is that it comes with everything you need so kids will not be asking for things like stickers, etc. The book contains 100 holiday stickers that you can either add to the cards they color, or to close the DIY festive envelopes that are also included.
The black and white Christmas images are printed on heavy cardstock so the cards will hold up well and be perfect for displaying on a mantle or in a greeting card holder. My girls started on this book the other day and have already colored 10 greeting cards, that are ready to go out. We followed the easy instructions for making envelopes, which are included in the back of the book, and now the girls have their beautiful cards in the envelope and ready to address and send out. We usually wait until the day after Thanksgiving to start sending out holiday cards as we know some people don't like to rush the holidays and want to enjoy Thanksgiving before they craziness of the season sets in.
Over the next couple weeks we will finish coloring the Christmas cards and get them ready for mailing. If you love making homemade Christmas cards with your family and are looking for a way to simplify things this holiday season, or if you want to do a fun afternoon activity with your kids that includes everything you need -- minus the crayons and markers -- then, this book is for you. And, at only $8.95 you can't go wrong for the price, as holiday cards in the store usually range in price from $4-$7 With this book you are getting 20 cards with envelopes and stickers for embellishing further.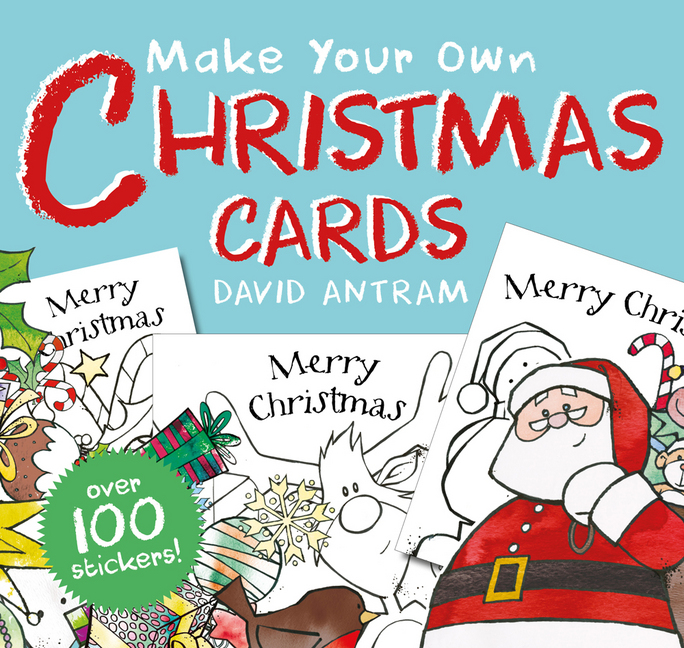 Price

: $8.95 / $10.95 CAN
Pages

: 60 pages, b-w illus. throughout
Category

: Juvenile / Coloring Books
"Say merry Christmas with a card you make yourself!
Just choose a festive design—maybe the Christmas tree, a friendly snowman, or Santa carrying his sack of gifts—color it in, add some stickers, and write a greeting in the blank space.
Make Your Own Christmas Cards
is filled with perforated pages of beautifully illustrated cards and envelopes, all ready for you to adorn, tear out, and send!"
David Antram was born in Brighton, England, and studied at Eastbourne College of Art. He worked in advertising for 15 years before becoming a full-time artist. David has illustrated hundreds of children's nonfiction books including the bestselling series
You Wouldn't Want to
(Franklin Watts).
I am so happy I reached out to the folks at Sterling Publisher and asked them to send along some of their adult titles, as I thoroughly enjoyed reviewing them. I hope my reviews and features of these book help you with you holiday shopping as they are perfect for everyone on your shopping list. And, the Christmas Cookies book is a must have for families who love to bake at the holidays, and love trying out new cookie recipes. To learn more about these and other wonderful books from Sterling Publishing, visit their website today.
Disclosure: I was sent review copies from the publisher in exchange for an hones
t review. All views shared are mine and mine alone.