Indiegogo campaign launches today to fund product's final development
Give your child the most amazing reading experience with augmented reality that makes the pictures come to life in colorful 3D through the Pacha Alive app!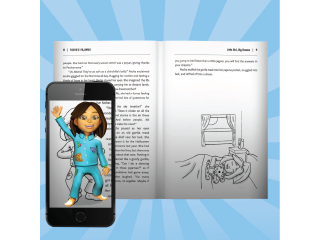 Combined with a fun story, music, fun facts, a dance activity, their own dream journal and so much more, your child will go on an interactive dream adventure with Pacha and her friends!
"BALANCE Edutainment

, a leading Extended Reality EdTech firm, today launched

Pacha's Pajamas

, the first-of-its-kind augmented reality (AR) children's book that gets kids to fall in love reading again. Children learn about living in harmony with nature through an engaging and interactive experience. The book introduces a new category of augmented reality edutainment, the Zbook, where every illustration in the book becomes animated through the included free "Pacha Alive" app. An Indiegogo campaign

(https://igg.me/at/pachaspajamas

), which is being managed by

LaunchPad Agency

, launches today with a

$20,000 USD

funding goal and features limited Early Bird specials of

$25 USD

for a 2-book and music package (50% off retail) and several other rewards for early backers.
Pacha's Pajamas features a diverse array of characters and an environmentally conscious story line that inspires children to see the world in new ways. With the augmented reality technology, reading the book just got way more fun. This unique innovation in multimedia storytelling not only encourages children to pick up physical books, but also positively impacts reading comprehension and literacy skills.
The book opens where children meet Pacha, the main character and a budding Youth Leader. They join her and the animals and plants on her pajamas on a magical dream adventure. Through the dream, Pacha remembers that she is part of nature and discovers how to use her unique gifts and innate compassion to save the planet.
With the augmented reality Pacha Alive! app available for free on iOS and Google Play, children connect with Pacha on a personal level and they can see the story come to life before their eyes.
The Pacha's Pajamas book has the lyrics of 10 award-winning songs in a 2-CD set that gets kids singing, dancing and learning about connecting with nature and the community around them. The CDs feature over 70 artists including celebrities

Cheech Marin

, Mos Def and

Talib Kweli

, as well as 30 youth artists.
Additionally, Pacha loves to dance and the "Connected Dance Challenge" invites young people to submit their dance clip for a chance to win prizes and be in a video with children from all over the world. Using the "Play with Pacha" feature in the Pacha Alive app or the Connected Dance Challenge ARKit app (Apple's recently debuted software development toolset for AR), children can bring Pacha and friends into the room, take their picture with Pacha "sitting" right beside them, as well as make videos dancing with Pacha and her friends.
"Today, most children's entertainment is like junk food, it may satisfy cravings, but ultimately, it's unhealthy for the child," said

Dave Room

, CEO and co-founder of BALANCE. "With Pacha's Pajamas, we're catalyzing the emergence of a new genre of healthy children's entertainment with compelling social learning that encourages kids to discover their unique gifts and bring them to the world.""
My Thoughts:

I was recently sent a copy of the Pachas Pajamas ZBook to share with my girls, along with a CD with songs based on the book -- which also comes alive when you hover your iPad or device loaded with the Pacha Alive app over it. At first my girls just saw a book with a lot of words and weren't that interested. But, then I told how this children's book wasn't like any other they had. Then, I grabbed the iPad and sat on the couch with the girls, to read and bring Pacha Pajamas to life.
I didn't tell the girls how this book was different when we started. Instead I told the to watch as we read the book. I did tell them that this book was about "living in harmony with nature through an engaging and interactive experience" and taking care of the Earth so it will be here for generations to come. Then, the real fun began.
As soon as I got to a page with an image, I grabbed the iPad with the Pasha Alive app open and hovered over the image. In a matter of seconds the image came alive and popped off the page. The girls were in awe and thought that this was the coolest thing ever.
They wanted me to continue reading this chapter book so that they could see more augmented reality. My girls told me after a few pages of reading this book together, that they really liked the story.
Over the course of a few days we have made it to Chapter 10 and can't get enough of this book. "

Pacha

's Pajamas features a diverse array of characters and an environmentally conscious story line that inspires children with its positive message. Children meet

Pacha

, the main character, as a Youth Leader, and learn about protecting the planet using their own unique gifts and innate compassion." We can't wait to sit down and read another few chapters in this book. And, once we are done, we will be doing a fun Eco-friendly lesson plan for school so that we can tie what the girls learned in this wonderful story with our homeschooling.
I am so happy we had the chance to experience Pacha Pajamas and the augmented reality feature accessible through the Pacha Alive app (free downloadable app). We can't wait for additional books to release, but in the meantime are enjoying every minute we spend together reading this inspirational story that comes to live in such a fun and unique way. This book is perfect for kids who don't like to read, as they will be hooked and will not want to put this book down once they experience the 3D reading experience for themselves. It really is cool!
I hope you will take a moment to head on over to the Indiegogo campaign and show your support for this wonderful book and project. Give your child an immersive 3D reading experience with augmented reality by supporting this campaign. For only $25 you can get the early bird special which includes the Young Reader ZBook & digital music for you and gift one Young Reader ZBook & digital music for a kid in need ($12.50 per book). Act fast as there are only 248 of these special early bird thank you gifts available. And, with only a month to raise $20,000 to fund this amazing project, I hope you will consider making a contribution to this Indiegogo campaign today.
About BALANCE Edutainment:
BALANCE is an award winning Extended Reality EdTech firm, combining both augmented and virtual reality. Founded in 2011, BALANCE is on a mission to create healthy educational entertainment for today's youth. The

Oakland

-based company is building a catalog of Intellectual Properties with licensable elements, and creating an ecosystem of digital and physical products for pre-teens (including television, apparel, film, books and music), which make learning a play-based experience. For more information, please visit http://pachaspajamas.com.