Disclosure: I was provided with samples from the vendor in exchange for an honest review. All views shared are mine and mine alone.
FREE of Gluten, GMO, soy, dairy and animal ingredients.
Both of my girls are picky eaters, but when it comes to snack foods, they are will to try new things, as they are all about snacks. I don't know about you, but when my kids are tired, bored or grouchy, the first they they do is head for the fridge or pantry to look for a snack. Because of this, I make a point to have as many healthy snacks on hand for them to reach for. Shh, don't tell them about my chocolate stash behind the oatmeal container. :-) Moms need a chocolatey treat for a quick energy and mood boost every so often.
Even though my family doesn't have any major food allergies, I have been limiting the amount of gluten in the foods I bring into the house because my youngest, Bella, has eczema, and I have found when she eats a lot of foods with gluten in them, she has a flare, or it makes a current flare even worse.
I first stumbled upon The Gluten Free Bar (GFB) brand and their gluten free snacks when I was looking for new gluten-free snacks to introduce to the girls, or try and replace snacks they like, with with a healthy version. Like their mom, my girls are huge nut, chocolate and fruit lovers. They especially snacks that come in cluster sizes that they can grab and pop in their mouth. And, they like seeing all the ingredients in each cluster bite and pointing them out, as they nibble away at them, telling me all the different flavors they are tasting with each bite.
I was excited when I received an email about a month ago asking me to try the new the

GFBBites

. I had seen them on the shelf at my local Target, but hadn't picked them up yet.
About the new GFB Bites offering:
"Each bite-sized treat is non-GMO Project® Certified, Certified Vegan, soy-free, dairy-free and Certified Gluten-Free. What really sets GFBBites apart in a crowded functional food category is taste; the Bites balance just the right amount of soft and chewy texture with crunch and flavors that make them a completely unique snacking experience. Without compromising on ingredients or honest nutrition, the protein-packed Bites were developed with meaningful flavors, such as tart cherry, dark chocolate, toasted coconut, sun-sweetened fruit, and various nuts that provide flavor depth and protein function."
Days after responding to the email, I received two

GFBBites

packages in the mail to try with my family. Bella was quick to grab the
PB+J flavor as she is a huge
PB+J fan.
Savannah was happy that she left the dark chocolate coconut one for her try, as she had saw this at Target and told me to pick up the next time I went there.
Like her Daddy, she loves anything coconut, and was excited to see the coconut shavings wrapped around the little cluster balls.
Just look at all that delicious coconut Savannah said. :-)
I told the girls to wait until I had the camera ready for photos, but they couldn't wait. They tore open the resealable bags and reached in for a handful of GFB clusters to try. One by one they popped a cluster in their mouth and chewed away. I knew the girls loved them as they had smiles on their faces and kept letting out "Mmms" in between chews. I was surprsied that the girls offered each other their flavor to try, as they are usually not fans of sharing their snacks.
After sampling both the

GFBBites

flavors, the girls agreed that these gluten-free cluster snacks were delicious. They even gave me one of each flavor to try, and I had to agree. I am so happy to now have more gluten-free snacks to offer my girls, and especially love how these are convenient on-the-go snacks that I can pack in their lunch bags, carry in the car, or just have on hand in the pantry for quick snacking. Even my husband has asked for his own bag of the
GFBBites
so that he can keep in his desk drawer at work for when he gets hungry. Instead of hitting up the vending machine which is stocked with unhealthy snacks, he will be able to refuel and recharge with healthy and oh so delicious snacks, that are packed with flavor and nutrients. Yum!
So, if you are looking to add more healthy snack options to your pantry for your family to reach out, or have a family member with a gluten allergy and are always on the lookout for new gluten-free products, then you will want to check out the

GFBBites

.
Available in six
different flavors
, including
Dark Chocolate Coconut
,
Coconut Cashew Crunch
,
Chocolate Cherry Almond
,
PB+J
,
Dark Chocolate Hazelnut,
and
Dark Chocolate Peanut Butter,
the
B
i
tes are available on shelves at club, grocery, mass merchandise, natural foods and supermarket stores nationwide with a suggested retail price of $4.99 to 5.99 per bag.
The
GFBBites
bags are the perfect size to add to your child's stocking at Christmas, or to give out at Halloween for kids in the neighborhood you know have a gluten allergy. Or, just have handy while you are handing out candy so you can reach for a healthy snack instead of into the candy bowl. :-)
Stay up-to-date on new product additions, giveaways, special offers and more by following THe Gluten Free Bar on their social media channels below: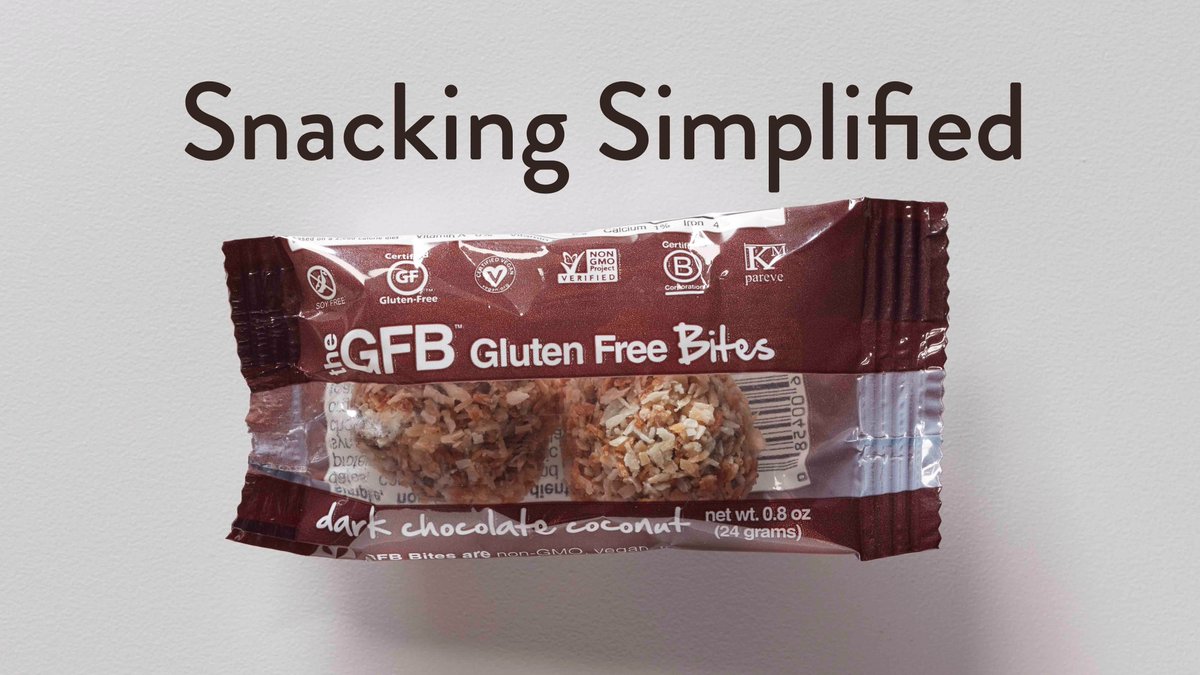 You can find the whole line of the GFB products including the new Bites at most major retailers including online at Amazon. I have been stocking up on the

GFBBites

over at Target as they are only $4.79 a package. I make a point to have some stashed in the pantry, a couple in the car for on-the-go snacking, and even have a package in each of the girls' backpacks for when they are at classes and need a quick and healthy snack. They can grab a handful of bites from their favorite flavor and then reseal the bag to keep in the freshness.
I love being able to share healthy snacks with my family, and was so happy when I found that everyone loved the

GFBBites

we were recently sent. And, after sampling the additional flavors, now each member of the family has a favorite flavor that they reach for. And, knowing that they are healthy, I don't have to say "No.". :-)
If you are having trouble finding the GFB products in stores near you, you can also visit https://shop.theglutenfreebar.com/ and order online. They even give you the option to customize a case with your favorite flavors.
Thanks to the folks at The Gluten Free Bar, one lucky Inspired by Savannah reader will win a
FREE product coupon and sample of either GFB's Dark Chocolate Coconut or PB+J
Bites
.
To enter, please complete the entries on the Rafflecopter form below. Good luck!
a Rafflecopter giveaway
"More about GFB and The Two Brothers Behind These Tasty Gluten-Free Products...
"

We

're two brothers who get along well with each other, but not with gluten," said Elliot Rader, Co-Founder and Partner at

GFB

. "Our goal is to create fun and flavorful gluten-free snacks for everyone – after all, eating is something we do each day so let's enjoy it. The development of

Bites

has been an exciting transition into the cluster category. We basically combined the nutrition of a protein bar with the decadence of a truffle. No other cluster in the category does this and we're excited to share the

Bites

with our customers."
As pioneers in the gluten-free cluster category,

GFB

has created a product perfect for all snacking occasions: fun family road trips, a quick and delicious breakfast with your morning coffee at work, and much more.

GFB

Bites

can be found at leading regional stores, top national stores, and popular health food stores.
GFB

, located in Grand Rapids, Michigan, is a Certified B Corporation dedicated to producing products in a sustainable, earth-friendly manner. Along with their new line of

Bites

, the Company continues to produce their original product

the Gluten Free Bar

."
Disclosure: I was provided with samples from the vendor in exchange for an honest review. All views shared are mine and mine alone.