Disclosure: I was sent samples from the vendor in exchange for an honest review. All views shared are mine and mine alone.
Boulder Canyon, the team that first introduced "Thanksgiving Meal in a Bag", is bringing back the fan favorites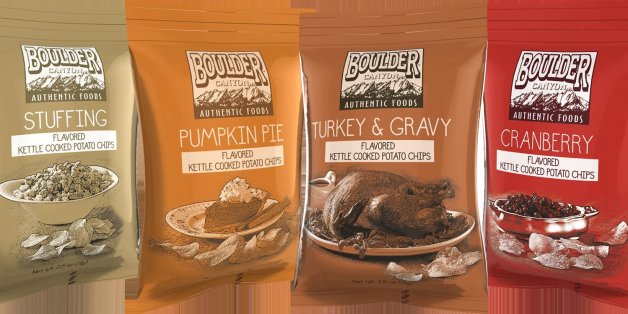 "Pumpkin Pie tastes just like your family-favorite recipe, while spices such as sage, thyme and rosemary provide the Turkey & Gravy variety with hints of the juiciest turkey and most decadent gravy"
You don't have to be a great cook to enjoy a great tasting turkey dinner with all the fixing, and dessert to go along with it this Thanksgiving. All you have to do is stop the chip aisle at your local grocery store and pick up Boulder Canyon's kettle cooked potato chips. Yes, you read that read and are seeing actual bags of these chips available in most retailers nationwide. I, myself, had to do a double take when I read an email about these chips a few weeks ago.
I will admit at first I thought, "Ehh, these must be gross." But, then curiosity got to me and I replied to the email and asked for samples of the turkey and gravy and pumpkin pie to be sent. I knew my family would love helping me review these chips as they are always up for trying new and unique flavors. But, they too, thought was was a little crazy when I showed them the two bags of Boulder Canyon chips last week. My husband said he wasn't going to try them, but I told him I needed everyone's thoughts on them. So, after dinner, we sat around the dinner table and sampled these two bags of kettle clips.
Before taking a bite of the chips, we each took turns smelling the opened bags. We couldn't get over how these two chips actually smelled like turkey and gravy and pumpkin pie. Then, we took a bite, and "wow" they really tasted like it, while also tasting like a kettle chip. I couldn't get over how spot on the flavors were, and how they weren't overpowering. Yes, it was a little gross I thought eating turkey and gravy chips, but after a few chips we were all hooked and finding ourselves reaching in the bags for another and then another.
I will say that out of the two flavors, I did prefer the pumpkin pie one. It had just the right about of sweetness and pumpkin flavor that you expect in a pumpkin pie. And, with everything out there right now "pumpkin spice" I could see why this chip would be a favorite and one brought back by Boulder Canyon.
I will definitely be buying more of these two flavors as well as the other two seasonal flavors...stuffing and cranberry. I can't wait to have them on hand for when family and friends come to visit and I offer them up some tasty snacks while they wait for dinner. I know they will have the same reaction that I and probably you had (if you haven't tried these flavors in the past). And, it will surely be a fun way to get people talking and trying new things. I wonder which of the four flavors will be everyone's favorite?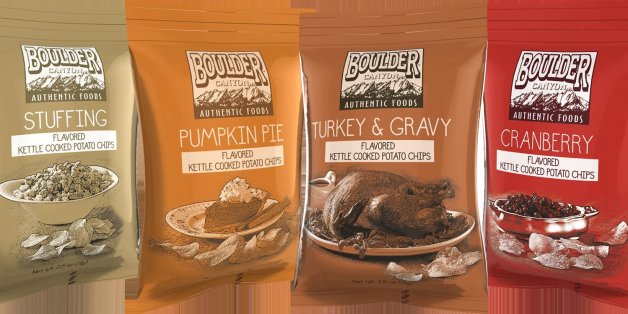 To learn more about these and other varieties of kettle chips available from Boulder Canyon including where to purchase these chips, visit http://www.bouldercanyonfoods.com/. And, I can't wait to hear what you and your family think of turkey and gravy chips. They really a must try, even if you think "ehh, why did they make these." :-) Once you try them, you will see why Boulder Canyon brought these seasonal flavors back again this year, and why people are rushing into the chip aisle to pick up.
Disclosure: I was sent samples from the vendor in exchange for an honest review. All views shared are mine and mine alone.