Disclosure: I was sent a review copy from the publisher in order to write up an honest review. All views shared are mine and mine alone.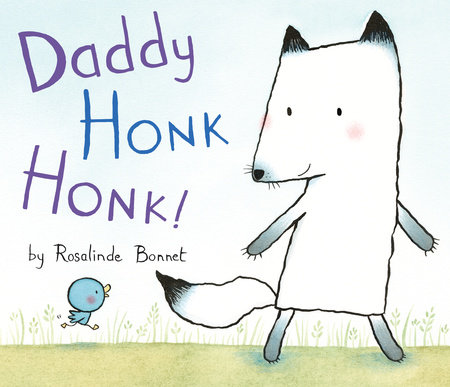 My daughter Bella has a new favorite bedtime book she has her Daddy read to her every night called DADDY HONK HONK! by Rosalinde Bonnet, which will be hitting store shelves on May 9th.

This upcoming release is a

heartwarming story of how a fox figures out how to be a good daddy to a noisy little gosling by asking his friends in the Arctic. The fox goes around looking for a parent for the gosling, but is instead given parenting advice that he takes and applies when he realizes that he loves and wants to bring the little gosling home to raise as his own.
As you read through the pages of this beautifully illustrated and well-written book, little ones will love pointing out "Daddy Honk Honk" each and every time it appears. These are the words the little gosling says while journeying through the arctic with the fox. My daughter loves hearing my husband say "Honk Honk" before he goes in for a belly tickle. There is nothing better than a belly laugh from a child, and this book will your little one giggling as they listen to the story that will melt your heart. My husband and I both love this book, and don't mind reading it each day to the girls. It has been a ritual at bedtime and is the perfect way to end the evening and remind the girls just how much they mean to us and how we love them so.
With Father's Day fast approaching in June,
DADDY HONK HONK!
would make for a perfect gift for new and expectant dads, or dads who love reading to their children at bedtime, as a way to connect and bond. This picture
book is also perfect for adopting parents at the heartwarming story shows you don't have to be blood related to raise a child and love them as if they were your own.
DADDY HONK HONK!
channels a deeper message of unconventional, and unexpected families, and is sure to be enjoyed by both children and adults alike each and time they snuggle up to read this book at bedtime. My daughter can't go a night without my husband reading this book to her, and she loves when he makes the "honk honk" noises. :-) Once you pick up a copy of
DADDY HONK HONK!,
when it releases on May 9th, you will see why is was an instant hit with her and my husband.
More about this book:
"When Aput the fox finds an abandoned goose egg, he has no idea what's in store for him. He doesn't know anything about babies and he certainly doesn't know what to do when the gosling hatches and mistakes him for its daddy. So he decides to find the gosling a home. But with each page turn, Aput learns more about caring for a baby and, with a little help from his friends, he discovers what a baby needs most is love.
French illustrator Bonnet's art captures Aput's hilarious-yet-relatable emotions perfectly, and each animal Aput visits, from musk ox to whale, is drawn in stunning detail."
Hardcover | $16.99
Published by Dial Books
May 09, 2017
| 32 Pages
| 10-1/2 x 9
| 3-5 years
| ISBN 9780399186769
Illustrator Bonnet took her illustrations a step further and created beautiful promotional items based on Aput's journey! And, one lucky reader will have a chance to win some to share with their child, along with a copy of this heartwarming story.
(See below to see what is included in the prize pack up for grabs)
Thanks to the publisher, one lucky Inspired by Savannah reader will have a chance to win a fun DADDY HONK HONK! prize pack, which will include the following:
To enter this giveaway, please complete the entries on the Rafflecopter form below. Good luck!
a Rafflecopter giveaway
Disclosure: I was sent a review copy from the publisher in order to write up an honest review. All views shared are mine and mine alone.