Disclosure: This book blog stop is a

partnership with The Children's

Book

Review and Jeanne Walker Harvey. However, all views shared are mine and mine alone.
As part of our homeschooling this year, the girls have taken a few classes at the aquarium in Mystic. They had so much fun that they have asked me to add more marine life lessons into their schooling. So, I have been looking for fun books to share with them that would introduce them to new marine mammals from around the world as well as teach them about many which are endangered. So, when I heard about Honey Girl: The Hawaiian Monk Seal by Jeanne Walker Harvey, I had to sign up for the book blog tour, not only so I could share this true-life story with my girls, but let many of my readers who also homeschool or are looking for educational books to share with their children and grandchildren, all about this book. Here is more about the book, including a book trailer, so that you can get a better feel for this book and about this endangered marine mammal...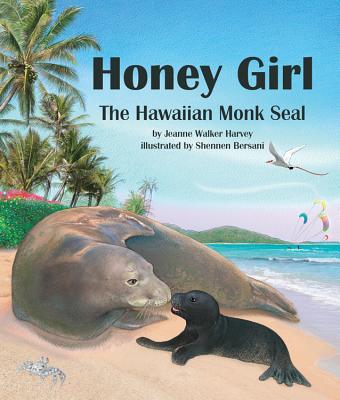 "Hawaiian locals and visitors always enjoy spotting endangered Hawaiian monk seals, but Honey Girl is an extra special case. She has raised seven pups, and scientists call her Super Mom. After Honey Girl is injured by a fishhook, she gets very sick. Scientists and veterinarians work to save Honey Girl until she can be released back to her beach. This true story will have readers captivated to learn more about this endangered species."
Ages 5-8 | Publisher: Arbordale Publishing | February 10, 2017 | ISBN-13: 978-1628559224
As a homeschooling mom I loved how this book was set up. The beginning starts by giving a little back history on the Hawaiian Monk seal, and how she was found washed up on a beach with a fish hook in her mouth. The poor thing's mouth was infected as a result of this hook. Both of my girls got a little teary eyed as I read about Honey Girl, and asked is she would make it. I told them I hadnt' read the story, so would have to see along with them.
We continued to read this story, which has wonderful illustrations that really pull you in and make you feel like you right there. Hawaii is a beautiful place and the illustrations done by Shennen Bersani make you want to visit...truly breathtaking.
As far as the text, both of my girls who are 5 and 6.5 were able to follow along, and continued to ask questions or tried to guess what would happen on the next page. They were both engaged from the beginning, right up to the end. In addition to learning about Honey Girl, the girls were also introduced to volunteers and veterinarians who help care for injured animals like this Hawaiian Monk seal.
This got us talking about the Mystic Aquarium and the marine mammals we have seen over the years who have come to the aquarium hurt, and were cared for until they were able to be released back into the water. My oldest, Savannah, loves animals so much that she is already talking about wanting to be a veterinarian so that she can take care of and help sick and injured animals. So, she really got into this book, and starting thinking about the types of animals she may one day help. :-) We have had this book for about a week and half, and we have already read it a handful of times. Savannah continues to ask me to read it to her at bedtime. And, when I am not reading it to her, she is trying to read it by sounding out the words. Or, she will just sit there and admire the illustrations. Both of my girls, and myself give this new book two thumbs up. Fans of marine mammals will love, as well as those who love to learn about animals. So, if you are looking for a fun book to share with your child, which is also a true story, why not consider picking up a copy of Honey Girl: The Hawaiian Monk Seal, which is now available in both digital and print copy.
Jeanne Walker Harvey is the author of several award-winning

books

, including Astro: The Steller Sea Lion and My Hands Sing the Blues: Romare Bearden's Childhood Journey. She's been a language arts teacher and currently gives school tours at a local museum. Jeanne lives near the Golden Gate Bridge in California and walks by the bay every day looking for sea lions. She writes with her gray tabby cat sitting on the desk next to her.
Twitter
: https://twitter.com/JeanneWHarvey
To celebrate the release of Honey Girl: The Hawaiian Monk Seal, enter to win a 2-

Book

autographed prize pack from award-winning author Jeanne Walker Harvey, plus 2 plush animals.
One (1) grand prize winner receives:
A copy of

Honey Girl: The Hawaiian Monk Seal

, autographed by Jeanne Walker Harvey

A copy of

Astro: The Steller Sea Lion

, autographed by Jeanne Walker Harvey

Two (2) plush toy animals
Giveaway begins
February 22, 2017, at 12:01 A.M. MT and ends March 22, 2017, at 11:59 P.M. MT.
Giveaway is open to US addresses only.
**Prizes and samples provided by Jeanne Walker Harvey.
a Rafflecopter giveaway
Disclosure: This book blog stop is a
partnership with The Children's
Book
Review and Jeanne Walker Harvey. However, all views shared are mine and mine alone.