Disclosure: I was sent a review copy from the publisher in order to write up an honest review. All views shared are mine and mine alone.
My daughter Bella has fallen in love with a from from Stephen W. Martin called Charlotte and the Rock. She loves this book so much she carries it around with her, to either look at the illustrations done by Samantha Cotterill, or to ask me to read it to her. And, we have read it enough times that is has the text almost memorized. :-)
Here is more about this cute children's book that hit store shelves today...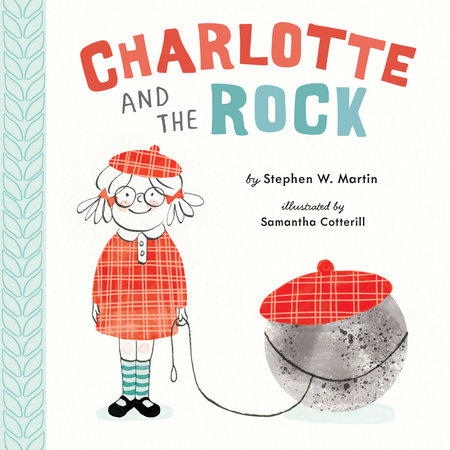 "An unexpected friendship forms between a girl and her pet rock in this charming story that's perfect for fans of

What Pet Should I Get

?
Charlotte has always really wanted a pet, so when her parents present her with one for her birthday she expects a cat, dog, or maybe a bird. Instead, she receives a rock. Rocks can't cuddle, fetch, or even help her eat her vegetables, but that doesn't stop Charlotte from loving her rock as if he were real. If only he could love her back…or can he?"
Hardcover | $16.99 Published by Dial Books Mar 14, 2017 | 32 Pages | 9-1/2 x 9-1/2 | 3-5 years | ISBN 9781101993897
Have you ever had a pet rock? I don't remember having one, but my mom said I did. It wasn't until after I read this book to my girls that they asked for a pet rock. I has surprised to see a pet rock arts and craft kit at the store the other day, so was quick to pick it up as I knew the girls would love it and be able to relate their pet rock they would create with this fun new book. The pet rock kit came with paints, feathers and wiggly eyes to apply and dress up an oval shaped greyish rock. My girls had a blast making a unique pet rock, which now sits on their bookcases in their rooms, so that they can admire then. Savannah said last night after reading this book to them at bedtime, "I wonder if our pet rock is magical and will turn into something?" Then, she fell asleep, only to dream about the rock transforming into a pet dog. She loves dogs and cats, so I was not surprised that she woke with a wonderful story about her rock turning into a dog and all the fun they had playing together. Bella, hearing her sister talk about her dream, was quick to grab her crayons and paper and drew a unique creature she imagined...it had a bird's head and a rabbit's body. She called it Tweetles. And, for the rest of day today, she toted around her rock waiting for it to hatch. She even made a comfy bed of cotton balls in a plastic container for it to sleep in. :-)
I love when I stumble across a book that gets the girls not only excited about reading and books, but that sparks their imagination and has them dreaming and thinking up wonderful and oh so creative stories. This is definitely one book every family with young children will want to pick up and share. Once you read this story to your child, you will see while it has become a favorite of my girls, especially my 5 year old.
We will definitely we keeping an eye out for my books by Stephen W. Martin, as we like his writing style.
ABOUT The Author, STEPHEN W. MARTIN:
Stephen W. Martin is a writer and director, with several award-winning short films to his credit. He is the author of Robot Smash and is also the coauthor of Pop Manga with renowned manga artist and comics creator Camilla D'Errico.
Disclosure: I was sent a review copy from the publisher in order to write up an honest review. All views shared are mine and mine alone.