Disclosure:

This post was sponsored by the Role Mommy Writer's Network. All views shared are mine and mine alone.
This past Friday, I had the opportunity to interview Lauren Lake, the renowned attorney and legal expert, and who is also the judge on the hit syndicated courtroom series, "Lauren Lake's Paternity Court." I was so excited to chat with Lauren, not only because I am a fan of her popular courtroom series, but I wanted to learn more about the new show she is a judge on called Queen Boss, which helps entrepreneur women on color advance their businesses with the help of Lauren Lake and other celebrity judges.
Who is Lauren Lake?
Not familiar with Lauren Lake? Here is a little background on her...
"Lauren Lake, is a renowned attorney and legal expert and the judge we have all come to know from TV's hit ​syndicated courtroom series, "Lauren Lake's Paternity Court." She built a prominent law career as a member of the New York, New Jersey, and Michigan bars with a concentration in family, criminal, and entertainment law. Lake co-founded the Women in Entertainment Empowerment Network (WEEN), which promotes the positive portrayal of women in entertainment and society through nationwide mentoring and outreach programs for young women. Lauren is a legal and lifestyle expert who has frequently appeared on the "Today Show," "Access Hollywood Live," "The Wendy Williams Show," CNN, "The Insider" and many others. Follow Lauren on Twitter and Instagram at @LaurenLLake."
And, here is more about Queen Boss if you haven't heard about this new 8-episode series airing on BET Centric...
The Queen Boss series kicked off on January 14, and will air for 8 weeks. Lauren is stepping into a brand new role when she appears in the reality series "Queen Boss" on BET Centric. "Queen Boss" is a new eight episode series that strives to find the best and brightest African-American female entrepreneurs and have them compete for the business opportunity of a lifetime.
Each week, three new female entrepreneurs will step into the "Queen Boss Conference Room" where they'll pitch their products to a panel of esteemed celebrity judges including Vanessa Simmons, Lauren Lake, Kandi Burruss, Carla Hall, Mikki Taylor, Lisa Price, Rakia Reynolds, Angela Benton and Robin Wilson. The entrepreneurs are all impressive women, but the judges put them to the test to see who has the Product, Passion, and Potential to win the competition.
"Queen Boss was a show tailor made for Lake. With fearless determination, Lauren has experienced success throughout her life -- from pursuing a career as a professional singer where she sang back up for Mary J. Blige and P. Diddy, to earning her law degree in two states, to running a successful home design business which led to her hosting two HGTV series, to serving as the TV judge on the Emmy nominated "Lauren Lake's Paternity Court," Lauren's philosophy on life is that anyone can live life limitlessly."
One of my questions for Lauren was how this show compared to other popular entrepreneur judged shows like Shark Tank where people are awarded money to help further their business or invention. Lauren graciously shared her thoughts on the show, and how this show is one not to be missed. Did you know that women of color are the fastest growing group of entrepreneurs in our country? We don't see enough women of color in the role of entrepreneur (especially on shows like the Shark Tank), so Queen Boss is here to highlight these women who don't get the shine they deserve, while helping to promote their products and help them with the resources and leadership they need to help further their business.
As the call went on and other bloggers asked their questions, I couldn't help but see why so many people look up to Lauren Lake and have her on their talk shows. She really is an amazing, well spoken, and strong business woman, who is also a mom. After doing background research on her for the interview, I was amazed at all the things she is doing. Boy, hats off to her for being able to manage everything and be so successful at the same. She talked during the call about how she does it all -- she prioritizes things and puts them in a list how most to least important. And, as she works through her list each day, she checks them off. If she can't get to everything, she doesn't beat herself up. There is only a certain number of hours in a day, and she still has a son to raise and other family commitments. There is always tomorrow.
Near the end of the call I was able to ask Lauren one more question. With everything she is doing right now, including the 4th season of her paternity court series and the new Queen Boss series, I wondered what else we could see from the Lauren Lake brand. If you are a fan on her courtroom series, you will be happy to hear she is working on a necklace line after getting rave reviews from fans of the show, etc. So, be sure to be on the lookout for her new jewelry line soon. And, if that wasn't enough, Lauren also shared about a conference she is putting together this fall in Atlanta, the Limitless Living Conference. You can learn more about this conference including the speakers, how to register and more by visiting www.limitlesslivingconference.com. This conference will focus on leveraging and launching your career, and how to take a limitless approach to your business and life.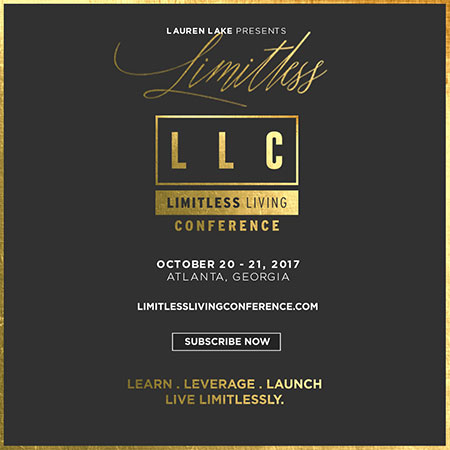 I want to personally thank Lauren again for taking the time out to talk with me and handful of fellow bloggers about what is going on with the two shows she is apart of, and everything else is working on. She is an inspirational woman and I was so happy to have gotten the chance to talk to her, and learn more about her and how she has become so successful.
More About LAUREN LAKE'S PATERNITY COURT...
"Emmy nominated LAUREN LAKE'S PATERNITY COURT is a nationally syndicated 30-minute court show presided over by the sharp-witted and opinionated Lake, who helps real people with real stories resolve legal paternity issues by rendering incisive judgments using DNA evidence. The show offers litigants the chance to resolve their differences and make it through the emotionally charged moment of discovery, while offering heartfelt advice and counseling to help them integrate the outcome into their lives. The show is produced by 79th & York Entertainment and distributed by Orion TV Productions (Orion Television). David Armour is the creator and serves as executive producer. LAUREN LAKE'S PATERNITY COURT is now in its fourth season. Check local listings for time and station.
SHOW MILESTONE:
Having recently celebrated the taping of its 500th episode, LAUREN LAKE'S PATERNITY COURT has tackled emotionally charged cases, including celebrity paternity matters, and has brought litigants back to follow up on how their lives have changed since appearing on the show. On top of helping families find resolution during the taping, the production team provides support to these families after their appearance on the show, helping cover costs to receive a GED, child care expenses and even helping fund one litigant's nursing school tuition. The hit courtroom series recently filmed their 500th episode in Atlanta -- check out Rolling Out, and Atlanta Journal Constitution for details.
RATINGS SUCCESS:
The show, which was nominated for an Emmy this past season is a consistent ratings hit. During the four November sweeps periods since the show premiered in 2013, "Paternity Court" has enjoyed solid time-period growth each season the show has been on. The courtroom series has been renewed for the 2017/2018 season.
Sneak Peek to Two Upcoming Episodes...
With Valentine's Day just around the corner, many lonely hearts turn to the Internet to try and meet their soulmate through chatrooms, meet-up groups and online dating sites. But is what you see, what you always get?
In two upcoming episodes of "Lauren Lake's Paternity Court," a mother and alleged father who met online face off in the courtroom to determine the paternity of a young child. In Strickland v. Strickland (airing February 9), a husband and wife who met in a "divorcee" chat room after they both got out of failed marriages are now questioning the paternity of their four-year-old Tennessee girl. After admitting she cheated on her first husband, has she changed her ways for her new husband?
In Simmons v. Burgess (airing February 16), a 20 year-old Columbus, GA woman discovers the "single" boyfriend she met on an online dating site is hiding something – his fiancé! The alleged father claims he didn't even know her real name until AFTER she had the baby!
For more information, please visit the official LAUREN LAKE'S PATERNITY COURT Facebook page at www.Facebook.com/PaternityCourt, and follow the show on Twitter, @PaternityCourt, using the hashtag #PaternityCourt, as well as on Instagram, @PaternityCourtTV."
Disclosure:

This post was sponsored by the Role Mommy Writer's Network. All views shared are mine and mine alone.