Disclosure: I was sent samples from the vendor in order to write up an honest review. All views shared are mine and mine alone.
It isn't a holiday gift guide without including some wonderful games from the folks at Wonder Forge. I have been working with them for years, and love the selection of games they send for kids and the entire family, when the holidays roll around. And, this year is no exception. :-)
We were sent a box full of games a few days before Thanksgiving -- so the timing was perfect as we love to play board games, especially after holiday dinners when family and friends are with us. The more people around the table to play a game, the better, I always say. Are you board game playing family? If you are, you will want to check out the following new games from Wonder Forge, as they would make for a great addition to your family's board game collection. And, I promise with any of the following mentioned games, when you go to play one of these at your next family game night, you will all be in for a treat, as they are so much fun to play and will have everyone smiling and happy they came to the table to play and enjoy each others company...isn't that the true blessing of the season -- to be with family and enjoy quality time together? And, what better way to make memories than with some of these great games for all ages from Wonder Forge...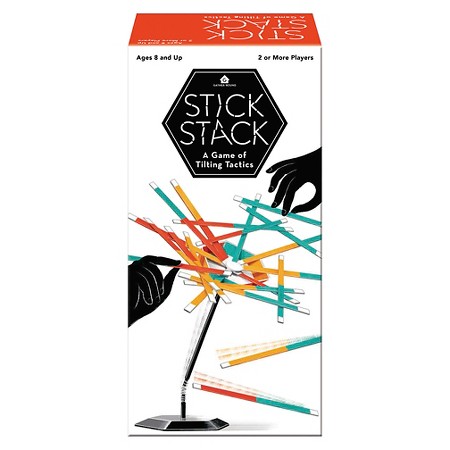 While this isn't a board game, it is still a great game to pull out and play at your next family game night. Perfect for ages 8 and up, and for 2 or more players, Stick Stack is a game of tilting tactics that will have everyone around the table on the edge of their seats as they wait their turn to add a stick to the pile and hope it doesn't knock the tower over.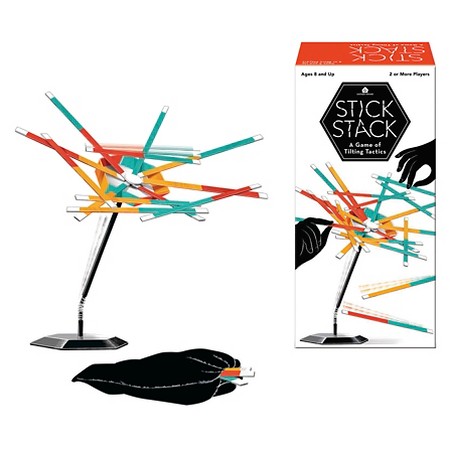 I get nervous just thinking about this game, as it really a tense, but fun game that will have everyone at the table to play again...and again. We ended up playing this game at Thanksgiving over a dozen times before the last person went home for the evening. It was so addicting and had people thinking about strategies about where and how to place their sticks to give a little tilt, but not enough to send the tower of sticks tumbling down. My girls are not 8, but they were able to grasp the concept and joined in. I was surprised at how steady their hands were compared to some of the adults.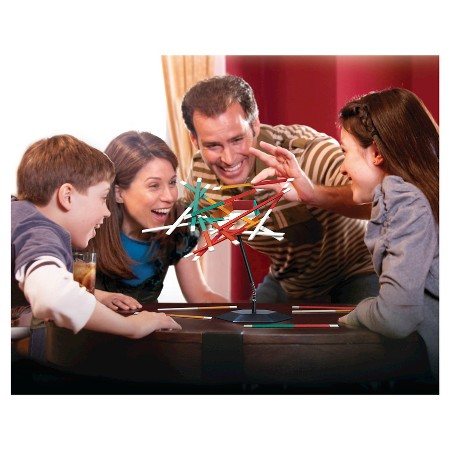 It was like they had been practicing for this game. This is definitely one game we will play time and again during family game nights and on days we are just looking for something fun to do.
We are huge Dr. Seuss fans in our house. I even helped teach a fun Dr. Seuss class as part of my girls' local homeschool co op last year, and all the kids in the class had a blast learning about Dr. Seuss and reading some of his popular books. I wish I had this game back then as I know the kids would have had a blast playing it on the last class to celebrate our journey with Seuss.
This cute game features everyone's favorite cat, the Cat in the Hat, along with Thing One and Thing Two. We all know that when these Dr. Seuss characters are around, that an adventure will be had. In the case of this game, Thing One and Thing 2 make a mess of things, and it is up to the players to work together to clean up the mess they made before Mother comes home. As a parent I love games like this that require kids to work on cooperation and teamwork skills. It also helps with children who are shy and don't usually socialize, as they have to talk with others to get the mess cleaned up.
Kids will love the fun spinning "thing" top that puts whole the game into play. They start by releasing the Things into the house, then watch the mess they make, before have to clean it up before Mother gets home. :-)
Physical dexterity and color and shape recognition are also tested with this game, which is ideal for kids ages 4 and above. Fans of Dr. Seuss would definitely love to find this game under the tree on Christmas morning. My girls can't get enough of this game, which is great for rainy days, upcoming no -school snow days, or just when you are looking for a fun game that the kids can play together with help from parents. :-)
Do your kids love science and doing experiments with you? If you said, "Yes," then you will want to pick up the new Disney Pixar Finding Dory Imagicademy Bubble Science Kit, which is perfect for kids ages 4 and up. What child doesn't love bubbles? If I let my girls, they would be blowing bubbles every day throughout the house. It can get sticky and messy, so I usually have them do it outside. But, I made an exception with this fun Bubble Science kit, which we did the other day as part of our homeschooling. The girls not only got to do bubbles in the house, but they learned about surface tension, air pressure, diffusion and other scientific principles. This science kids contains the following, which will let you complete 7 exciting activities that features everyone's favorite character from the hit movie, Disney Pixar Finding Dory, which just arrived on DVD and Blu-ray....
Box Contents:
A 16-page Activity Book, 1 Dory Bubble Blower, 2 Bubble Wands, (1) 4 ounce, Bubble Solution, 1 Bubble Tray, 1 String, 2 Silly Straws, 1 Bubble Glove
Feature of this Bubble Science Kit:
Experiment with elasticity

Build bubble sculptures

Explore the different types of bubbles

Discover how to hold a bubble in your hand without it popping

Explore surface tension, air pressure, diffusion and more!
My girls loved building bubble sculptures. They were even challenging me to see who could make the biggest sculptures before the bubbles burst or it tumbled over. Another favorite experiment in the kit was learning about elasticity. I don't know about you, but I doubt schools are doing these sorts of fun science experiments with kids in the lower grades. I find that my girls learn best with hands on learning, and experiments are big in our house when it comes to our homeschooling and teaching scientific principles.
Want to wow your kids by showing them how they can hold a bubble in their hand, or what about blowing a bubble inside a bubble? These and other fun bubble experiments await you and your family when you pick up the new Disney Pixar Finding Dory Imagicademy Bubble Science Kit from Wonder Forge.
This science kit would surely make for a great combo gift, when you pair it with the movie. What better way to end your family's week than by having a fun movie and science night. First, have some pizza, then clear the table and do a few or all 7 Bubble experiments, before you settle in on the couch to watch Finding Dory. :-)
We make a point to include physical fitness as part of our girls' homeschooling. They are enrolled in both weekly swim and gymnastics classes. And, when we aren't driving them to these structured programs, my husband is setting up fun and challenging obstacle courses outside and in the living to get the girls moving and bending in ways I didn't think they could, all while getting a good workout and burning off energy.

So, when I saw the Marvel I Can Do That! Game from Wonder Forge at Walmart I knew it was one game I had to review and share with you all. My husband, who is a huge Marvel fan, turned into a kid when he saw this game, and couldn't wait to play it with the girls. He even joined in to complete some of the tasks, which include knocking over villains with Captain Marvel's energy ball, high stepping over the portal balancing the energy ball on your head, or even trying to juggle a cosmic cube between your elbows while you jump up and down three times. These are just a few of the hundreds of scenarios each player is faced when they choose skill cards.
What is so great about this game, in addition to the all the laughs you will have playing it, is that it challenges your child (and yourself) in ways you never thought you would be challenged, and you see that if you put your mind (and body) to it, you can do it...just may take some practice. My girls had a blast with the game, and continually ask my husband to play it with them, when he says its time for physical fitness. :-)
Fans of Marvel will love the cool props included in the box that make completing the challenges that much more fun, including spider-man's web and Thor's hammer. But, you don't have to be a Marvel fan to have a blast playing this game.
Who doesn't love the Disney movie Frozen? Thanks to my girls I can sing all the songs from the movie and even recite the whole movie's word for word. Not sure if that is something to brag about, but I know I am not alone in this talent, as many other parents and even grandparents of young child can do the same. So, if you are looking for the perfect gift to surprise that special Frozen fan in your life, why not consider picking up the new Disney Frozen Where's Olaf? Hide and Seek Game from Wonder Forge. This is a fun take on hot or cold, in which players take turns hiding Olaf and then having the other players ask questions and get clues to help find everyone's favorite snowman. :-)
Included with the game is 1 game board, 26 question tiles, 7 Go Look tiles, 1 Sand Timer (makes the game more fun when you don't have a lot of time to look for Olaf) and 1 Plush Olaf (be warned, kids will fall in love with this cute plush and will want to keep him. But, in order to play this game time and again, they will need to leave in the box).
My girls are always up for a game of hide and seek, and when you add Olaf to the mix, it makes it more fun. And, when you pair the hide and seek game with hot and cold questions and a timer, you can't help but laugh and smile as you race all around the house looking for Olaf, before the last grain of sand falls to the bottom of the timer. This game is perfect for snowy days and days when you just don't want to be outside, but your kids are full of energy and need a fun way to burn it off. Pull out this game and have them go on a hide and seek mission to find Olaf. :-)
Both of my girls are huge The Lion Guard fans. And, they have added this popular Disney Junior show to the top of their wish lists, asking Santa for books, plush toys, action figures and more. They had no idea there was a game out, so were thrilled when I showed them Disney Junior The Lion Guard Boulder Burst Game, and said they would have to help me to review it. They were both up to the challenge. :-)
This game, which is geared towards children ages 4 and up and can played with 2 to up to 4 players will have players dropping a "water" ball before carefully having to pull out boulder rock and restacking it make the wall taller. But, you have to choose wiser and be careful in how you place your repositioned boulder as you don't want the dam wall to come tumbling down.
My girls had a blast playing this game. They played it with my husband and I after dinner a few times, but for the most part, they love to pull this game out and challenge each other to see who has the best dam building skills. This game is part strategy and part chance. Together, though, they make for a great time playing as a family, or setting up and letting your kids play together and not fight, or enjoy when their friends come to visit. Fans of the Lion Guard series will surely love to unwrap this gift this upcoming holiday season. And, at only $11 and change, you can't go wrong for the price, as this is one game the whole family will play time and again, and never gets boring.
And, the last time I wanted to share with you from Wonder Forge is Star Wars Eye Found It! Hidden Picture Game, which you purchase at Target.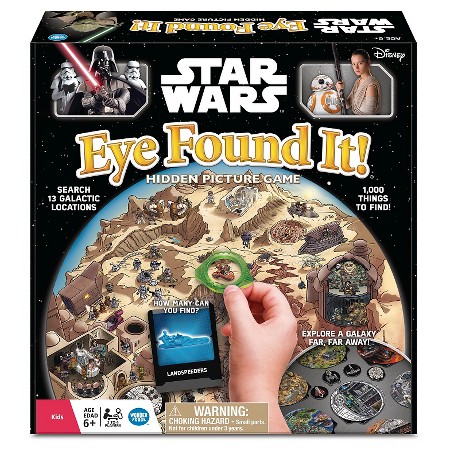 When I heard that Wonder Forge was releasing this game, I couldn't wait to get my hands on a copy to review, not just because I know the girls love "Eye Spy" hidden picture games, but my husband and I, and most of our family and friends are huge Star Wars fans. So, I knew this would be a popular game night game to have on hand for everyone to play. With over 1,000 things to find while you explore far away galaxies, Star Wars Eye Found It! Hidden Picture Game, is a must have for all Star Wars fans...no matter your age. Yes, the game is for kids ages 6+, but I know adults will also love playing this game, which can be played with 2 to 4 players.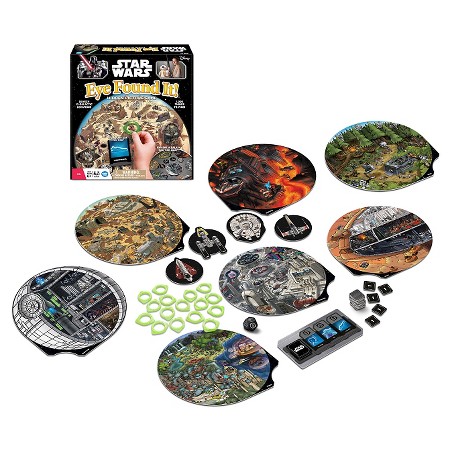 This hidden objects game will provide hours of fun as you b

last off throughout the Star Wars galaxy, making stops in Tatooine and the Death Star, to Jakku and more (13 galatctic locations to be exact)! Once you arrive at each galaxy, you will have to look with your eye all over to find the most hidden objects. The one who finds the most wins. Then, the fun starts all over again, as you move to another planet.
Fans of Star Wars will go crazy looking for over a thousand characters, starships, Droids, and artifacts in a quest to find R2-D2 in this new Eye Found It! game from Wonder Forge. So, take the guess work out of what to get that Star Wars fan in your life and pick up
Star Wars Eye Found It! Hidden Picture Game. Then, get ready to go head to head, or in this case...eye to eye, as you try to find the most hidden Star Wars items to call yourself the victor. :-)
Everyone in my house loved this game, and it was the most popular game on Thanksgiving. I had to promise everyone that it would bring it to my parents for Christmas dinner, so that we could continue the fun and hunt for hidden objects.
These are just a handful of great games from the folks at Wonder Forge that would make for the perfect holiday gift to give loved ones this holiday season -- young or old. Everyone loves board games and playing games together, especially when we all come together during the holidays. So, why not make them more fun and memorable, by picking up some of these and other wonderful games from Wonder Forge today. To learn more about these and other games available now from Wonder Forge, head on over to their website -- http://www.wonderforge.com/.
Disclosure: I was sent samples from the vendor in order to write up an honest review. All views shared are mine and mine alone.