Disclosure: I was sent a sample from the vendor in order to write up an honest review. All views shared are mine and mine alone.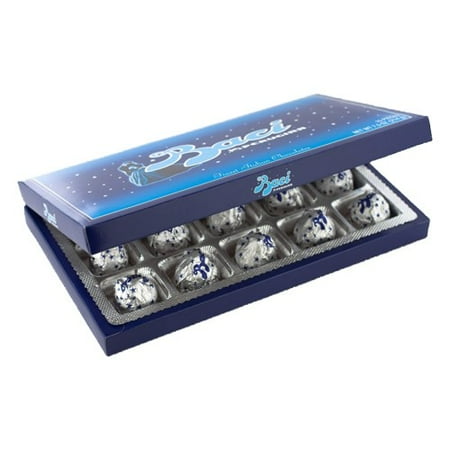 This will be the first year we will celebrate Christmas without my paternal grandmother as she passed away a couple weeks ago due to complications from Alzheimer's. There will definitely be a void felt, especially at the dinner table. My grandmother was a true Italian grandmother, who loved to bake and cook, and made sure that whenever you came to visit she had food ready to fill your belly with, as well as stories to tell. I cherished all the wonderful years I was able to spend with my grandmother, and will continue to share her memory with my girls through stories and by teaching the girls how to bake and cook just like my Nana taught me. And, when it comes to the holidays going forward, I will be sure to have a box of Baci
Perugina
chocolates on the dessert table for everyone to enjoy...as these used to be my grandmother's favorite chocolates.
All of her grandchildren and children would buy her a box of these decadent chocolates that are filled with whole and chopped hazelnuts, and these would last here most of the year, until the following Christmas...thanks to her many grandchildren. :-)
Have you heard about or tried Baci
Perugina
chocolates? If not, and you love chocolate and hazelnuts, then you have to pick up a box this holiday season to try and see what you have been missing out on.
Every Bacio is wrapped in a love note offering collectable messages of love and friendship.
Here is more about these delicious Italian chocolates, including the back story on the multi-lingual wrappers of love each and every piece of Baci Perugina comes wrapped with...
"
Over 90 years ago in the heart of Perugia, Italy the historic home of St. Valentine a young Perugina chocolatier was inspired to create a special dark chocolate and hazelnut confection for her unlikely paramour. It was a clandestine relationship and into each wrapper she slipped a secret love note.
The new chocolate soon caught on but was named, Cazotto, the Italian word for punch as it resembled a closed fist to some. It wasn't long before the chocolate took on the more fitting name, Baci, Italian for kisses.
Baci Perugina silky dark chocolate enrobes a heart of gianduia (a luscious creamy blend of milk chocolate and ground hazelnuts) dotted with chopped hazelnuts and crowned with a whole hazelnut.
This product is made with no artificial flavors, colors or preservatives. Gluten free and Kosher certified. UTZ certified sustainable cocoa."
Don't these look and sound amazing? They really are out of this world. And, after I tried one for the first time as a child, I could tell my Nana had great taste. She is the main reason I LOVE chocolate, and only enjoy the finest chocolates around, with Baci
Perugina
on the top of my list. Christmas and Easter have been big holidays where Baci
Perugina
have been popular in our house, and now when I buy a box of these Italian chocolates at the holidays, it will have a sentimental meaning of love for me, as I will be reminded of my grandmother. But, it will be all happy memories. And, as I greet family and friends who come to visit, I will be sure to offer them a Baci
Perugina
chocolate just like my Nana would have, and wait to hear them read their message of love, as they unwrap their chocolate to enjoy.
Stay up-to-date on all things related to Perugina Baci by following their social media pages...
Disclosure: I was sent a sample from the vendor in order to write up an honest review. All views shared are mine and mine alone.