Disclosure: I was sent a sample from the vendor in order to write up an honest review. All views shared are mine and mine alone.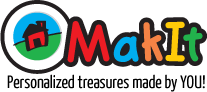 My girls love to craft and create things. So, I am always looking for fun kits to get them that let them use their creativity to create something that can be given as a gift, especially to the grandparent, or that we can keep and treasure.
A recent search led me to stumble up on MakIt plates? Have you heard about these kits? If not, not to worry, as here is more information on MakIt plate kits, which would make for great gift ideas this holiday season, or even as a birthday gift for that special child in your life who, like my girls, loves to create and make their own unique gifts.
"

With the Make A Plate Kit their artwork can be preserved in a break-resistant, scratch-resistant, dishwasher-safe melamine plate! Just create artwork on the included art paper and mail the finished creation to the Magic Factory. Your masterpiece will be embedded in a non-toxic plate and shipped back within ten days. Whether on display in your dining room or as a special flavor enhancer for your food, this plate will make a statement! Includes extra sheets of art paper, markers, pre-addressed return mailing envelope, instructions, order form, one expedite label, self-sealing tape, and the cost of an original art creation by the Magic Factory. Ages 3 +."
MakIt plates are available at Learning Express stores (and online) as well as Amazon for a suggested retail price of $19.99. Right now, though, you can pick up a MakIt Plate kit for only $17.99 at Learning Express. :-)
When you purchase a plate kit, you will be provided with a plate to design, as well as 25 templates that will help you and your child get create and choose the best design for your plate.
So, how does the MakIt plate process work?
After you purchase a kit, you choose the template that you like best. Then, your child uses the markers (also included in the kit) to color in and personalize their design. Then, you send the completed template in the pre-paid envelope found in the kit. In no time at all you will be sent back a plate that you will treasure forever, as it will contain the design your child made. How cool is that?
We recently received a MakIt plate kit and the girls had a blast choosing from the many templates to create their own unique design. They plan to surprise Nana with their completed plate for Christmas, once we receive it in the mail soon. This is one personalized gift I can't wait to see the final product of. I think I am more excited than the girls to get their plate in the mail. :-)
The girls had so much fun with their MakIt Plate kit that I ended up picking up a few more kits for them to do with their friend one of these days. I know that when they see their finished plate in the mail, they will want to create another so that they can keep and eat off of. Maybe it will get them to eat all of their food, as they will want to be able to reveal the design on the plate they created? :-)
What a great way to freeze time by capturing a favorite drawing or image into a usable product
To learn more about MakIt Plate kits, visit
http://www.makit.com/
today.

Disclosure: I was sent a sample from the vendor in order to write up an honest review. All views shared are mine and mine alone.