With Each Magazine Subscription Purchased, Cricket will Donate One to
a Child in Need in Partnership with Two Award-Winning Literacy Charities:
Libraries Without Borders and Parent-Child Home Program
Guaranteed to Spark a Lifetime Love of Reading!

"Since their founding in 1973, Cricket Media - the most award-winning magazine publisher in children's media - has opened incredible windows of creativity and discovery for kids of all ages. Each month, across 11 publications, their ad-free, child-centric magazines deliver stories with substance, beautiful illustrations and fantastic flights of fancy in highly visual format guaranteed to spark curiosity, inspire creativity and lead to a lifetime love of reading.
Looking for the perfect gift this holiday season? We suggest that you look no further than Cricket's "Bug" magazines: BABYBUG, LADYBUG, SPIDER and CRICKET (for more Cricket publications on a variety of topics including science and history, visit cricketmedia.com), unique, high-value gifts that keep on giving throughout the year.
Beginning today, generous gift-givers seeking to give the life-long gift of reading are invited to visit
DoubletheGiving.com
. There, they'll have the opportunity to join a movement guaranteed to spark a lifetime love of reading through Cricket's "Double the Giving" Campaign, Through the purchase of specially-discounted subscription bundles to BABYBUG (ages 6 mos.-3), LADYBUG (ages 3-6), SPIDER (ages 6-9) or CRICKET (ages 9-14) for $29.95 (regularly priced at $33.95), gift-givers can select between two charitable organizations to receive another 9-issue annual print subscription.
Libraries Without Borders supports community development in 20 countries around the world through the promotion of literacy. And, since 1965, the Parent-Child Home Program has been providing under-resourced families with the necessary skills and tools to help their children thrive in school and in life, developing school readiness in children with disadvantages by combining intensive home visits with weekly gifts of books and educational materials. Donated subscriptions through the "Buy One, Donate One" program will deliver BABYBUG, LADYBUG, SPIDER, AND CRICKET to families in more than 400 high-need, underserved communities throughout the United States, opening windows of possibility, creativity and wonder for thousands of children across the country.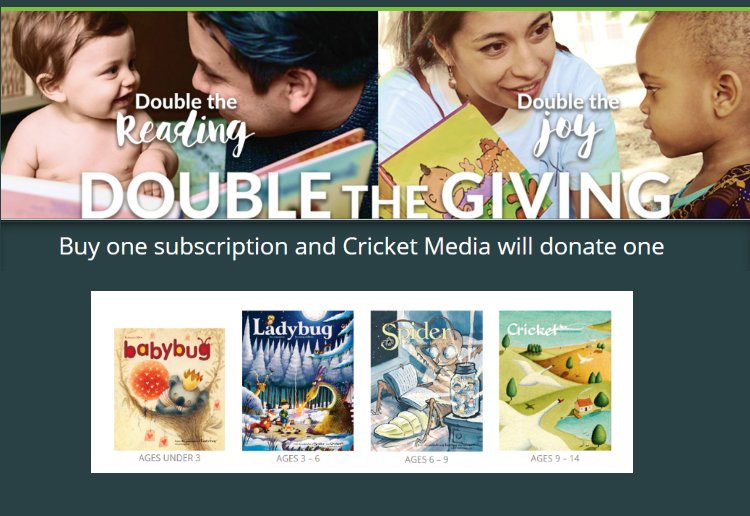 A gift of a Cricket Media publication is a "digital detox", supporting growing minds and helping to raise creative, curious and confident kids -- no batteries (or screens) required! And we hope you'll join us this holiday season in offering your audience one of the best, most unplugged and inspirational gifts that once can give: a subscription to a Cricket Media magazine."
Thanks to the kind folks at Cricket Media magazine, one lucky Inspired by Savannah reader will get to choose one of the "bug" magazines of their choice (valued at $33.95) to give to their child or send to that special child in their life this holiday season.
To enter, please complete the entries on the Rafflecopter form below. Good luck!
a Rafflecopter giveaway
Cricket Media is an education media company that provides award-winning content on a safe and secure learning network for children, families and teachers across the world. Cricket Media's 11 popular media brands for toddlers to teens include Babybug®, Ladybug®, Cricket™ and Cobblestone™. The Company's innovative web-based K12 tools for school and home include the ePals community and virtual classroom for global collaboration as well as In2Books®, an e-Mentoring program that builds reading, writing and critical thinking skills. Cricket Media serves millions of teachers, students and parents in over 200 countries and territories through its platform and NeuPals, its joint venture with China's leading IT services company Neusoft. Cricket Media also licenses its content and platform to top publishing and educational companies worldwide. For more information, please visit http://www.cricketmedia.com.
About Libraries Without Borders
Libraries Without Borders (LWB) is a 501(c)(3) non-profit, non-partisan organization devoted to facilitating the growth of libraries in the developing world.

Currently active in 20 different countries, LWB recognizes that

access to knowledge is a key factor in social and economic development. By facilitating the growth of libraries across the globe, LWB aims to provide the knowledge that is the engine of human development.

Libraries Without Borders and Bibliothèques Sans Frontières (BSF) form an international network of organizations working together to promote knowledge-based development in under-served regions of the world.
About Parent-Child Home Program
The Parent-Child Home Program supports under-resourced families in preparing their young children for school success, by combining intensive home visits with weekly gifts of books and educational materials. Early-literacy specialists model good practices to educate parents about the importance of parent-child interaction, give them the tools needed to inculcate early literacy skills in their children, and encourage them to see themselves as active participants in their children's educations. In this program, community-based early learning specialists visit participating families twice a week for two years. When families complete the program, the staff helps parents enroll their children in quality preschools or kindergartens. The program has been replicated in 400 high-need communities in 14 states and in Chile, Canada, Ireland and Bermuda.