Disclosure: I was sent review copies from the publisher in order to write up an honest review. All views shared are mine and mine alone.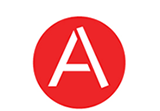 "The Tinyville Town series, new from New York Times bestselling author and illustrator Brian Biggs, launched this past September with three books: Tinyville Town Gets to Work!, a world-establishing picture book that introduces the town and its many residents, and two board books, I'm a Veterinarian and I'm a Firefighter. The series is set in a cozy community where the people are kind, everyone says hello when they're walking down the street, the bus is always on time, and all the townsfolk do their part to keep things running smoothly. Everyone has a job to do in Tinyville Town. With a nod to the busy world of Richard Scarry and the neighborhood feel of Sesame Street, this new series will become a favorite read for preschoolers and is ideal for story time and class discussions about occupations and community helpers. Tinyville Town is a growing, thriving city full of interesting people. They can't wait to show readers around!"
Here is more about each of the three recent releases to the Tinyville Town Series by Brian Biggs, followed by my thoughts...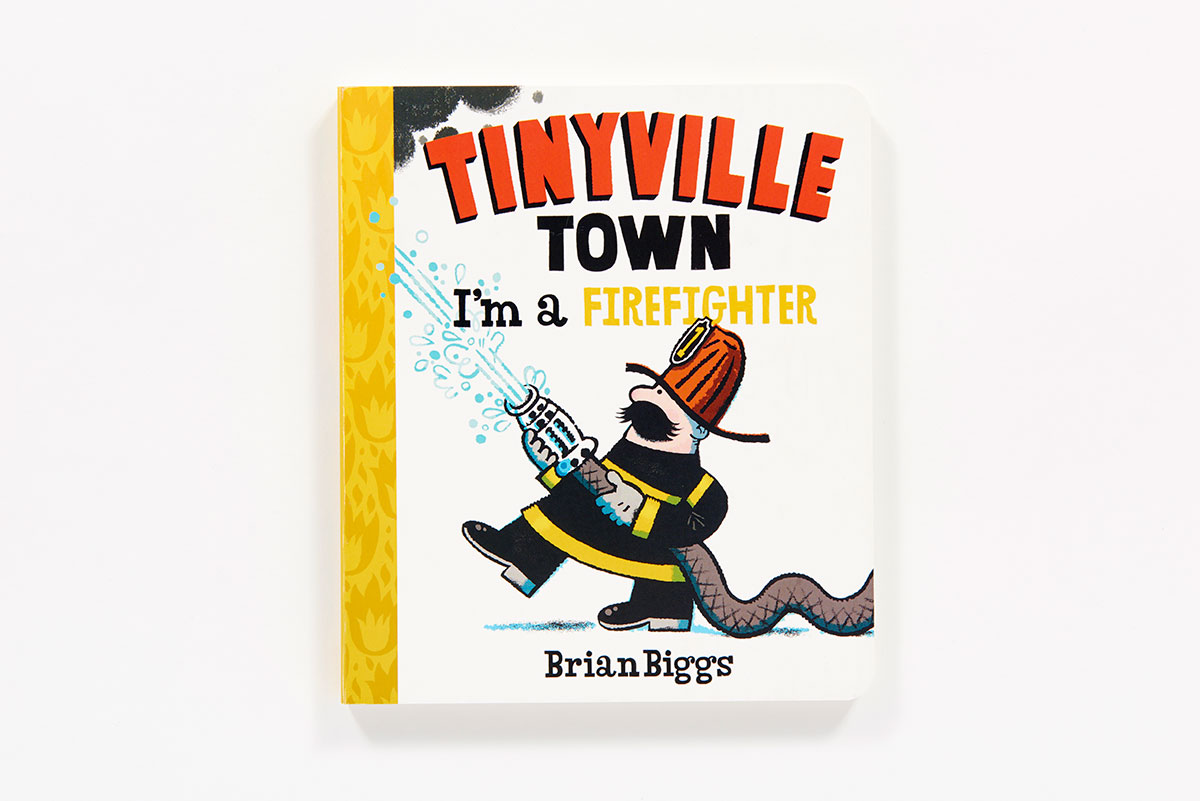 In I'm a Firefighter, we see what it's like in a day in the life of a town firefighter. As soon as the fire alarm rings, Fireman Charlie is ready to go, go, go! When he's not fighting fires, there's plenty to do, like cook meals for the crew, Charlie's favorite job of all. Firefighters are perennially popular with young readers.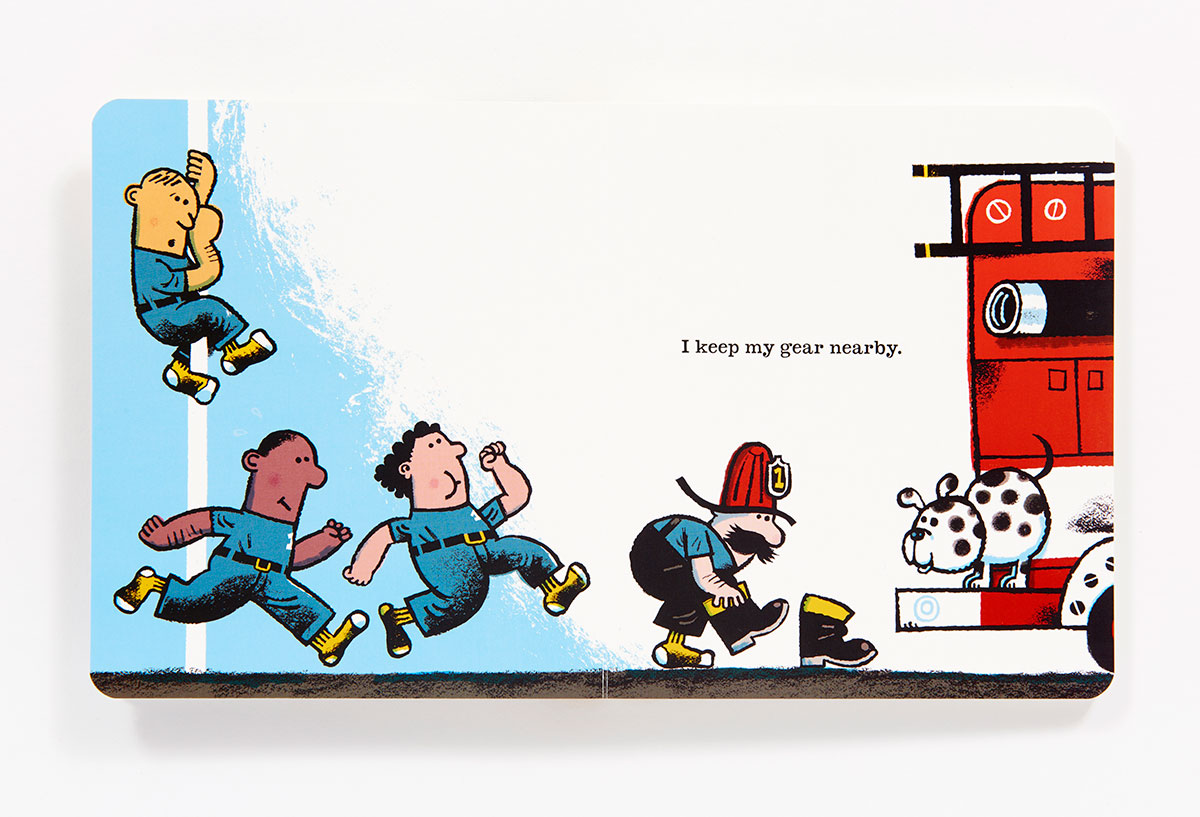 This is an ideal read for fire prevention lessons and as a tribute to local hero firefighters.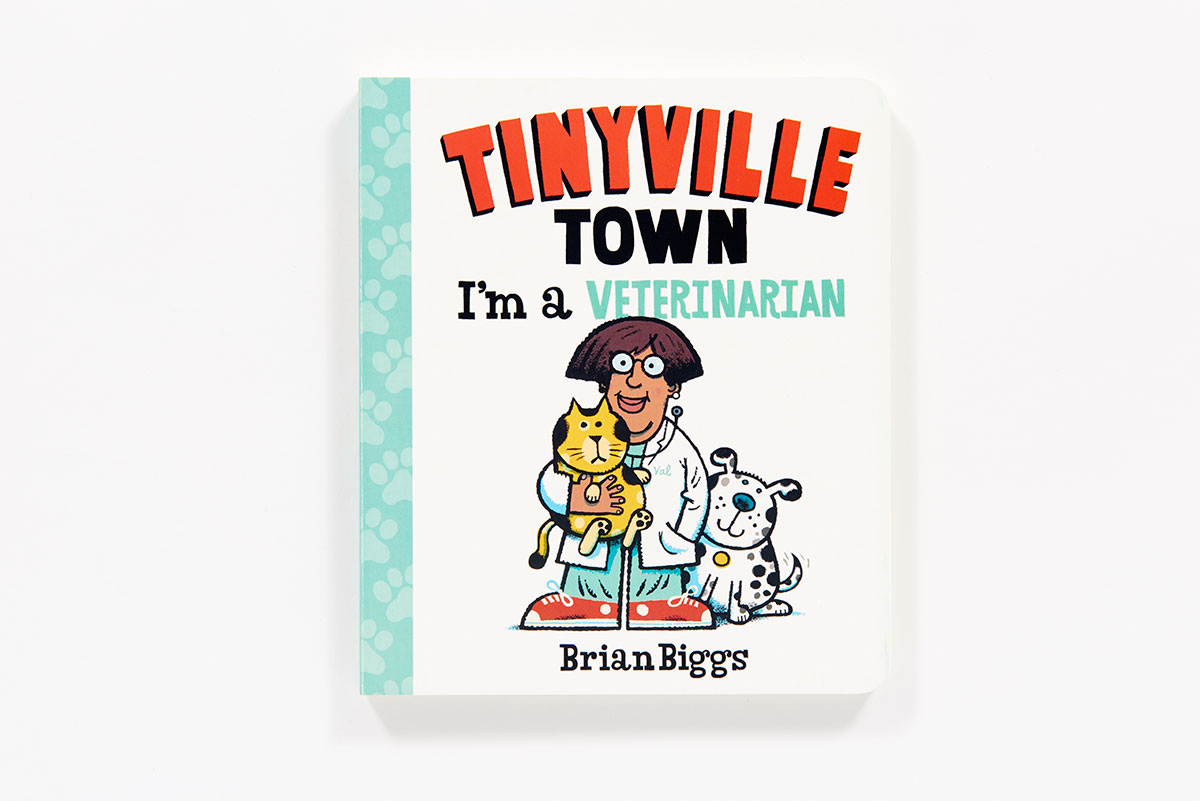 In I'm a Veterinarian, we see what it's like in a day in the life of a town animal doctor. Tinyville Town's veterinarian begins her day at home with her two cats, two dogs, and one fish. Once at work, she examines a firefighter's dalmatian, who is not feeling well at all. Follow along as the vet runs tests and makes a surprising discovery! This book will comfort a child bringing a beloved pet to the vet for the first time, and satisfy an inquisitive child's curiosity about what an animal doctor does, how they are able to diagnose so many different kinds of pets, and how their office is different from their own doctors.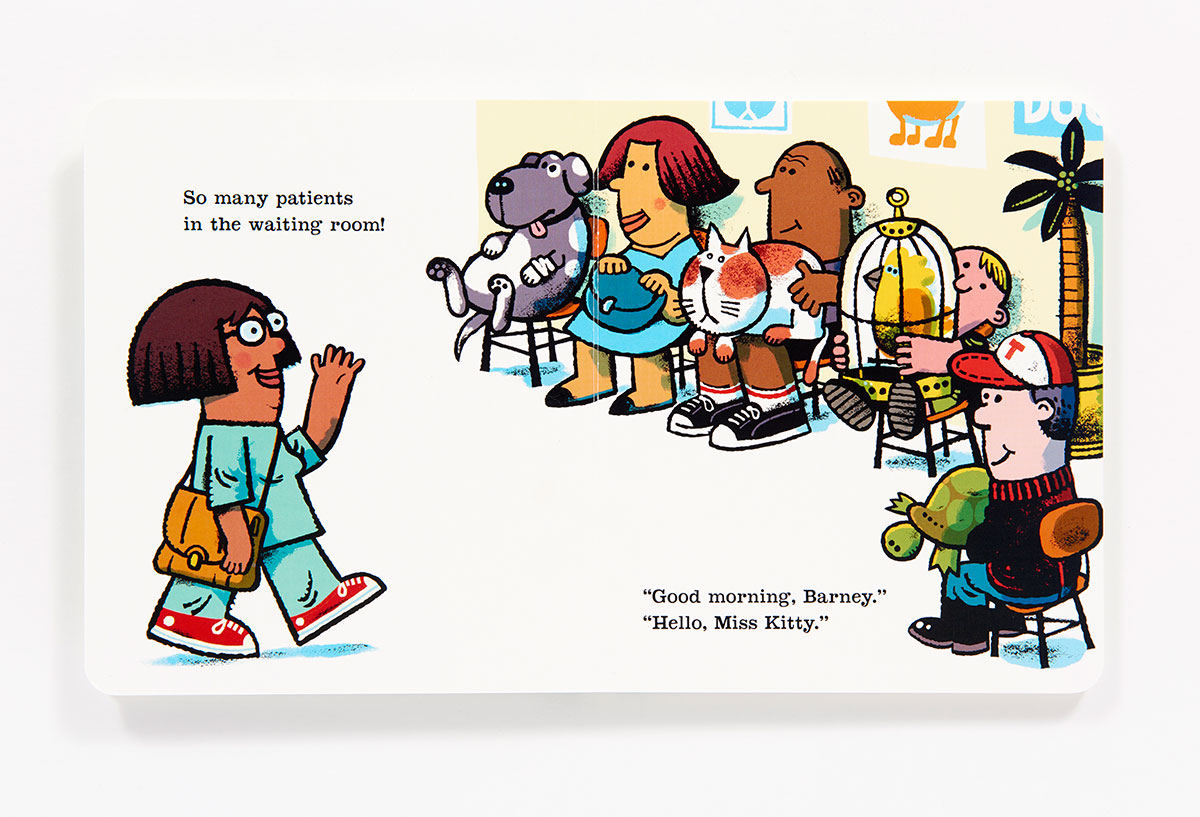 Every town has at least one vet office, and Tinyville's is the one kids will want to visit again and again.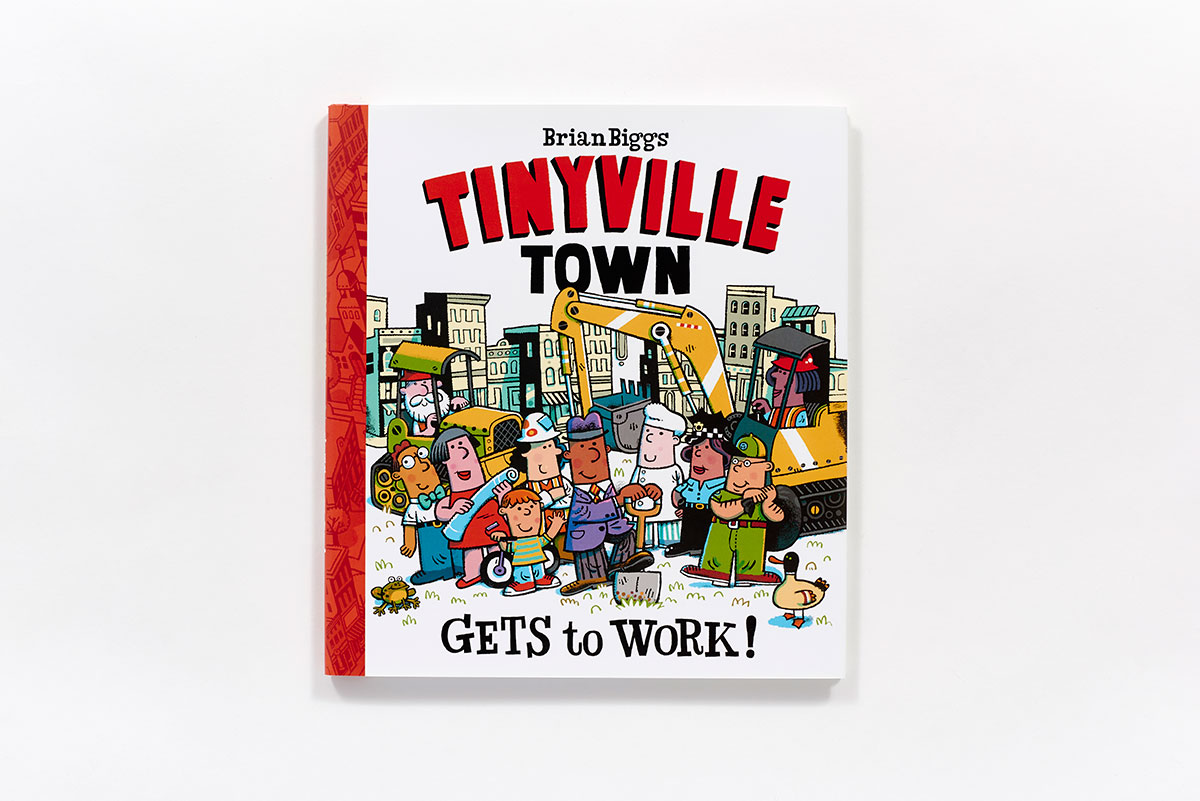 In Tinyville Town Gets to Work!, we see the evolution of a construction project to solve a problem. When there is a traffic jam on the Tinyville Town bridge, the residents decide to work together to build a new one. By following the hard work of the engineers and construction workers, readers will get to meet many different people in the town while watching the exciting new bridge take shape. The large picture book format and Biggs's bright art brilliantly show the bridge, which was extensively researched to make it authentic for readers.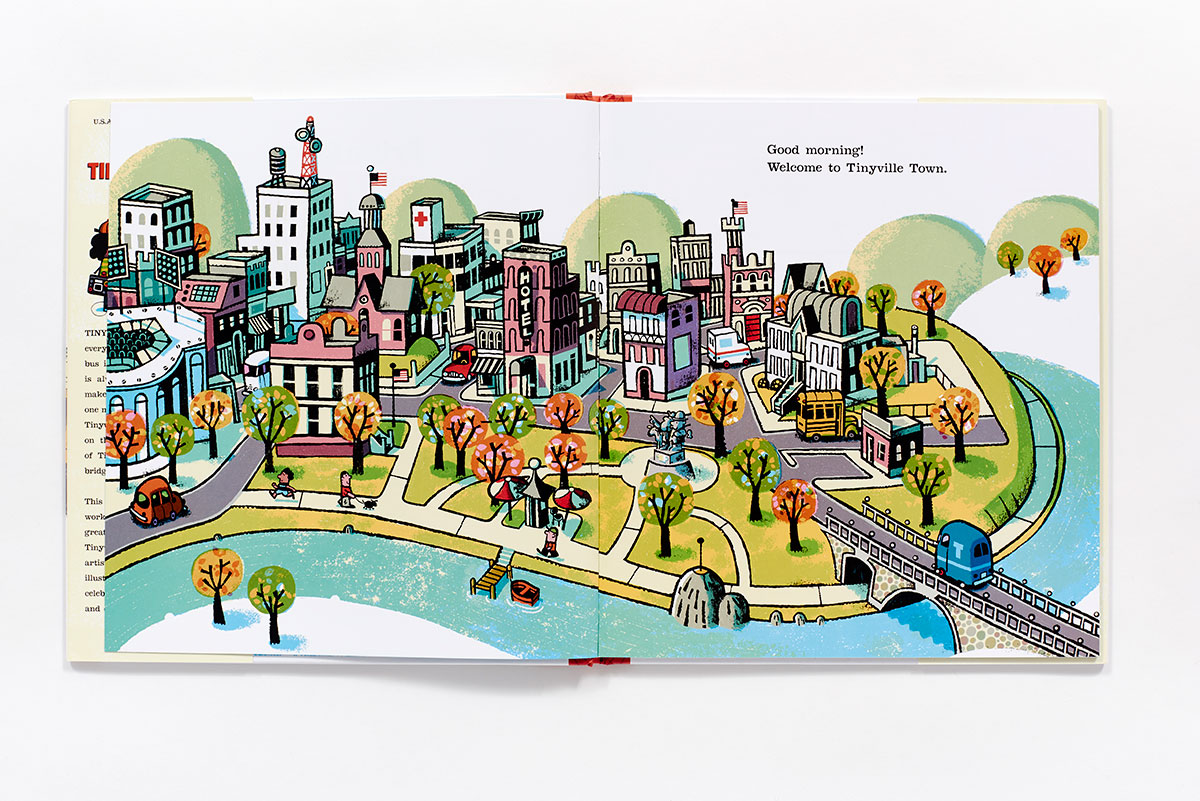 Every town has a bridge, and a trip over Tinyville's new one will be fun for kids time and time again.
My Thoughts:
If you follow my blog then you know that I homeschool my two girls. One thing I like about teaching the girls at home is creating lesson plans and theme weeks based on topics they enjoy and show interest in. I also love being able to bring them on field trips to tie in what we have been learning.
Last month, we spent a whole week learning about community workers, and visited the local library to meet the children's librarian and attend story hour, went to the local fire station where they were doing a "Touch A Truck" event. The girls loved sitting in the firetruck and posing with the firefighters, as well as trying to get dressed in record time in the heavy firefighter gear. We also spoke with our veterinarian about her job when we took one of our rescue dogs for their annual checkup. You would be surprised about how excited community workers get when you ask them about their jobs. They love to share, especially when young children show interest in what they do and how they help the community as a whole.
And, just last week we attended a community event where a bunch of community workers were present including police, EMT, firefighters, and had their vehicles, gear, etc. on display for kids to try out and take photos with. We used this opportunity to review what we learned in our community workers theme week, and the girls had a blast talking with and asking questions to these amazing people.
Prior to attending this community worker event, I pulled Brian Bigg's three books from the shelf to share with the girls again. We had read these books last month when we did our theme week, and I thought this would be a great review of the types of roles people play in our community and the jobs they hold.
While these board boards are perfect for young children, probably preschool age, they are also good for those homeschooling K and 1st grade, or those who have children who love firefighters, vets and other community workers and like to pretend they are doing these jobs. These books are also great for early readers, as the text is easy to understand and the words are easy to sound out. My daughters used these books last month as practice for learning new sight words and during their 30 minute reading time I have them do each night.
When I asked my girls what they thought of these books from Brian Biggs, they both smiled and said they were great. They loved the colorful illustrations and learning about the different workers in a community. Without their help, a community would not run smoothly. And, with jobs like a police officer and firefighter, we would not safe. Great reviews from my girls, and they said they would recommend to other kids who love fire trucks, animals and even building equipment.
I have to second their recommendation of this new Tinyville Town series. It reminds of the Richard Scarry books I used to read and enjoy as a child. We can't wait to see what other books are added to this series. Be sure to follow and check out http://mrbiggs.com/books/tinyville-town/ for updated on new releases and more.
And, with the holidays fast approaching this cute series would make for a great stocking stuffer idea, or to add to a pretend dress-up firefighter or veterinarian gift you are planning to give that special child in your life. We love these books, and I know you and your child will, too!
About the Author:
Brian Biggs was born in Arkansas, moved to Texas, then moved to New York City to attend Parsons School of Design. He has also lived in Paris and San Francisco. He has worked as an art director and graphic designer, animator for interactivity and multimedia projects, teacher, writer, and illustrator. He has written and drawn comics and graphic novels, designed publications, and illustrated for many magazines and newspapers. He illustrates children's books, including the New York Times bestselling Frank Einstein middle-grade series by Jon Scieszka, for magazines, newspapers, and advertising; posters, toys, and puzzles. He also works with animation, music, and various other media. His preschool series, Tinyville Town, will be published in summer 2016. He lives in Philadelphia, Pennsylvania.
Disclosure: I was sent review copies from the publisher in order to write up an honest review. All views shared are mine and mine alone.