Disclosure: I was sent a review copy from the vendor in order to write up an honest review. All views shared are mine and mine alone.
CELEBRATE THE HOLIDAY SEASON
WITH THE MOST HEROIC RESCUERS AROUND
Does your child have a favorite or character that they can't get enough of? For Savannah it has been Paw Patrol for the past few years. Not a day goes by that she is not wearing a Paw Patrol outfit, watching episodes on the television or from one of her many DVDs, playing Paw Patrol games on the iPad, or simply grabbing a bunch of paw patrol toys to play with. And, whenever we have to run errands, she is quick to grab one of her plush Paw Patrol toys to bring along for the ride. You can say that Savannah lives and breathes Paw Patrol. :-)
So, when I heard that a new holiday DVD was being released,

PAW

Patrol

:

Pups

Save

Christmas, I knew just the person to help me review it....Savannah! She was so excited when she saw this DVD arrive in the mail and couldn't wait to watch it. Even thought she has seen all the episodes that make up this new DVD release, she still wanted to see it, especially because some of the episodes had Everest in them.
Here is more about this new holiday DVD release, which includes 6 full-length episodes that are sure to delight any Paw Patrol fan...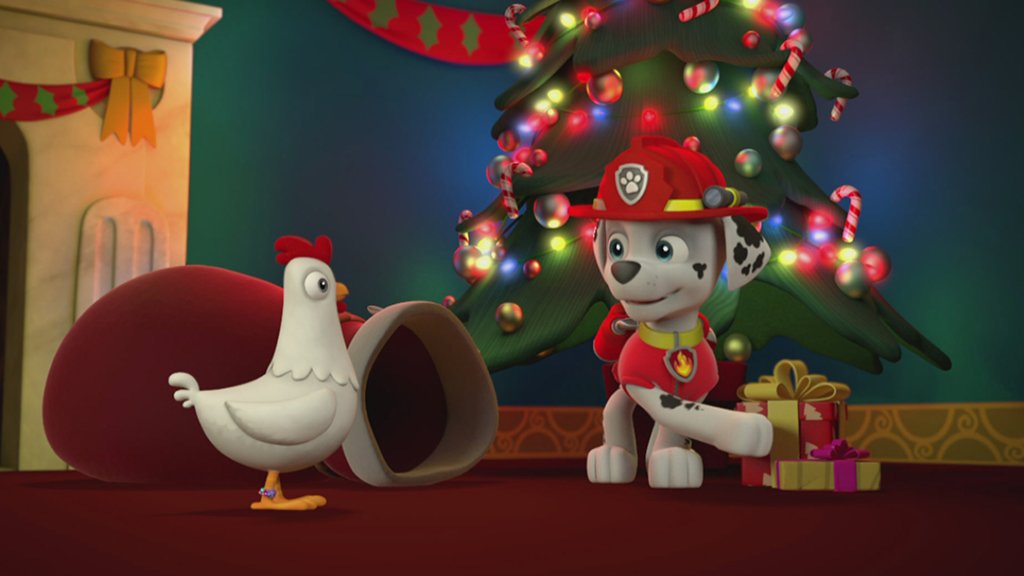 "Unwrap a high-action adventure this holiday season with a collection from one of the hottest preschool series on TV,

PAW

Patrol

:

Pups

Save

Christmas

. This latest puppy collection features daring rescues with just the right amount of holiday cheer! Join Ryder, Chase, Everest and the rest of the gang as they embark on snow-filled adventures to help Santa

save

Christmas

, rescue penguins and polar bears, and much more. Whether they're feeling festive, competitive or silly, it's no secret that the

pups

are here to bring a little extra joy to this holiday season. Produced by Nickelodeon Home Entertainment and distributed by Paramount Home Media Distribution,

PAW

Patrol

:

Pups

Save

Christmas

will be available on DVD November 1, for the suggested retail price of $14.99.
PAW

Patrol

:

Pups

Save

Christmas

includes the following episodes:
Pups

Save

Christmas

- When Santa's sleigh crashes and the reindeer run off, Ryder and the

PAW

Patrol

have to help Santa finish delivering presents and

save

Christmas

.

Pups

Save

the Penguins - Someone has been swiping fish off Cap'n Turbot's boat, so he calls Ryder and the

PAW

Patrol

to help investigate. Using his new spy gear, Chase inspects the boat and heads below deck where he discovers it's a group of pesky penguins. Now, the

pups

have to catch the slippery suspects and find a way to get them back to the South Pole.

Pups

Save

the Pop-Up Penguins - Ryder and

PAW

Patrol

are enjoying a sunny summer day at the beach when a call comes in from Mr. Porter. He and Alex were at the train station to pick up a big frozen fish order only to discover it's been eaten by some stowaway penguins that have scattered all around Adventure Bay.

Pups

Save

Skye - Skye is on her way to Jake's Mountain to meet up with Everest and Ace when a storm blows in and she crash lands in the snow. After losing her pup tag and breaking a wing, Skye has to climb the rest of the way on foot while both Ace and Chase use a drone to look for Skye from above. They find her but can't reach her on the steep mountain. Ryder calls in Everest - ice or snow she's ready to go!

Pups

Save

Sports Day - The

pups

are all excited to be a part of Adventure Bay's Sports Day until Everest realizes that she can't show off her snowboarding skills in the summer. Ryder and the

pups

race into action to build her a snowboard half-pipe, complete with snow, but Daring Danny X's impatience sends the snow making machine on a tear around the stadium covering everything. The

pups

slip and tumble through their summer sporting events, until Ryder and Everest decide that the new and improved snowy themed events are even more fun than the regular sports.

Pups

Bear-ly

Save

Danny - When Daring Danny X tries to outdo Everest on his motorized snowboard, he gets stuck in a tree and wakes up a hibernating Momma bear. Skye air-lifts Danny off, while the

pups

lure Momma down with honey flavored treats. When the same tempting treats draw the baby bears out of the cave and up into the tree, Everest and Marshall must get the bears safely back into their cave."
With the holidays fast approaching and snow on the horizon for many of us, this new Paw Patrol makes for a great way to get your little one into the holiday spirit and excited about winter and playing in the snow. Savannah had a blast watching this DVD...I lost count after the fifth time of viewing. She can't go a day without watching at least one episode on this DVD, and always brings this DVD along in the car.
Surprise that Paw Patrol fan in your life with new holiday DVD release. I know they will enjoy, just as much as Savannah has been. :-)
Thanks to the folks at Nickelodeon and Paramount Home Media Distribution,

one lucky Inspired by Savannah reader will win a copy of this new DVD release to share with that special Paw Patrol fan in their life. To enter, please complete the entries on the Rafflecopter form below. Good luck!
a Rafflecopter giveaway
PAW

Patrol

:

Pups

Save

Christmas

Fast Facts
Street Date: November 1, 2016
Catalog: 59180585000 (US)
Audio: English 5.1 Dolby Digital, French Dolby Surround and Spanish Dolby Surround
(French and Spanish audio not included on "

Pups

Save

Sports Day" and "

Pups

Bear-ly

Save

Danny")
Nickelodeon, now in its 37th year, is the number-one entertainment brand for kids. It has built a diverse, global business by putting kids first in everything it does. The company includes television programming and production in the United States and around the world, plus consumer products, online, recreation, books and feature films. Nickelodeon's U.S. television network is seen in more than 90 million households and has been the number-one-rated basic cable network for 20 consecutive years.
About Paramount Home Media Distribution
Paramount Home Media Distribution (PHMD) is part of Paramount Pictures Corporation (PPC), a global producer and distributor of filmed entertainment. PPC is a unit of Viacom (NASDAQ: VIAB, VIA), a leading content company with prominent and respected film, television and digital entertainment brands. The PHMD division oversees PPC's home entertainment, digital and television distribution activities worldwide. The division is responsible for the sales, marketing and distribution of home entertainment content on behalf of Paramount Pictures, Paramount Animation, Paramount Vantage, Paramount Classics, Insurge Pictures, MTV, Nickelodeon, Comedy Central and CBS and applicable licensing and servicing of certain DreamWorks Animation titles. PHMD additionally manages global licensing of studio content and distribution across worldwide digital and television distribution platforms including online, mobile and portable devices and emerging technologies.
Disclosure: I was sent a review copy from the vendor in order to write up an honest review. All views shared are mine and mine alone.