Disclosure: I was sent samples from the vendor in order to write up an honest review. All views shared are mine and mine alone.
Nonni's new seasonal treats are inspired by on-trend flavors, made with real ingredients and offer a guilt-free indulgence at only 110 calories apiece.
It isn't the holiday season in our house until we start seeing pumpkin flavored products hitting store shelves. And, one product that is a must have in our house is Nonni's biscotti. Are you a Nonni's lover, too?
When the crisp weather sets in, I start stocking up on hot chocolate and assorted teas to have on hand for family and friends who come to visit. There is nothing better than dipping a Nonni's biscotti into a hot cup of cocoa or nibbling as you sip your tea. Mmm, I am getting hungry now just thinking about these oh so tasty biscotti treats.
Thankfully, the folks at Nonni's sent along a sampling of their seasonal biscotti flavors, along with their THINaddictives, which I hadn't tried yet, but have seen on store shelves.
Growing up in an Italian household, I learned very young how to bake. One thing I used to love sampling at my Nana's counter was her biscotti. But, I also learned from making them that they take a while to make, as you need to let dough set, then bake and then bake again. I don't know about you, but as a busy mom of two little ones, I don't have the luxury to spend an afternoon in the kitchen baking. So, when I do bake, I have to make things that are quick to make and cool, as the girls are always waiting to sample. But, I still want to be able to enjoy biscotti, so having Nonni's available in the supermarket is perfect. I don't have to spend all day baking up these tasty Italian treats in the kitchen. Instead, I can grab one to enjoy with my morning coffee, or even grab one and snack on for a mid morning snack or even on the go. There is never a wrong time to snack on Nonni's biscotti. They can be enjoyed day or night. :-)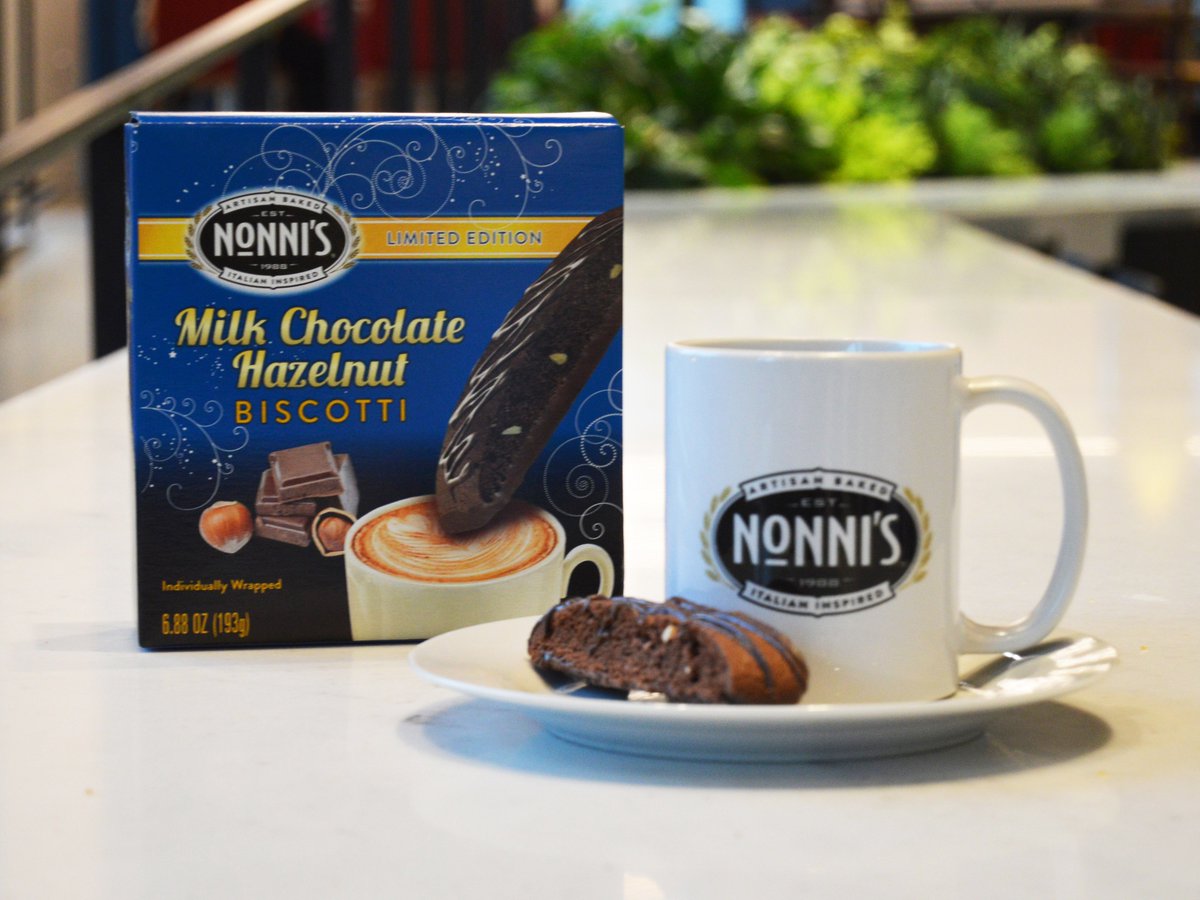 Perfect for snacking or sharing,

Nonni

's seasonal biscotti makes an ideal wintertime dessert or stocking stuffer.
With the holidays fast approaching, you are probably putting together your food shopping list for hosting an upcoming Thanksgiving or Christmas dinner for your family and friends. If you are, make sure you add Nonni's biscotti products to your list, as they make a great addition to your dessert table or to serve up with coffee and tea after the meal. And, with those unexpected guests who like to visit around the holidays, it is always nice to have a box or two of Nonni's biscotti on hand to offer them with a hot cup of coffee or tea. Maybe this is why I have so many people visiting this time of year...they know I stock up on flavored teas and have Nonni's biscotti boxes in the pantry. :-)
Right now you find the following limited edition Nonni's biscotti flavors on store shelves:
Dark Chocolate Pumpkin
Milk Chocolate Hazelnut
Gingerbread Biscotti (My personal favorite)
Pumpkin Spice
In addition to the above biscotti flavors, don't forget to pick up a couple boxes of the Nonni's THINaddictives. These are a thin version of the popular Nonni's biscotti, but thin and crunchy. What I love about these THINaddictives is that you can eat right from the package, or crumble and add to yogurt, ice cream, oatmeal, cereal. They are also good served with fruit, dips or even guacamole.
Nonni's THINaddictives come in the following varieties, and can also be found next to the ever popular Nonni's Biscotti flavors at your favorite local supermarket and retailer...
So, what are you waiting for, pick up a copy boxes of Nonni's biscotti or THINaddictives the next time you go food shopping and treat yourself to a nice treat with your morning coffee or tea. :-)
Disclosure: I was sent samples from the vendor in order to write up an honest review. All views shared are mine and mine alone.