Disclosure: I was provided access to an advance screening of this film in order to write up an honest review. All views shared are mine and mine alone.
Is there one talent you wished you possessed? For me it would be either dance or being able to play the violin. I was not born into a family with musical talents, and I can thank both my parents for my two left feet when it comes to dancing -- although, when I am home alone I dance my heart out. :-) Thankfully, no one is watching, or I would never be able to live it down.
Even though I can't dance or play an instrument, it doesn't stop me from enjoying shows on television and even movies about dance and music. One of my favorite guilty pleasure shows to watch is "So You Think You Can Dance." Every season I am blown away at the talent this shows has and find myself adding new dancers to my radar to keep an eye out for in movies.
When it comes to favorite dancers from this particular show, I am not alone in liking Comfort. She earned her way onto the show as a street dancer and then progressed through that season and many seasons following, showing off her talent and versatility as a dancer. You know you are watching an amazing dancer when they can nail routines outside of their comfort zone...and, this is what Comfort did and continues to do, whenever she graces the show.
Comfort plays Poptart in this movie (seen above)
So, when I saw the previews for High Strung, which arrives in theaters on April 8th, I couldn't help but smile when I saw comfort as well as a few other familiar faces from this show were in the movie. In addition to the dancer, I was happy to see Dave Scott as the choreographer.
He is one of my favorites and I knew that he would bring it when it came to the dance numbers...and, that he did!
If you grew up in the 80's like I did, then you probably know the name Michael Damian. Yes, he was the heartthrob of our time who sung the hit song, "Rock On," and also played Danny Romalotti on the Young and the Restless. The reason I bring Michael Damian up is that he is the director and co-producer and co-writer of this film, along with his wife Janeen Damian, who who also co-wrote and produced this dance film.
I had the opportunity to screen this movie this evening, prior to it being released in theaters this Friday, April 8th. If I could get up off the couch and give a standing ovation I would. This movie was amazing. Not only were the dancer wonderful, but I couldn't get over the violin and classical pieces that made up the "strung" back of this film.
If you have not heard about or seen the trailer for this must see dance movie, here it is...
Looks great, right? It really is, and I plan to see it on the big screen this weekend with the family, and will definitely be picking up once it arrives on DVD and Blu-ray. This movie is one of those movies that is perfect for many audiences -- from families, to date nights and even girlfriends wanting to get together for a night out. Whoever you bring to see "High Strung," just know you will be in for a treat. You will find yourself tapping your feet and swaying your head as you watch the dancer captivate the screen and the violin will soothe away your stress. For a little over an hour and half you will find yourself being swept up into the storyline and rooting for the underdogs to win the competition. Who will win, and will Johnnie and Ruby live happily ever after? You will have to go see this movie when it arrives in theaters on Friday to find out for yourself. :-)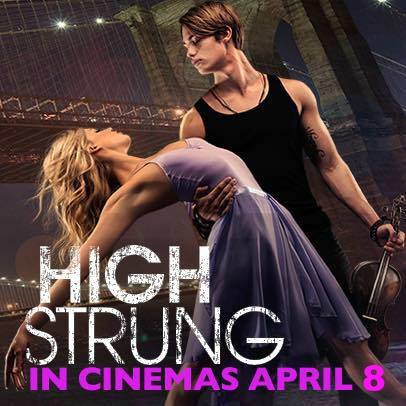 To learn more about this movie, including more about the cast, how to join the street chew and more visit the official High Strung website http://www.highstrungthemovie.com.
Don't forget to follow High Strung on social media to share your rave reviews of the film and hear what others think of it...
High Strung on Facebook -- https://www.facebook.com/HighStrungMovie
High Strung on Twitter -- https://twitter.com/HighStrungMovie
High Strung on Instagram -- https://instagram.com/highstrungmovie/
High Strung on Pinterest -- http://www.pinterest.com/HighStrungMovie/
High Strung on G+1 -- https://plus.google.com/u/0/112314339089085516756/
High Strung on YouTube -- https://www.youtube.com/channel/UCqKW_OHR8MCOk4NfNCagnzw
More About This Film:
"In a city where only the best succeed, two radically talented people from opposite sides of the tracks need to find harmony to achieve their dreams.
RUBY ADAMS is a dancer from the Midwest on scholarship, living her first day in New York City. JOHNNIE BLACKWELL is a British musician, playing for money in the subway tunnels. Ruby's world is classical and disciplined; Johnnie's is improvisational and street smart. When a hip-hop battle gone wrong throws these two artists together, they immediately clash but can't deny it when sparks begin to fly. Their lives quickly get entangled in the pitfalls that come with competing in New York City. With the help of a dynamic dance crew called The SwitchSteps, Ruby and Johnnie must find a way to save Ruby's scholarship and keep Johnnie from being deported.
In an action-packed extravaganza combining cutting edge hip-hop with contemporary and classical dance, the two must navigate their opposing worlds and prepare for a competition where winning or losing will change their lives forever."
Disclosure: I was provided access to an advance screening of this film in order to write up an honest review. All views shared are mine and mine alone.