Disclosure: This is a sponsored post in collaboration with "Clangers"and Coolabi. All opinions are my own.
Sprout Network has gone and added another amazing family-friendly show to their ever popular line up. Back on June 20th, Clangers, which is narrated by the one and only William Shatner premiered. I had heard about the show a few days prior when I saw William Shatner making the rounds on daytime talk shows to promote the show. The show sounded liked something my girls would enjoy, and they sure did!
Did you happen to catch Clangers when it premiered a few weeks ago on the Sprout Channel? If you missed it, you will definitely want to check your local listings and make a point to watch it with the kids, as it talks about different themes including problem solving, celebrating and understanding differences, diversity, teamwork, loyalty and friendship, kindness, exploration of the world around us and even reusing and recycling.
In case you missed the show, here is more about the show, including my family's thoughts of the show...
"

The Clangers are a unique family of imaginary pink long-nosed creatures who live on a small blue planet in space. These inquisitive and adventurous creatures – who are very loving and supportive of each other and their friends - communicate through distinctive Clanger whistles. The Clangers family – alongside a cast of many other extraordinary creatures - create a warm and harmonious world of fun, imagination, exploration and invention."
The Clangers includes Small, Tiny, Major, Mother, Granny, and their friends Iron Chicken, Soup Dragon, The Froglets.
When you think of space shows, William Shatner always comes to mind, as does Star Trek, which I grew up watching and made William Shatner a household name. So, it was only fitting that when the popular children's show, Clangers, which has been popular in the UK and on the BBC channel for over 20 years, was to be introduced to the USA audience, that William Shatner lend his voice. What can't this guy do? Right! :-)
As you know, I have two girls, Bella who is now 3.5 (yes, you have to 3.5, as it sounds older than 3) and Savannah, who just celebrated her 5th birthday today. They tuned in with me back on June 20th to the premiere Clangers episode -- note: this show airs nightly on Sprout! at 7PM EST, so set your DVRs to record this show. I didn't tell them anything about the show, except that it took place in outer space and followed a family of tiny pink creators called the
Clangers
. I wanted to see their reaction upon seeing the show for the first time, without giving them too much information. And, I was glad I did this, as the girls were talkative from the very start.
What really caught the girls' attention was how the Clangers communicated. Instead of talking, they would use high and low pitch whistles to talk. And, with the help of William Shatner as the narrator, the viewers are able to understand what it going on and being said. I don't know about you, but I find that shows that contain too much dialogue are a real turnoff for my girls. They are more into unique audio and animation to keep their attention. And, the whistles and cute space family was a perfect combination that kept them engaged from start to finish and had them asking for more Clangers.
As a parent, I love shows that discuss themes and life lessons that little ones are working on learning. We usually watch a show and then will discuss what was seen and if there was a lesson that was to be learned. Clangers covers so many great life lessons, including celebrating diversity, curiosity and exploring the unknown, family and friendship, just to name a few.
My girls are at the age that I try to find shows to help explain things I try to teach, including teamwork and kindness. Even though Bella is the same size and height as Savannah, she is still 15 months younger and still learning. She doesn't see this difference, and gets frustrated when she can't participate in things or activities that Savannah is. But, last week, according to Bella, was the best week ever, as she was able to go to Art camp with Savannah. With her older sister by her side, Bella was able to practice her socialization skills and explore her creative side, without fear. She had a blast, as did Savannah, as you can see in this photo...
And, this September, Bella will be heading to preschool, the same school Savannah went to, and can't wait. She saw how much fun Savannah had, and how much she learned. Thanks to this show and some of the lessons learned, Savannah has been taking it upon herself to help Bella with things like learning how to write her name, explore new things and act out scenarios to build her creativity. I love watching the girls get along and work together as a team. And, Savannah is doing an amazing job at sparking Bella's interests to learn and grow, and try new things. Bella, in turn, is feeling like she is a "Big Girl" finally and at the same level as Savannah (even though there is an age difference). Like they say, age is but a number. :-) And, by watching the Clangers together, my girls are being inspired to explore new things together and work together without fighting. Who knew a show could bring two sisters together and have them fighting less and wanting to be in each other's company? Thank you Clangers, you have made this Mama very happy and proud of her girls. :-)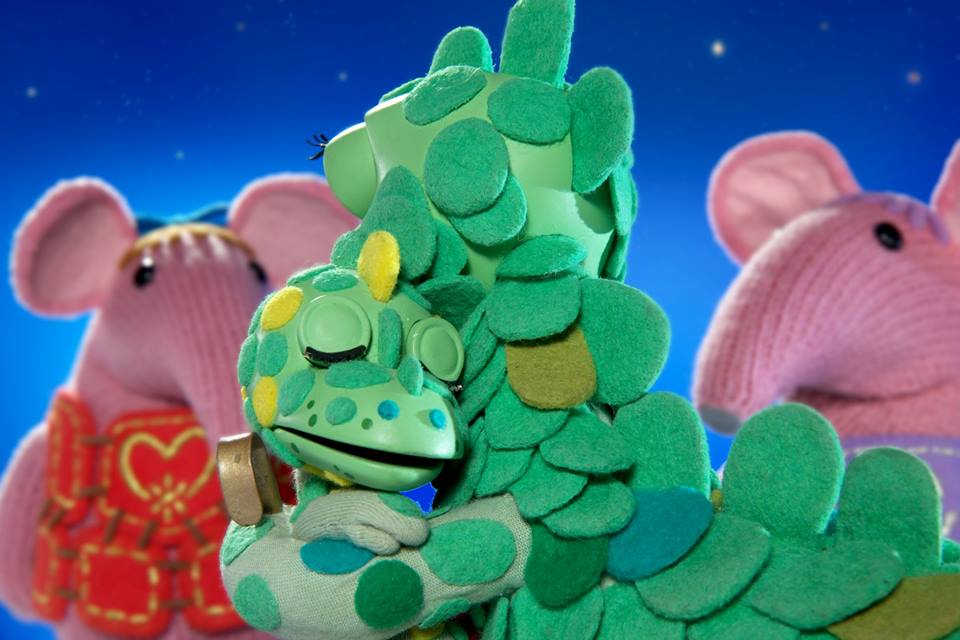 "It's all very well trying to be something we aren't. But true happiness is being something we are."
Even though Clangers has only been airing since June 20th, we have been tuning in and enjoying each and every episode and talking about the show together, before watching again throughout the week as we have to record the episodes to watch again and again.
How can you not love tiny pink creatures who live on a blue planet? The first episode introduced us to all the Clangers, including Small, Tiny, Granny, Major, Mother. In addition to the Clangers, viewers also are introduced to their friends Iron Chicken, Soup Dragon, the Froglets. I could go on and on about The Clangers as it really is a wonderful show for preschoolers. I am so happy that Sprout brought this popular show to the USA and that William Shatner lends his voice. He speaks in a such a calming voice that my girls really enjoy the show and learning more about the Clangers, each and every time we tune in.
So, if you are looking for wonderful educational series for your preschooler that teaches social skills and life lesson, and have Sprout as part of your cable lineup, you will definitely want to tune in each and every evening at 7PM EST. Once you meet the Clangers and their friends and hear them communicating through high and low pitched whistles, you will see why my girls and so many other Sproutlets can't get enough of this new series.
Visit
www.clangers.com
to learn more about this new show airing on Sprout. And, don't forget to follow
Clangers on Facebook
and Twitter (
@helloclangers
), to stay up-to-date on all things Clangers, chat with other fans of the show, etc. Can't wait to hear what your family thinks of the Clangers, so be sure to share your thoughts below in the comments section. :-)
Disclosure: This is a sponsored post in collaboration with "Clangers"and Coolabi. All opinions are my own.