Disclosure: The Walmart gift cards and information shared have been provided by P&G. However, all views shared are mine and mine alone.
Shop the Annual P&G Stock Up and Save Event at Walmart today and SAVE!!!
Any plans for this upcoming weekend? Now that the nice weather is finally here and the snow is gone, we plan to get out in the backyard and do some cleaning up to get the yard ready for fun summertime gatherings, camping, etc. Heck, maybe I will even get to start on my planting and transplant seedlings I have been growing during the winter months in the bay windows into the ground finally. Oh, how I can't wait for the warmer temps to get here so that we can spend more time outdoors, instead of being couped up in the house. With little ones especially, you can run out of games to play and movies to watch, trying to keep them entertained. :-)
In preparing to tend to the yard and maybe even do some spring cleaning in the house, I will be heading to Walmart this afternoon, after the girls get up from their nap, to grab some essentials. Why, Walmart? Right now, until next Thursday, April 30th, Walmart is having their annual Stock Up and Save event, where customers can take advantage of limited time rollbacks and guaranteed low prices on P&G products. You may recall last year I shared about this Stock Up & Save event and how I was able to buy bulky items like toilet paper, paper towels, diapers, etc. off the Walmart.com site and have them delivered right to my door for FREE (spend $50 or more and get Free shipping every day; or choose site to store pick (on select items) and save on shipping costs -- either way, you save each and every time you shop at your favorite local Walmart store or their their online store.
I don't know about you, but I love seeing the savings on the receipts and with the Savings Catcher app from Walmart, I love having the prices I paid for items cross checked with other stores. And, if a lower price is found, Walmart will credit me -- so, if on the few occasions an item I purchase is cheaper elsewhere, I end up paying the same with the credit Walmart gives. Try saying that about other stores. I can't think of any that offer this, or, if they do, stand behind it.
But, back to the Walmart Stock Up and Save event. If you were to look at items you purchase on a regular basis for your family, you will find yourself seeing the P&G logo on most products. I shared how I did this last year after a big shopping trip and how I was surprised to find most of the items, which included like toiletries, baby care and personal hygiene are made by P&G. Don't believe me? Go check out a few items in your house and see for yourself?
Now that you know that you buy P&G frequently, why not save on your next purchase. This is why I am heading to Walmart later this afternoon and you should plan a trip between now and next Thursday, when the sale ends, so that you, too, can save on P&G rollbacks and guaranteed low prices on popular items including:
Tide Liquid Laundry Detergent

Tide Simply Clean and Fresh Liquid Laundry Detergent

Charmin Ultra Soft or Ultra Strong Toilet Paper

Bounty Mega Roll Select-A-Size Paper Towels

Luvs Super Absorbent Diapers

Pampers Swaddlers Huge Pack

Tampax Pearl Plastic Super Absorbency

Always Ultra Thin Long Super Unscented Pads

Always Discreet Maximum Underwear

Always Discreet Moderate Regular Length Pads
See items from the above P&G sampling that you buy on a regular basis? Well, these and so many more P&G products are on sale now at your local Walmart store. Just the other day I ran into Walmart to grab a few items with Bella, while Savannah was in school, as it is much easier to shop with just one child instead of two, as the shopping cart fills up fast on bulky items, and loading the kids and shopping bags is easier with less people in tow. I was able to buy my monthly supply of Tampax Pearl Plastic Super Absorbency for only $3.97, Puffs Basics (loving these new non-box tissues) for only $4.47, Tide Liquid Laundry Detergent (as I seem to always be cooking, cleaning the house or doing laundry) for only $11.97, and Charmin Ultra Soft Toilet Paper for just $6.97.
I couldn't believe how much I was saving on these monthly home essentials. Shh, don't tell my husband, but I used the money I saved to buy a few new spring/summer tops. :-) It is nice to treat yourself every once in awhile, especially when you are saving on must-buy items for the family/house.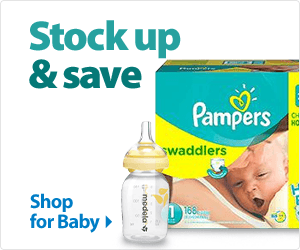 So, if you have plans to go grocery shopping this weekend to stock up on paper products, toiletries, diapers (how I don't miss buying these anymore), or other P&G products you find yourself running low on, head to your local Walmart store. Save time in checking sales flyers to see who has the best sales/deals, as Walmart usually wins, especially during their limited time annual P& G Stock Up and Save event (ends on Thursday, April 30th). And, be ready to smile when you see how much you save at checkout! :-)
Thanks to the folks at P&G, one lucky reader is going to win a $25 Walmart Gift Card to use on a future in-store on online purchase. To enter, please complete the entries on the Rafflecopter form below. Good luck!
a Rafflecopter giveaway
Disclosure: The Walmart gift cards and information shared have been provided by P&G. However, all views shared are mine and mine alone.