Disclosure:

This is a sponsored post written by me on behalf of Role Mommy Writer's Network, in which I will be compensated for my time. However, all views shared are mine and mine alone.
Based on Alice Hoffman's Bestselling Historical Novel About a Group of Extraordinary Women Whose Lives Intersect In a Fight for Survival at the Siege of Masada in 70 C.E.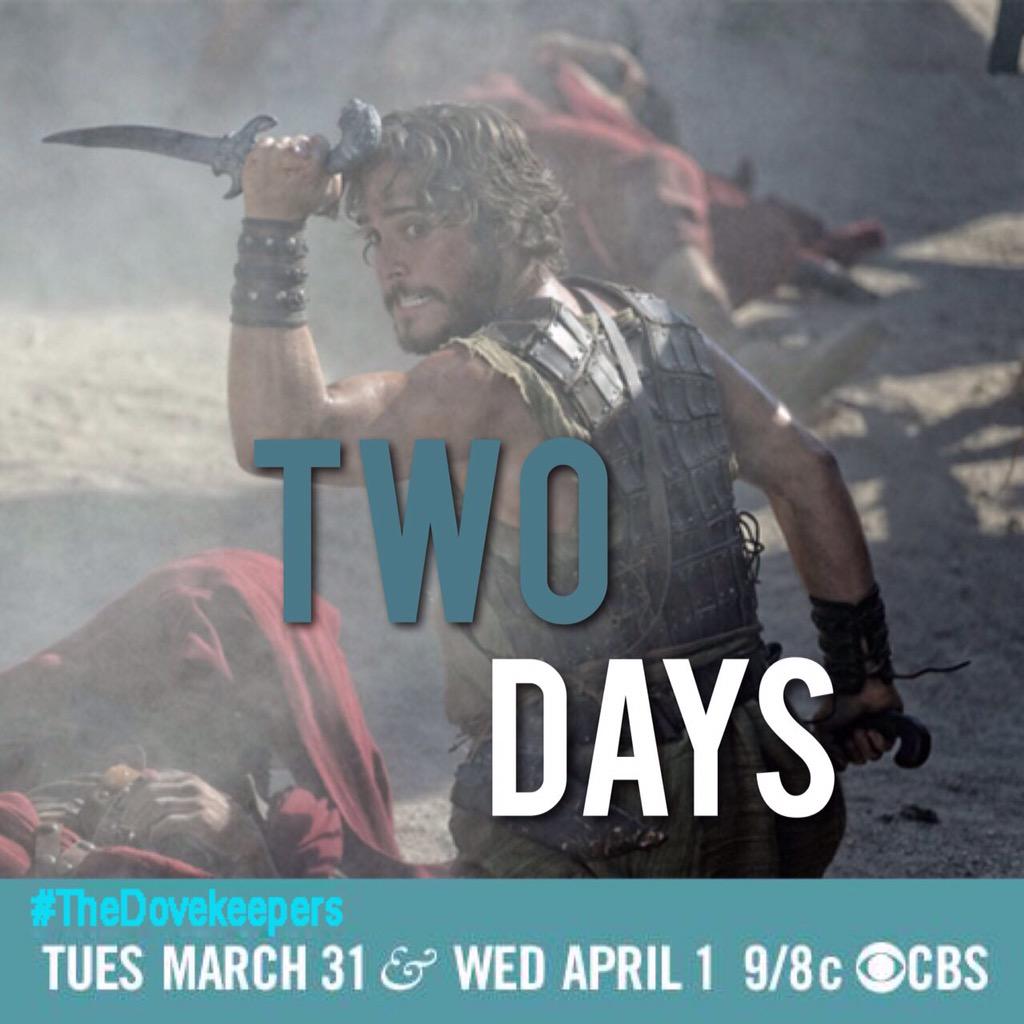 Starring Cote de Pablo, Rachel Brosnahan, Kathryn Prescott, Diego Boneta and Sam Neill Star
Whenever the holidays roll around you can expect to find a special airing on television from executive products Mark Burnett and his wife Roma Downey. Well, this upcoming Easter is no exception, as they will be sharing a four-hour limited event series, THE DOVEKEEPERS, airing on CBS, Tuesday, March 31st (9:00-11:00PM ET/PT) and Wednesday, April 1st.
Last week I received not only an advance screening of this limited series to preview, but the book, "The Dovekeepers" by Alice Hoffman was also included. Do you like to read a book or watch a movie and then see how it compares to the other? I do. So, the other night after the girls went to bed, I started in on the novel by Alice Hoffman. This was the first time I read a book by this New York Times Best Seller, but it is definitely not going to be my last, as I have already added her to my must read authors, for my upcoming summer reading. :-)
I was able to read this 501 page book in 4 days (well evenings after the girls went to bed and the house was quiet). It really was a page turning, and got me excited to watch the series with the screener I was sent. I had shared the following trailer with my husband, who is also into faith-based films, and he asked me to hold off watching it until the weekend, so that we could both enjoy. I am so happy that I did, as we haven't been able to stop talking about how great it was, and are already planning to watch it again when it airs on television this week (3/31 and 4/1 at 9-11PM ET/PT on CBS).

Here is more about the upcoming television broadcast:


"This project stars Cote de Pablo, Rachel Brosnahan and Kathryn Prescott in the title dovekeeper roles, Sam Neill as first-century Jewish scholar and historian Josephus, and Diego Boneta as a star warrior of the Jewish army at Masada. The series is based on Alice Hoffman's bestselling, critically acclaimed historical novel about a group of extraordinary women whose lives intersect in a fight for survival at the siege of Masada.
Photo Courtesy of CBS Television Network
Set in ancient Israel, THE DOVEKEEPERS is based on the true events at Masada in 70 C.E. After being forced out of their home in Jerusalem by the Romans, 900 Jews were ensconced in a fortress at Masada, a mountain in the Judean desert. Besieged at Masada, the Jews held out for months against the vast Roman armies. The project will recount the events from the perspective of a few extraordinary women who arrive at Masada with unique back stories, but a common bond for survival. Additionally, these women, who work together daily as dovekeepers, are all concealing substantial secrets.
Photo Courtesy of CBS Television Network
Hoffman's novel was published in 2011 by Scribner, an imprint of Simon & Schuster, earning the New York Times' bestseller status and widespread critical acclaim, including being hailed by Nobel laureate Toni Morrison as "a major contribution to 21
st
century literature."
THE DOVEKEEPERS will be brought to television from executive producers Roma Downey and multiple Emmy Award winner Mark Burnett (SURVIVOR, "The Voice"), the production team behind the Emmy-nominated 10-hour miniseries "The Bible," which scored big ratings for the History Channel in March 2013, and the feature "Son of God."
Photo Courtesy of CBS Television Network
Frank Siracusa, John Weber and Yves Simoneau also serve as executive producers, with Simoneau directing. Ann Peacock adapted the novel for the screen.
THE DOVEKEEPERS is the first project from CBS Entertainment and CBS Television Studios' Limited Series and Event Programming unit. It is a co-production between CBS Television Studios and LightWorkers Media, a division of United Artists Media Group."
If you enjoyed the 10-hour Emmy-nominated mini-series, "The Bible," which was also produced by Roma Downey and Mark Burnett, then you will want to tune in and watch this one. Based on true events about a group of women called Dovekeepers, who lives . You will also find that this mini series contains a love story that will draw in you and have you rooting for the couple, as well as tragedy and heartbreak -- all key components to a gripping and highly successful series. I especially liked the strong female bonds and the sharing of the Dovekeepers story, set in the beautiful backdrop of Masada in Israel.
As I watched The Dovekeepers advance screening, I couldn't help but feel for the women. The story line is so powerful and the characters really make it come to life. It is truly a moving story and one not to miss when it airs this Tuesday and Wednesday.
I could ramble on and on about how great this movie is or what parts were my husband and my favorites. But, instead, I will just tell you that you'll want to tune in or at least record this 2-day, 4-hour mini-series to watch at a later time. You will be drawn in the first few minutes and find yourself wishing it aired all in one night. Thankfully with my advance screening I didn't have to wait 24 hours. My husband and I watched it one evening, as we couldn't find a spot to pause it at.
Can't wait to hear what you think of the mini-series, once it airs this week on CBS. So, be sure to head back here and leave your thoughts on it in the comments section below. And, if you have already read Alice Hoffman's novel, "The Dovekeepers," share what you thought of the book. I loved the book just as much as I loved watching the mini-series -- you really felt the excitement and struggle of the women, as well as the heart wrenching love story as it unfolded on the screen. Truly not to be missed this week!
Don't forget to follow The Dovekeepers and all those involved in this CBS Limited Event Series on the following social media channels...
The Dovekeepers on Instagram: @dovekeeperscbs
Executive Producers and Cast on Twitter:
Disclosure:

This is a sponsored post written by me on behalf of Role Mommy Writer's Network, in which I will be compensated for my time. However, all views shared are mine and mine alone.