Disclosure: I was sent a review copy from the vendor in order to write up an honest review. All views shared are mine and mine alone.
Your

Pet

Shop

Pals

Are All Here!
Littlest

Pet

Shop

:

Pet

Shop

Pals
Bring Home the Adventures on DVD NOW!!!
Shout! Factory has released so many wonderful kid- and family-friendly movies recently, which would make for great Easter basket fillers. Yes, candy is nice, but can't be enjoyed over and over again. Instead, why not pick up Littlest Pet Shop: Pet Shop Pals, which released on DVD on March 18th? You don't have to be a fan of this hit animated series, which airs daily on television, or be caught on the episodes, which is always great when looking for a fun DVD to share with the kids.
Both of my girls are fans of this series, and I have to say, I can't help but stop and watch and let a few ehhs and ahhs, as I see the oh so tiny and cute pet pals. :-) In regards to this recent DVD release, you will find the following full-length episodes (which have already aired on television):
Episodes Include:
Books And Covers
Helicopter Dad
Lotsa Luck
The Nest Hats Craze
Sweet Pepper
There is also a bonus sing-along feature that will have kids and adults of ages getting up to dance and sing along to. We have been having a blast watching this DVD and singing along with the Littlest Pet Shop pals. Fans of the series will be so excited to find this in their Easter baskets, and others not familiar with the series who watch it, will be hooked, as you can't help but fall in love with Blythe and her Littlest Pet Shop pals.
"It's always exciting to make new friends, and no one does it better than Blythe Baxter and her favorite

pet

pals

at the Littlest

Pet

Shop. J

oin the fun as Blythe and her friends, new and old, create a fashion craze with Littlest

Pet

Shop

:

Pet

Shop

Pals

from Shout! Factory, in collaboration with Hasbro Studios.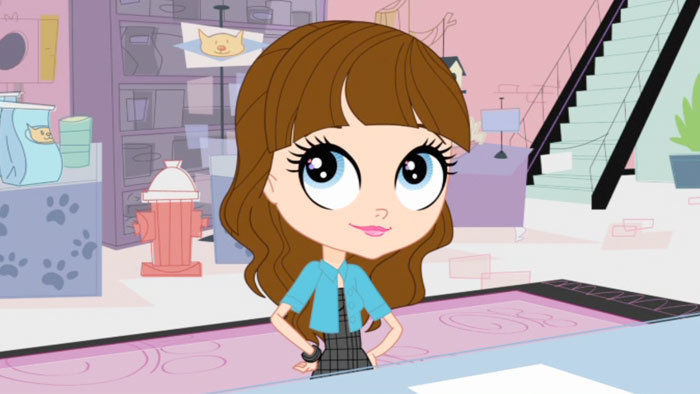 Blythe and her very best friends – Zoe the spaniel, Pepper the skunk, Sunil the mongoose, Russell the hedgehog, Penny the panda, Minka the monkey and Buttercream the bunny – are back for five more exciting, not to mention hilarious, adventures! Plus, you'll get a chance to meet some new friends, like a shy tortoise, a spying cat, a famous comedian orangutan, and Pepper's new crush! Who could it be? Find out with Blythe and the gang in The Littlest

Pet

Shop

–

Pet

Shop

Pals

!"
About Hasbro Studios

Hasbro Studios is the Los Angeles-based entertainment division of Hasbro, Inc. (NASDAQ: HAS). The studio is responsible for entertainment brand-driven storytelling for the company across television, film, commercial productions and short-form. It develops, produces and distributes TV shows based on Hasbro's world class brands, including TRANSFORMERS, MY LITTLE PONY, LITTLEST

PET

SHOP

and FAMILY GAME NIGHT. Many of these shows air on the Hub Network, a U.S. television network for kids and their families, that is a joint venture between Hasbro and Discovery Communications (NASDAQ: DISCA, DISCB, DISCK). Hasbro Studios shows can also be seen on networks in more than 180 territories globally. Since its formation in 2009, the studio has received seven Daytime Emmy wins and 16 nominations. On the film side, the studio is developing and producing a number of features based on Hasbro's brands, including TRANSFORMERS: AGE OF EXTINCTION (Paramount), G.I. JOE 3 (Paramount) and CANDY LAND (Sony). The studio team also oversees the production of commercials that feature Hasbro's brands as well production of short-form content that can be seen on all of the major digital and social media platforms globally.
About Shout! Factory
Shout! Factory, LLC is a diversified multi-platform media company devoted to producing, uncovering, preserving and revitalizing the very best of pop culture. Founders Richard Foos, Bob Emmer and Garson Foos have spent their entire careers sharing their music, television and film favorites with discerning consumers the world over. Shout! Factory's DVD and Blu-Ray™ offerings serve up feature films, classic and contemporary TV series, animation, live music and comedy specials in lavish packages crammed with extras. Shout's audio division boasts GRAMMY®-nominated box sets, Broadway cast albums, new releases from storied artists, lovingly assembled album reissues and indispensable "best of" compilations. In addition, Shout! Factory maintains a vast digital distribution network which delivers video and audio content to all the leading digital service providers in North America. Shout! Factory also owns and operates Timeless Media Group, Biograph Records, Majordomo Records, HighTone Records and Video Time Machine. These riches are the result of a creative acquisition mandate that has established the company as a hotbed of cultural preservation and commercial reinvention. Shout! Factory is based in Santa Monica, California. For more on Shout! Factory, visit shoutfactory.com
Disclosure: I was sent a review copy from the vendor in order to write up an honest review. All views shared are mine and mine alone.