Disclosure: I participated in an Influencer Activation on behalf of Influence Central for Doctor On Demand. I received a free trial coupon code to facilitate my review as well as a promotional item to thank me for my participation.
What is one thing you find yourself stressing out over? For me, it is health insurance, co-pays and other out-of-pocket costs associated with keeping my family healthy, while treating colds and other illnesses that arise. If you follow my blog then you may recall me talking about my cancer diagnosis and treatment back in 2008. Treatment lasted about 6 months, and then it took about a year to fully recover from the radiation and chemo treatments I had. That was 7 years ago. But, can you believe that I am still paying off bills from my treatment, as well as post care? In addition to receiving credit card and utility bills in the mail each month, I also get a handful of medical bills that need to be paid through a payment plan. I find myself looking forward to the day that I am done paying the medical debt off, similar to my feelings about college and car loans. I am not alone, in feeling frustrated and stressed over health insurance premiums, deductibles, co-pays, etc. It seems each year that medical costs to keep your family healthy go up.
And, when you have little ones like I do, you find yourself visiting the doctor's office more times that you would. I am on a first name basis with the nurses and front desk staff at the girls' pediatrician's office, as I frequent the office due to head colds and other viruses the girls pick up in preschool and out and about. And, with each of these office visits comes a co-pay as well as out of pocket costs to cover our deductible. Ugh. If only there was to receive receive physician care more affordable and even faster. While it is nice that doctors can fit sick visits in "that day," I hate having to camp out at the office just waiting for the girls' names to be called. We seem to spend an entire afternoon there, which isn't fun especially with little ones who don't feel well and just want to be home.
Well, thanks to an app called Doctor on Demand I find myself stressing out less about doctor's visits and their costs. And, the best part, besides not having to shell out a lot of money on co-pays and to cover the deductible, is that I don't have to leave our house. All I need is my smartphone, a tablet or desktop computer, and I ready to speak to a board certified physician (or even psychologists and lactation consultants) whenever I need to. Have you heard about Doctor on Demand? I shared a post last year about them, and have continued to use this service ever since, when I find my girls under the weather or with a questionable illness that I need a doctor's opinion and course of treatment for.
Are you familiar with Dr. Phil -- yes, the one on television and the one who had written all those self-help books. Well, he, along with his son, Jay McGraw, have a part in Doctor on Demand. Dr. Phil is an advisor, while his son is the co-founder. I found this out when I first heard about and tried out the Doctor on Demand app last summer. So, you know with big names like Dr. Phil that this app has to be good...and, it is! I am so happy to have learned about and can't stop suggesting it to family and friends, who also share similar stress and frustration over increasing medical costs and health insurance premiums. While Doctor on Demand is not a replacement for health coverage, it is an alternative when you are not dealing with a serious medical emergency that needs urgent attention or treatment.
To get started with Doctor on Demand, you first have to download the FREE app through iTunes or the Google Play Store. Then, take time to create and account and familiarize yourself with the layout. I found the layout to be easy to navigate, and my parents who also use this service and are not tech savvy, feel the same way. When you find yourself needing to make a call through the Doctor on Demand app to speak to a US licensed and board certified doctor, you only have to worry about paying a $40 flat fee per 15 minute call. There are no hidden fees, or having to wait on the insurance to go over your claim to determine your deductible or what you have to cover. I, for one, have a $40 co-pay for all medical visits, plus a deductible. So, knowing that I only have to pay $40 for a phone call that can be made in the privacy of my own home, without having to shell out additional money for service is a no brainer, when it comes to talking with a doctor about colds or other ailments my family may be experiencing.
Like many people who hear about Doctor on Demand, I was skeptical at first. I wondered the type of service I would get from a doctor over the phone, without him seeing me in person. I also wasn't sure about the medical background and expertise of the doctors on the other end of the phone call. But, after trying out the app, I found myself wishing these doctors were local to me so that I could switch them for a family physician. They were easy to talk to, and really listened to my concerns. They weren't trying to sell me on prescription drugs or lecturing me on things, like I have found with past doctors I would see in person. In under 10 minutes my health concerns and questions were answered and if I needed an OTC medicine, I knew what to look for. There has only been one occasion where through a phone call into the Doctor on Demand app that the doctor suggested that I follow up with my physician if I don't see improvements with OTC medicine or at home therapy.
With two little ones, I don't have the luxury to drop everything and call up a babysitter on the spur of the moment if one of the girls is sick and needs to be seen by a doctor. And, I don't know about you, but just having one child in a busy waiting room with other sick children is stressful enough, let alone two that I have to chase after to keep occupied. With the Doctor on Demand app, I can make a call at home through a video chat or simply a phone call without video (if you feel more comfortable this way or don't have a camera phone), and if need be bring my daughters to the phone so that the doctor can look at a rash or hear how they sound.
My youngest, Bella, developed eczema at a year old. And, ever since, we have to deal with flare ups that need topical ointment to treat. There have been a few occasions where she developed a rash that left me puzzled. It didn't look like eczema, but the itchiness of it and the red bumps had me wondering what it was and how to treat it properly. A simple phone call into a doctor at Doctor on Demand, and I was able to share photos I took as well as show the doctor the rash on Bella's arms and legs. He determined that they were either a food allergy reaction (as she is allergic to tomatoes and pickle juice, to name a few) or a contact dermatitis rash caused by laundry detergent, etc. Not only was I happy to hear it wasn't an eczema flare, but I didn't have to have another prescription called in. Instead, I applied OTC anti-itch cream, and by the next morning her rash was clearing up.
Using Doctor on Demand is so easy. You simply login after you download and create an account, and then call for a doctor. You will then be prompted to tell about your symptoms, your allergies and current medications, and then the call begins. You can also share photos you have taken to show the doctor things like a rash or swollen area, so that they have a better idea and can provide a proper diagnosis. Once this information is shared, a doctor arrives on the line and begins their consultation with you.
All of the doctors I have spoken to using Doctor on Demand are so personable and knowledgeable. Within a matter of a few minutes and by asking a few other questions, they had a diagnosis for me. And, while they cannot prescribe narcotics or pain medications, they can prescribe a wide range of drugs to treat infections, allergies, skin conditions, and even travel or sports injuries. They also offer up suggestions on OTC medicines that can also help treat your ailments.
By the time I say goodbye to the doctor when using Doctor on Demand, I am relived to know what is wrong with myself or my girls, and have the next course of action to have ourselves feeling better in no time. I am also not stressing about how much this diagnosis or medical call will cost me, as it always is a $40 flat fee for 15 minutes for

Medical & Pediatrics calls (

Note: A

25-minute Psychologist session is only $50)

(if you go over 15 minutes, you are billed an additional $40 for each additional 15-minute increment). So, no more stressing over medical costs for this mama!
So, next time you find yourself reaching for the phone to call and make an appointment to see the doctor for yourself or your family, why not consider using the Doctor on Demand app, if you find yourself with any of the following...
Use Doctor On Demand for --
Cold, cough, flu, allergies

Rash, Pink eye, hay fever

Asthma, bladder infections

Pediatric questions

Most cases that are not life threatening

Prescriptions refills

Referral to a specialist
Do not use Doctor On Demand for any medical problem that is life-threatening --
Chest pain/pressure

Poisoning

Seizures

Serious head, neck or back injury

Broken bone
Once you have a Doctor on Demand doctor on the phone, you will have their undivided attention to the duration of the call. You don't have to worry about thinking about another patient they just saw, how many patients are after you, or having to step out of the room to make a phone call or speak to the pharmacy. They are there for you, which I love!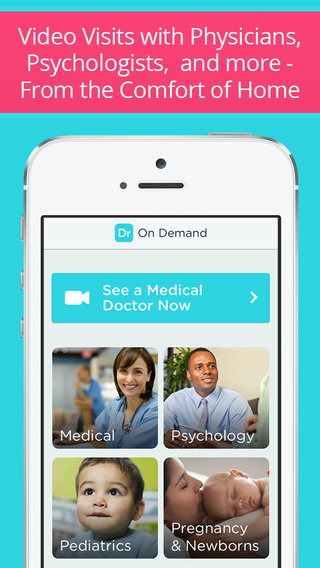 So, what are you waiting for? Why not give Doctor on Demand a try today and see why I and so many other people reach for their phones to connect to this app when they need medical advice.Start by downloading the app through either iTunes or Google Play and setting up an account. And, just for Inspired by Savannah readers, make sure you use my special referral code "INSPIRED15".

This code is

good for up to $50 value, covering a first visit of either urgent care, lactation consulting, or psychology,

when you use the Doctor on Demand app, as you get your first call FREE with this coupon code!

And, the best part of it all, the app is FREE and you don't have to provide credit card info when registering. You will only be asked for this information when you make a call. I personally love this, as I hate companies that require your credit and billing info. up front, just to register for their services.
Don't chance not getting the necessary medical treatments and diagnosis that you and your family deserve, in hopes to save money. Instead, make sure you have the Doctor On Demand app downloaded and ready to use, when a non-life-threatening medical issue arises, and you need advice, but don't want to pay high co-pays and deductibles. Just knowing that I will be saving $$$, makes me love this app even more. Who knew that your could save your hard earned money and keep it in your pocket, just by using an on-call doctor service like Doctor On Demand? I am so glad I had the opportunity to learn more about this app and try out it out firsthand. :-)
Once you give Doctor On Demand a try, I know you will love it too, and brag about it to family and friends.
Don't forget to follow Doctor On Demand on their social media pages to stay up-to-date on new app features, special offers and more...
Disclosure: I participated in an Influencer Activation on behalf of Influence Central for Doctor On Demand. I received a free trial coupon code to facilitate my review as well as a promotional item to thank me for my participation.