NEW FASHION DOLL LINE INSPIRED BY LATIN CULTURE LAUNCHES
Vi and Va Dolls Celebrate Family Bonds And Traditions
"As of this month, girls now have beautiful doll choices that celebrate unique Hispanic cultural traditions. Vi and Va, a new line of fashion dolls from
MGA Entertainment
, the world's largest private toy company, are now available at Target stores nationwide and on Target.com.
Viviana (Vi) and Valentina (Va) are sisters, and best friends with their cousins, Felicia and Roxxi. For these girls, every day is an adventure and a reason to celebrate the bonds of family and friendship.
"We have always made dolls that appeal widely to all types of girls," said Isaac Larian, CEO of MGA Entertainment. "In 2002, our multicultural Bratz brand launched, serviced an untapped market, and skyrocketed to success. So when this unique opportunity arose to launch Vi and Va at Target stores, we knew all girls would love to have doll choices that celebrate some special Hispanic customs and traditions."
The Vi and Va brand launches with the introduction of four unique characters, with more planned in the Fall.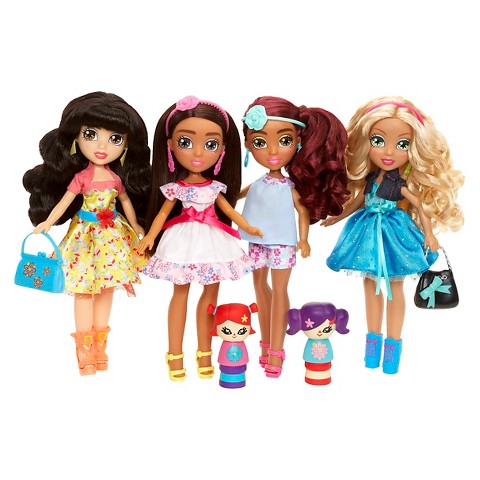 Vi, 16, is spontaneous and easy going. She's passionate about sharing her love of music, and she's always ready to break out her guitar at family gatherings. She also loves creating new styles as a fashion designer.
Va, 15, is so neat and organized. She loves learning to cook from her mother and grandmothers. She's already perfected several savory family recipes, like empanadas. She also loves trying out new hairstyles, and making herself look unique with ribbons and flowers in her hair.
Felicia and Roxxi are Vi and Va's cousins. Felicia is 17 years old and an artist. Roxxi is 18 years old and a dancer.
The product line includes of several dolls and activity sets to help little girls play out each character's storyline and enjoy her special talents. The line also has a birthday party collection, where the family celebrates Vi turning 16 and Va turning 15 with a combined party. Girls can even dress up and join the fun with role play and styling accessories.
MGA Entertainment, a consumer entertainment products company headquartered in Van Nuys, California, manufactures innovative lines of proprietary products for the toy and consumer electronics market. The company also licenses its products in such areas as home décor, stationery and sporting goods. The MGA family includes award-winning brands such as Little Tikes®, Lalaloopsy™, Moxie Girlz™, Mooshka™, Bratz®, Vi and Va™, and Zapf Creation®.