Disclosure: I was sent samples from the vendor in order to write up an honest review. All views shared are mine and mine alone.
It is hard to find a child who doesn't own their own iPod, cell phone or tablet. We live in a day and age where it is normal for kids of all ages to retreat to their rooms or corner of a room to listen to their favorite music and play with apps (both entertaining and educational), as a way to pass the time. But, what happens when you find yourself asking the kids over and over again to turn down the music so others in the room can concentrate on what they are doing or you simply don't want to hear a song or game's sound effects over and again? This is where earbuds and headphones come in. :-)
I remember back in the day when I was a kid and would travel on long car rides with my brothers, that we would have those clunky headphones made of metal and flimsy foam covered plastic earbuds. Boy where they uncomfortable to wear...and they were lousy in draining out the sound, for those around you. Just like with technology, we have come a long way in regards to headphones and earbuds. Nowadays you can find headphones and earbuds with your favorite character on them, or even a pair of crystal or vibrant gem blinged out earbuds to use.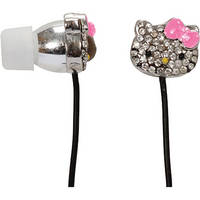 There are even volume limiting earbuds for the younger crowd, that makes listening to music safer on their little ears. Sakar has become my go-to for headphones, earbuds and portable speakers for my kids, and I am loving their character inspired earbuds that would be perfect for kids ages 3+ this holiday season.
Recently, I was sent samples of Sakar's Hello Kitty and My Little Pony (featuring Pinky Pie) earbuds for review.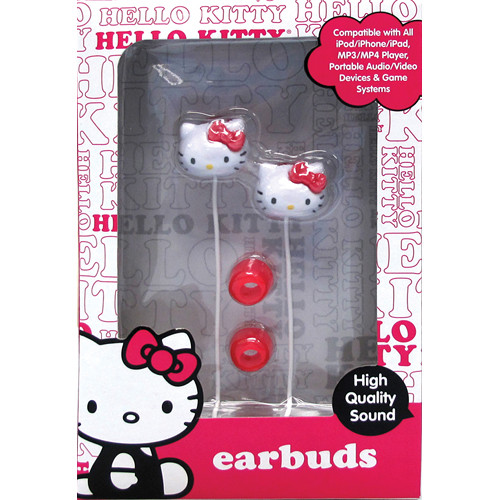 Both of these earbuds offer high quality sound and are compatible with all iPods, iPhones, iPads, MP3/Mp4 players, portable audio/video devices and video gaming systems. In addition to the hi-definition noise isolation ear buds, you also get a 1 yr. warranty and 2 extra ear-tips with each package.
My girls are huge fans of MLP and Hello Kitty, as are my two tween nieces. So, they were all over the moon when I showed them these earbuds and asked them to help me review them. I ended up having to pick up extra sets for each of them, as they didn't want to hand them off to one another. :-)
I also was able to try out these earbuds with my laptop and tablets and loved the high quality sounds of the earbuds, which will not break the bank as they average about $10.00 at local retailers (Target, Walmart, etc.) and through online retailers like Amazon and Toys R Us.
Unlike earbuds of yesteryear, these ones are actually really comfortable and will not have you pulling them out and rubbing your ears. I also love how small they are, and that you can either throw them in your purse or carry in your pocket. They also stay put while exercising, as I can attest to this. :-)
These earbuds from Sakar are mind with little ears in mind, and are a great way for kids to be able to enjoy their music and games, while not having the rest of house have to listen to it, too. If you are planning to surprise your child with an new iPod, Mp3 player, gaming system, etc., why not pick up a pair of earbuds from Sakar to throw into their stockings. Everyone's ears will thank you for them! In addition to the Hello Kitty and My Little Pony earbuds, Sakar also offers these other fun kid-friendly earbuds and kid-safe headphones that kids of all ages will enjoy wearing...
To learn more about these and other kid-friendly electronics, including karaoke machines, portable speakers, walkie talkies, digital camera and camcorders, text messengers and more, visit http://sakar.com/.
Disclosure: I was sent samples from the vendor in order to write up an honest review. All views shared are mine and mine alone.