Disclosure: I was sent a review copy from the publisher in order to write up an honest review. All views shared are mine and mine alone.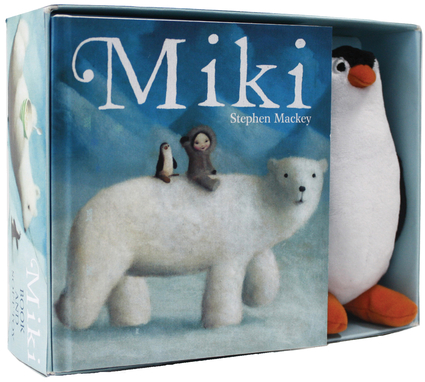 Thanks to the animated series, Pingu, both of my girls are in love with penguins. I have lost count of how many little penguin stuffed toys they have. But, I know it is never enough, as whenever we see them in the stores, they are asking for another to add to their growing collection. So, when I saw the Miki Box Set recently on the Independent Publisher's Group website, I knew two girls who would go crazy for this book and plush gift set.
Not only is the plush penguin that is included in this gift set cute, but the story itself is also one you will enjoy sharing with your child, as it is about love, friendship, dreaming with boundaries and will have your child's imagination working just like Miki and her friends the penguin and the great polar bear.
"A delightful gift set containing a mini hardback and an adorable, soft toy penguin, perfect for playtime or bedtime On Midwinter Eve, Miki and her friend Penguin find their wishes come true, as they are given a little tree to brighten up their cold, dark home. However, keeping the fairy lights twinkling takes more energy than even the great Polar Bear can muster. Miki's friends worry when she suddenly disappears, but her magical underwater journey provides her with a light that is everlasting. Children will love identifying the various creatures in this mystical world beneath the ocean, fantastically brought to life through the beautiful, soft illustrations."
JUVENILE FICTION
48 PAGES, 9.5 X 7
FORMATS: HARDCOVER PICTURE BOOK
HARDCOVER PICTURE BOOK, $16.99 (US $16.99)
PUBLICATION DATE: OCTOBER 2012
ISBN 9781444906516
Just like my girls, I fell in love with the beautiful illustrations are they are full of life and really bring this magical story to life. I found myself lingering on each page just to take in each little detail and to point things out to the girls. When we got the part where Miki journey to the magical underwater world, the illustrations were simply breathtaking. Usually with small storybooks like these you don't expect to be wowed with illustrations as they are meant for a quick read, but this book will amaze and delight you both with the story and the story. And, with the bonus plush penguin, this gift set is perfect to give as a gift for the holidays to a little one who loves penguins, or simply loves to snuggle up with their toys as you read them a fun story.
Stephen Mackey is an artist who distributes his work through Lip International. His posters have sold through Ikea and his greeting cards have sold through Barnes & Noble, Borders, Nature Company, Pier 1, and Urban Outfitters, Borders and the Nature Company.
Disclosure: I was sent a review copy from the publisher in order to write up an honest review. All views shared are mine and mine alone.