Disclosure: I was sent samples from the vendor in order to write up an honest review. All views shared are mine and mine alone.
I can't do a holiday gift guide without sharing one of my favorite brands for kids' board games -- Wonder Forge. And, this year, like in years past, they have an assortment of new games available, just in time for holiday shopping. A handful of these new games are exclusive to Target, so you will want to keep an eye out for these when shopping at your local Target stores or placing an online order.
I'm always so grateful to the kind folks at Wonder Forge, who send along a sampling of their new and recant releases for the girls and I to enjoy. And, this holiday season is no different. For the past few weeks I have been enjoying the following Wonder Forge games with my girls both during family game nights, as well as when we are home together and looking for something fun to do.
Do you have a Disney Frozen in your house? Crazy question, right? I don't know anyone who doesn't love this movie, both young and old. So, when it comes to holiday shopping this year, you know you are bound to find the shelves stocked with Disney Frozen stuff. Well, the folks at Wonder Forge have some great games for that special Frozen fan in your life including...
(A Target Exclusive)
Buy now for only $7.99
"Journey high up into the mountains above Arendelle with your favorite friends from Frozen. Slide past Marshmallow, the snow monster, glide across icy peaks, or tread through the troll's secret glen! Shortcut slides could zoom you ahead, or push you backward! You'll never know when the enchanting locations will mix and flip. It's a different game every time you play!"
Manufacturer's Suggested Age: 3 Years and Up

Includes: Instructions, Game Board, Tiles, Game Pieces

Material: Plastic, Cardstock

Playing Time: 20-40 minutes

Number of Players: 2-4 Players

Level of Difficulty: Easy

Battery: no battery used
Or, here is another Target Exclusive Frozen game that offers up six different games in one box -- all for only
$14.99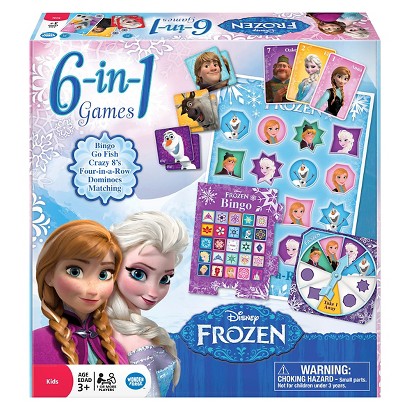 "It's six classic games in one-Bingo, Go Fish, Crazy 8's, Four-in-a-Row, 28 Domino Tiles, and Matching-all featuring Anna, Elsa, Olaf and the rest of your favorite friends from Frozen."
Manufacturer's Suggested Age: 3 Years and Up

Includes: Game Board, Instructions, Tiles, Game Pieces

Material: Paper, Plastic

Playing Time: 20-40 minutes

Number of Players: 1 or More Players

Level of Difficulty: Beginner

Battery: no battery used
My Thoughts:
Both of my girls love Frozen, but our youngest, Bella, is the die-hard Frozen fan in our house. Whether she is playing indoors or going outside, she can't be without her Frozen Olaf stuffed toy, or being dressed in one of her many Elsa or Anna dresses and matching t-shirt underneath. I have lost count of how many actual pieces of clothing Bella has featuring her favorite Frozen characters. But, I did know that before receiving these game samples that our girls didn't have any Frozen games. They had a few floor puzzles, but I had no idea that there were fun games like the ones above for sale.
One of the things I love most about Wonder Forge is that many of their games are geared towards the younger audiences (3+). It is hard to find games for preschoolers that are not just fun to play, but feature some of their favorite movie and television characters. But, leave it to Wonder Forge to fill this void and offer up a wonderful selection of games kids will love playing during one-on-one time with parents, during family game nights or when having friends over for after school play date.
Even though we have only had the two Disney frozen games for a short time, they have become instant favorites in our house. Bella especially loves the
Disney Frozen 6-in-1 Game , as it contains an assortment of games she can choose from. When we are not playing games, she will sit at her desk and go through the deck of playing cards just to look at the Frozen characters. :-) But, when we are getting ready for our weekly game nights on Fridays, Bella is quick to pull the
Disney Frozen Surprise Slides™ Game from the game shelf. I love how this game in particular offers up so many twists and turns and ladder sliding, thus making it a new game each and every time you play it. So, you don't have to worry about getting bored with the same game over and over again -- this fun feature keeps it fresh and everyone excited when Bella asks to play again (and again). :-)
----
Do you have fans of Disney Junior and this hit animated series' in your house? If so, then this next game from Wonder Forge would make the perfect holiday gift to give this season...
Disney Jr. Super Stretchy
"Get up and moving with the beloved character from Disney Junior, including Doc McStuffins, Jake and the Never Land Pirates, Sofia the First, and Mickey Mouse Clubhouse! One player flips over cards and calls out characters, colors, and shapes on the giant floor matand the parts of your body you need to touch them with! You stretch out and get creative physically can you reach them all?"
Manufacturer's Suggested Age: 3 Years and Up

Includes: Instructions, Game Pieces

Material: Plastic, Cardstock

Playing Time: 20-40 minutes

Number of Players: 2-4 Players

Level of Difficulty: Beginner

Battery: no battery used
My Thoughts:
This is a fun take on the classic Twister game, which will have your kids up off the couch and moving around as they twist their bodies into funny movements and poses to touch the spun character spots. Both of my girls love this game and have been playing it together and when friends come to visit. I never knew my girls were so flexible, until I laid this game out and started watching them twist and turn like a pretzel to touch their favorite Disney Junior characters. I can see this game being played for years to come, without getting boring, especially during birthday parties.
"Welcome to the extraordinary world of Tickety Toc, where having a good time is easypeasy, lemon squeezy. Complete imaginative activities and playful challenges to collect rewards-but remember, as every hour passes, the giant gear and clock-hand turn! Who will squeeze in the most fun before Chime Time? Every game is silly, surprising fun!"
Promotes:
Active, up-on-your-feet fun;
Self Confidence and self discovery;
Physical Dexterity
CONTENTS LIST: 40 Picture Tiles, 4 Character Movers, 1 Spinner, 1 Games Board, Instructions.
My Thoughts:
If you follow my blog then you have seen me share DVD and toy review of Tickety Toc with you. Even though we have a few floor puzzles, this is the first board game we had, and one that got the girls really excited and eager to play. As soon as we started to set up the game board, the girls got excited about the gears that they could turn. And, once we started playing, they didn't want to stop. The game itself is easy to explain to little ones and fun to play. The added feature of the giant gear and clock-hand turn make for a unique gaming experience that you don't see with other board games.
This is one game the girls continue to ask to play. And, I will not object as I know that it fun to play and gets the girls up off their feet and moving around as they complete the fun challenges. If you have a Tickety Toc fan in your house, then you will want to pick this game up and share with them.
Fans of the Disney Princesses and their pets will love this fun board game...
Disney Princess Palace Pets Royal Pet Salon Game
"Get regally pampered in the dreamy, 3D Royal Pet Salon. Move your adorable pet from room to room through doorways sized just for castle cuties. Look for posh pet products, from fancy soaps and shampoos to tiaras, collars, and sweet treats-all hidden throughout the salon! If you find something pictured on a face-up card, it's yours to keep! When the time is up, all of the Palace Pets leave the salon with the grooming goodies. The player with the most wins!"
PROMOTES:
Imaginative play;
Turn-taking and playing together;
Counting
CONTENTS LIST:
1 Game Board, 4 Interlocking Wall Panels, 2 Plastic Wall Braces, 4 Pet Movers, 1 Spinner, 1 Clock Frame, 4 Clock Tiles, 49 Goodies Cards, Instructions
My Thoughts:
This game ended up being Savannah's favorite, as she just adores the Disney princesses and their pets. She also enjoyed the 3D game board and having to look for the different items that the spinner landed on. I love these types of games from Wonder Forge, in that even the youngest of kids can play and start developing a love of board games and enjoying family time spent while enjoying a family game night. Whenever my girls have friends over, this is one game that they always pull out to play. And, I love hearing them explain how to play to friends who are not familiar with it. But, in a matter of minutes they all understand game play and the fun begins.
And, last but not least, here is a game the whole family will enjoy playing together...
The ultimate picture-trivia family game with t

rivia spanning decades of Disney magic
"Discover exciting trivia that celebrates the world of Disney, from animated classics and blockbuster movies to television hits and dazzling theme park destinations! Test how much you know about touchstone characters like Mickey Mouse, Cinderella, Jack Sparrow, Buzz Lightyear, and Elsa from Frozen! It's a game of teamwork—with a competitive twist! Along the way, are guess-my-answer questions that reveal how much you know about the other players!
Promotes family together-time

Encourages strategic thinking

Encourages cooperation and teamwork

Features content from the world of Disney!

Free Pictopia App with BONUS content and Lightning-Round finish!
Once you download the Pictopia App (available on Android and iOS) you will gain access to even more fun stuff, including a nail-biting Final Challenge round to take board game play to the next level!"
1, 2, 3...play!
Players take turns being the host and asking the question. Other players will wager based on how well they know the images on the card shown to them. Sometimes you'll have to answer questions all on your own, and other times you'll work as a team to answer correctly! Answer questions correctly to advance your mover and get to the castle space first to win!
My Thoughts:
Even though my girls are too young to play this game with my husband and I, they did end up having a blast this past Thanksgiving trying to help us solve the questions, when we played with family and friends. With over 15 people (of all ages) gathered around the table, we were having a blast answering Disney questions, sharing memories of trips to Disney and talking about our favorite movies, songs and themes of Disney classics. This is definitely one game to pick up to share with Disney fans of all ages, and will be enjoyed for years to come, especially when you get a large group together. Everyone is looking forward to Christmas and New Year's at my house, and have already requested that we play this game. I can't wait! :-)
When it comes to choosing the right board games for your kids and family to enjoy, just know that you can count on Wonder Forge to provide hours of fun and countless memories each and every time you pull out one of their games to play and enjoy together. "Wonder Forge has won over 180 prestigious awards by creating good-for-you games that encourage positive attitudes, teamwork, healthy competition, and get-up-and-go, active play!" So, they know what they are doing and are only turning out top quality games that are sure to be hits with your kids (both young and old)."
In addition to hours of enjoyment, you can count of Wonder Forge to offer their games at affordable prices, making them perfect to give as gifts, or add to your family's favorite game night games. To learn more about Wonder Forge and their games for both kids, adults and families to enjoy, visit: http://www.wonderforge.com/.
Disclosure: I was sent samples from the vendor in order to write up an honest review. All views shared are mine and mine alone.