Disclosure: I was sent a sample from the vendor in order to write up an honest review. All views shared are mine and mine alone.
It is crazy how a lack of sleep or poor sleep experience really does hinder your ability to do things, or to be at your best. Even though my girls are partly the cause of my lack of sleep -- they are still getting up in the night or fighting to go to bed, which is also draining, I found out that the pillow that I had been using was causing me to wake in the night, due to poor support.

Do you find yourself tossing and turning in the night, or waking to adjust your pillow, in hopes of a better night's sleep, only to wake feeling stiff and sore. Maybe your pillow is to blame. This was the case for me, as I finally said goodbye to a pricey pillow I had bought a few months back that was for side and back sleepers, after trying out the Proper Pillow.
"Designed by chiropractor, Dr. Rick Loos, the Proper Pillow is an innovative new pillow that provides the support you need to sleep comfortably in proper alignment on your back OR on your side -- Ensuring the best night sleep with Proper Pillow."
So, how does this pillow from all the other pillows on the market? It is made with a foam patent-pending orthotic that is positioned just right, so that your neck and spine align with your head, thus letting your sleep comfortably, without waking to fluff a pillow, toss and turn, etc.
The foam patent-pending orthotic as shown by the inventor, Dr. Rick Loos, gently supports your head and neck so that you can achieve a restful night's sleep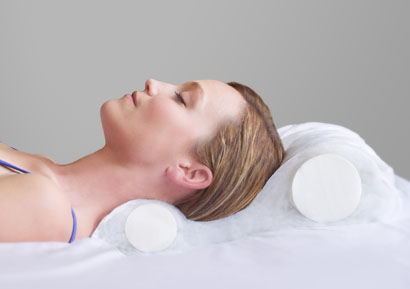 "The Proper Pillow has two main components. It has a plush, quilted, outer pillow that provides a luxurious look and feel. It serves as a casing for the memory foam insert. This washable, outer cover has a 2 inch gusset, lined with eye-catching light grey piping. The second part of the Proper Pillow is the unique, inner core pillow that is composed of a low density, viscoelastic memory foam that provides both support and comfort. When the two components are together, the Proper Pillows' unique ""sandwich"" design affords the Proper Pillow the comfort and feel of a traditional pillow, yet the support of a traditional memory foam pillow. These two things together support the proper alignment of the cervical spine."
I am a fan of the stay cool comfort layer (1 of 3 layers that make up the Proper Pillow), which offers a relaxing, cooling effect, night after night. I can't tell you how pillows I have purchased and ended up tossing as they made me sweat in the night, due to the how it was made and the contents inside the pillow itself.
This one size fits all pillow is the perfect pillow for back and side sleepers, and has really done wonders for my sleeping, and waking feeling well rested, even when I am woken in the night by the girls.
As soon as I put my head on my Proper Pillow, I drift off to sleep, and stay asleep. And, each night after the girls go to bed, I can't help but find myself looking forward to going to bed, just so that I can lay day, feel relaxed and go to sleep with ease, thanks to the Proper Pillow.
With the holidays fast approaching, why give those you love a restful night's sleep by purchasing a Proper Pillow for them? Many people dread having to buy a new pillow, as they can't really try them out in the stores, and it is hit or miss based on if you choose a soft or firm pillow. We forget that in order to achieve a good night's sleep, we need a pillow that will help support and align our bodies. You really can't get that with a soft or firm pillow. And, you may find yourself throwing money out the window as well as pillows purchased that claim to be the best pillow out there. Being a side and back sleeper, I have tried with no luck for years, trying to find the perfect pillow for me. Now, I can say that my search is finally over, thanks to the Proper Pillow. I sleep like a baby, and love waking up feeling well rested and ready to start my day. Who knew that a pillow could make you feel this good by offering a restful night's sleep, night after night! :-)
I am not the only one loving the Proper Pillow. Check out

Kristen Taekman relaxing with her

Proper

Pillow

on her day off from filming RHONY at the Now + Zen Public Relations showroom. :-)
Photo Credit: StarTraks Photos
To learn more about the Proper Pillow, visit www.properpillow.com

. The Proper Pillow also comes in a zippered bag with handle, which is great for traveling with your pillow and gift wrapping this holiday season.
All you have to do is throw a bow on the bag and put under the tree. :-)
Disclosure: I was sent a sample from the vendor in order to write up an honest review. All views shared are mine and mine alone.